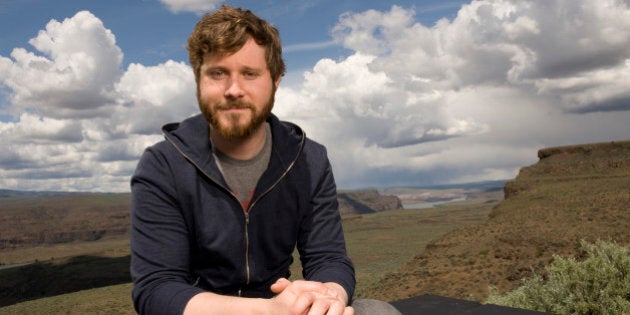 Last month, deep in the heart of Toronto International Film Festival season, Dan Mangan + Blacksmith released a world premiere of their own: a seven-inch single that just happened to feature a pair of songs that Mangan composed specifically for two films debuting at the festival.
The A-side, "Vessel," is a pivotal part of the score that the singer/songwriter was commissioned to do for the soul-searching Simon Pegg vehicle "Hector and the Search for Happiness," now in theatres. The B-side, "Wants," provides the soundtrack to the heartbreaking conclusion of the Alberta Badlands drama "The Valley Below."
"It's funny, when we were putting it together, I hadn't really thought of that component. And then when we were putting together the promotional copy, I was like 'Oh, that's hilarious because both of these films are premiering at the festival, and both of these songs just happen to be things that I did for movies,'" Mangan tells The Huffington Post Canada. "It was totally by coincidence, but a coincidence that I enjoyed nonetheless."
It's an appropriate touch of serendipity, too, given the fact that the chance to work on both films came when the Juno-winning and Polaris-nominated musician finally decided to take a break from the road.
"It's funny, a when you close a door, you open a window kind of thing. As soon as I stopped touring all the time, a bunch of opportunities came to me that I maybe didn't expect, like scoring 'Hector' and 'The Valley Below' and I really enjoyed it. It's a chance to kind of flex your creative muscles in a certain way."
Writing and recording the entire score for Hector with his sometime-Blacksmith bandmate (and Tanya Tagaq collaborator) Jesse Zubot, ended up having an unexpected influence on Mangan's forthcoming and as-of-yet untitled new album.
"I can't even tell you how much I learned scoring that film, especially in terms of studio know-how. The process of making the 'Hector' score ended up really kind of affecting the method and process of how we made our new record, just because I spent so much time in the studio working on 'Hector' and then I had a couple of new cards up my sleeve."
Mangan also learned a new thing or two about collaboration and compromise from working with the film's director, Peter Chelsom.
"He is just a wonderful man and really funny, and he's got a lot of ideas. He came to the table with a million ideas and so, at first, it was a little bit almost jarring because it felt like they were taking a risk on me. I'd never done this before and he had a really specific idea of what he was looking for. And at first, it was a bit of a struggle because I felt like I really wanted to take it in a different direction," he says.
"And then I brought in Jesse Zubot to help me on my end, and the three of us worked really closely together to find that middle ground between what he thought it was going to be and where we wanted to take it, and I think we found that middle ground at all points, and the only casualty of all of that was time. It was a really time intensive project for me, but I wouldn't change it if I could at this point. It was really valuable."
Interview continues after slideshow