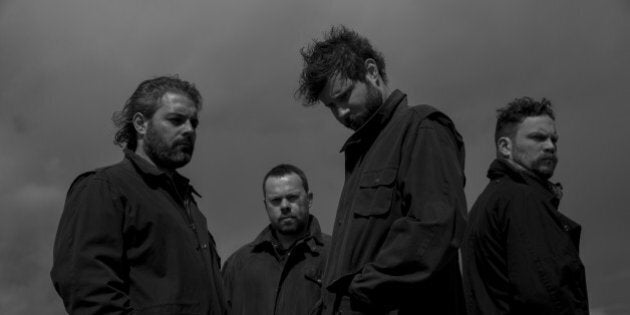 There's an explosion one minute and 24 seconds into the song "New Skies" where a dramatic trumpet blast and violent guitar jag punctures its otherwise things-are-going-to-get-better narrative.
It's a moment where, in a stretch, you might be able to trick a listener into believing it's an unearthed song from Radiohead's "The Bends" period. Or, if you're playing a really ambitious con, that it's related to an Explosions In The Sky or Spiritualized record.
It is not, however, a sonic snapshot one would normally associate with Juno Award-winning, android-loving, CBC-lionized beardo Dan Mangan. But that's the exact what Mangan and his newly christened band Blacksmith have created with his just-released fourth album "Club Meds."
Mangan, who broke out in 2009 thanks to his album "Nice, Nice Very Nice" and its supremely hummable single "Robots," about machines that need love, has consciously shifted away from that song's folky singer-songwriter vibe with his new album.
"That song changed my life," Mangan tells The Huffington Post Canada. "I can't turn my back on it or say it's a dumb song. Still to this day we play that song and it's meaningful to people. It's a gift and you can't look that gift horse in the mouth.
"But it wasn't my end game. It was like a ridiculous song that came together and in my head it wasn't like I crafted this piece of work that's going to define me. It's just a song. You kinda can't take yourself too seriously after something like that. It's amazing. It's ridiculous. And so it was that kind of mixture of embracing but not being identified by it. And it was just important to me that I keep growing."
One of the reasons for Mangan's bracing new identity comes from the fact he's part of a gang now. Blacksmith, his backing band featuring Gordon Grdina on guitar, Kenton Loewen on drums and John Walsh on bass, are to Mangan what Crazy Horse is to Neil Young. Their adventurous musical accompaniment has changed the way Mangan creates music.
"We joked about calling it Loco Pony," says Mangan about the Crazy Horse comparisons. "In a sense it also gives me freedom as well because if I wanted to go and do a record that wasn't with Blacksmith then I could go do something entirely different and people would expect it would be different. I think the collaborative nature of the record is really clear. As much as I love the roots of where I came from in a folky songwriter sense, this album is not a singer-songwriter album and if it was billed as just 'Dan Mangan' I think it would be hard for the world to get over that."
While the ace jazz players in Blacksmith certainly had much to do with Mangan's new sound, he also brought in other recruits for Club Meds.
"I surrounded myself with the heaviest fuckers," he says.
Dave Grohl, he of Foo Fighters/Nirvana/Them Crooked Vultures fame, has the news-making appearance on "Club Meds" single "Vessel," but the one that might say the most about where Mangan's head is at these days is the spot contribution from experimental violinist Jesse Zubot.
Zubot, who was the musical brains behind Tanya Tagaq's 2014 Polaris Music Prize-winning "Animism" album, had worked closely with Mangan on the film score for Hector And The Search For Happiness.
"He's a brilliant guy and he's a total nut and a totally fucking genius and he's a brilliant guy to be working with," says Mangan.
Another part of Mangan's personal growth has meant taking the world more seriously than you'd expect from a man whose signature song is a robot love story. Though it falls short of the outright fury of, say, a Rage Against The Machine album, there's no shortage of pointed reflection on "Club Meds."
A thesis statement of a quote from the album's liner notes explains it like so: "Sedation is massive. It surrounds us like a thick wet blanket. To be numb is to allow others to control your reality. It makes some people feel better, to know that you suffer also, that their numbness is shared like a virus. But unity in numbness is a façade, and not nearly as magical as a unity born of awakeness."
If we're living in The Matrix it would seem as though Mangan has just swallowed the red pill. The result is an album where authority figures claw at you ("Vessel"), protagonists need to shake off the distractions of their enemies ("Forgetery") and political theatrics gets its takedown (the excellent "Mouthpiece").
"I remember years ago hearing Neil Young in an interview going, 'What's up with young people now? Nobody's writing any political music anymore.' And I remember thinking, 'Hey man, I kinda am. Listen to me.' And I think maybe I doubled down on that a little bit," says Mangan, a new father, of the bristling nature of "Club Meds."
"I think maybe having a kid helped with that. I think maybe I sharpened all my knives because having the kid it's, like, 'OK kid, this world is so screwed up and so full of hypocrisy and greed and jealousy, but it's also really beautiful, and I just want to do what I can to make your experience amazing.' So part of that is I think you have to show your kid that you can do what you need to do."
Put another way, "Club Meds" may be Mangan's "Catcher In The Rye," with the singer playing the role of a Holden Caulfield realizing everyone's a phony.
"You know how you can just smell bullshit so easily?" asks Mangan. "And you come across someone and it's not even about lying, about material facts, it's just about people who live in a constant state of assumption about who they are and what they're putting across and you watch TV and it's just TV personalities who are these smiling soulless vessels. Sometimes when these people are spouting off on these ridiculous political rants on FOX News or something I don't even believe that they believe it.
"I think that the producer in front of them is waving at them, giving them the big thumbs up, saying, 'Yeah, this is TV gold! It's going to do great for your career.' They're just saying whatever the fuck is going to get them the number one-rated spot in the 24-hour cycle of editorial garbage. So I think that everyone is sacrificing different amounts of themselves in order to partake in the bullshit.
"And so I think for self-preservation we do kind of need to self-sedate sometimes, and we do need to say, 'Yeah the world is fucked up, but I just need to focus on frying this egg right now.' But, if all we do is shut out, if all we do is incubate ourselves from reality and protect ourselves with mental willful blindness, then we're setting ourselves up for delusion and we're just pretending sometimes it's one way when it's really not."