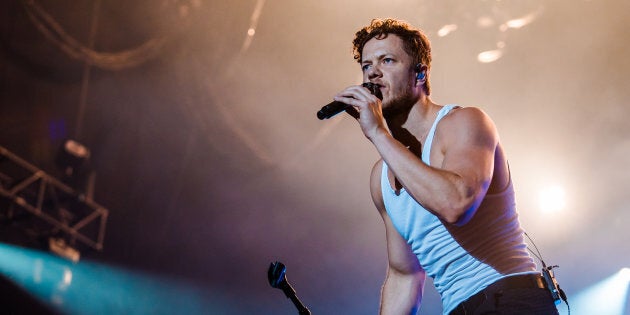 "We have a stigmatization in our society today that is hurting our youth, even killing our youth," the 30-year-old singer said on Tuesday to more than 20,000 fans. "We cannot hide the fact that we all need help. It is not a broken thing to be depressed."
"I have a therapist. It does not make me broken. It does not make me weak," he told his fans. "There are many people out there tonight who are holding it into themselves, not talking to their friends, their parents. If available to you, a therapist — don't hold it in, talk to somebody. You are not broken."
Reynolds has suffered from depression since childhood, BBC News reports, but the condition became severe during the band's Evolve World Tour last year.
Reynolds then "faced [his mental health struggle] head on for the first time" last year when he went to see a therapist. He's since changed his diet and taken up yoga and meditation as coping mechanisms to "quiet" his brain, BBC reports.
The Imagine Dragons star is now using his experience to spread a message of hope to his fans.
To end his speech on Tuesday night, he said, "I understand the grayness. I understand the numbness. It gets better. There is light up ahead. And above all, your life is always worth living. Always. Always. Always. Always. You are not broken."
On social media, fans thanked the singer for openly speaking out about mental health.
The singer told BBC News that he chose to start speaking out about his depression because he felt "a responsibility to all of the people who invest their time into Imagine Dragons ... an obligation to be honest and tell them what my heart says."
"I was really shy about speaking out," he admitted. "Humanity doesn't like to acknowledge their frailty. We like to only acknowledge our strengths. But I think it's important to talk about it."
"Every human wants to avoid pain at all cost," he added, "but the truth is, that's one time we really grow."