UPDATE - July 27: A spokesman for Toronto Mayor John Tory says the city is working to get in contact with Tanya Wilson and will help her re-open her business.
A fundraiser for a Toronto business owner who tended to wounded victims of Sunday's mass shooting has raised thousands.
Tanya Wilson said she's stuck with an unaffordable cleaning bill after she helped two people with gunshot wounds in her Danforth Avenue shop, Skin Deep Tattoo Studio.
She was getting ready to leave on Sunday evening when a mother and son ran into her shop, screaming about a gun.
When she realized they'd been shot, Wilson escorted them into her studio, locked the doors and turned off the lights.
The young man appeared to be in his 20s and had a gunshot wound in his left calf. His mother looked like she'd been grazed by a bullet, Wilson told The Globe and Mail.
Everything just feels like a bad dream.Tanya Wilson
Wilson sat the mother and son down in tattoo chairs and tied makeshift tourniquets around their legs. When the gunshots stopped, she flagged down a police officer to help.
"Everything just feels like a bad dream," Wilson wrote on Facebook. "The violence not only in this city but all over the world is out of control."
Now, her shop is splattered with blood stains. Because tattoo shops are held to strict hygiene standards, Wilson can't re-open until it's cleaned by professional crime scene cleaners, according to a GoFundMe campaign launched by her friend, Jay Tee. The fundraiser has hit $5,400 of its $7,000 goal.
Wilson can't afford the costs of cleaning up the shop and replacing everything that was damaged, she wrote on Facebook.
The City of Toronto said that the cleanup falls under police jurisdiction, because the damage was caused by crime.
A spokesperson for the Toronto police said that they wouldn't cover Wilson's costs because police officers didn't cause the damage. Wilson may be eligible for some reimbursement from local or provincial government agencies, police spokeswoman Meaghan Gray told HuffPost Canada in an email.
Toronto Public Health will inspect Wilson's shop before she re-opens, city spokeswoman Deborah Blackstone told HuffPost Canada in an email. Tattoo parlours are inspected every year to make sure steps are taken to prevent the spread of infections.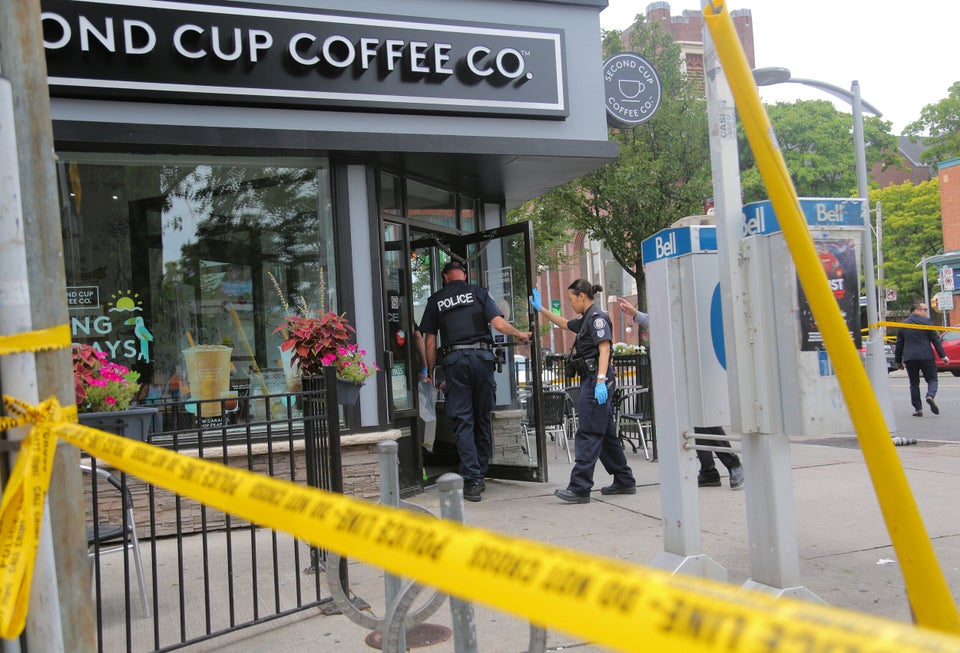 Toronto Danforth Shooting
HuffPost Canada asked Tee and Wilson how much the cleaning was expected to cost, but hasn't heard back. On the fundraising page, Tee wrote that the money raised won't come anywhere close to reimbursing Wilson for the costs she incurred.
"I have seen the shop personally and I'm at a loss for words," he wrote. "I just think she shouldn't have to pay all of it if any period after doing such a great deed."
This story has been updated with comment from Toronto Police Service and details about the cost of professional cleaning services.