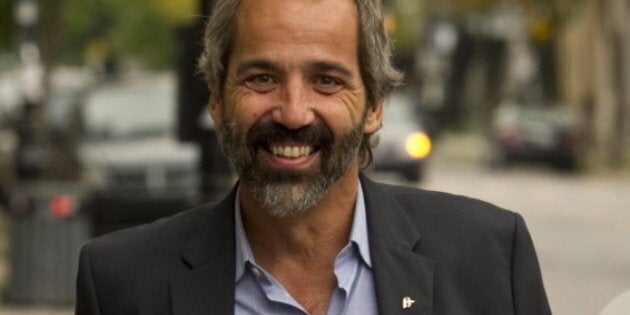 MONTREAL — Defeated MP Daniel Paillé was elected the new Bloc Quebecois leader Sunday with 61 per cent of support and he pledged to grow the struggling party by attracting federalist support.
Quebecers don't recognize themselves in Conservative Prime Minister Stephen Harper's Canada, he said in his victory speech.
Nor should they believe the NDP is a better defender of their values, he later told reporters.
"They want a very centralized government in Ottawa, in Canada," he said. The NDP, for example, he said, supports establishing a centralized national securities regulator in Toronto and this would be harmful to the Quebec economy.
Paillé said he would knock on all doors trying to convince francophones, immigrants and Anglophones that as Quebecers they would be better off with a Bloc Quebecois opposition than an NDP voice or an un-representative Conservative government.
He said he had no current plans to run in a by-election but would rather spend the next four years building support in Quebec and preparing for the next election.
"We have to go convince one by one the federalists...because right now, polls show that there is not a majority of sovereigntists Quebecers so we have to go, one by one, and that takes a full-time president," he said.
"The Bloc Quebecois only exists to support the idea of sovereignty and that must be done in Quebec," he said. "So one day, we need more than 50 per cent of Quebecers who support the idea of sovereignty. We can't just hold parties among ourselves, we need to go out and convince the others, the federalists who are standing on the edge and those that don't recognize themselves (with the Harper government)."
A vote for the Bloc, Paillé added, was indeed a vote for sovereignty.
The new leader re-confirmed he had no plans to ask any of the party's four MPs to step aside, but, he said, if a by-election presented itself somewhere else in the province, he might consider seeking a seat sooner than expected.
During his victory speech, Paillé told the cheering crowd — he had been the establishment candidate and the favoured choice of many former BQ MPs — that the party had suffered a defeat but it wasn't going anywhere.
"We are a party that fights, that plows through, and never will we renounce. The Bloc Quebecois is alive and well and we are looking forward," he told about 300 Bloc supporters gathered in a Montreal hotel.
The new leader won on the second ballot with 61.2 per cent of support. He had obtained 44.5 per cent on the first ballot far ahead of his closest competitor BQ MP Maria Mourani who captured 28.1 per cent of support on the first ballot.
Jean-Francois Fortin, a new Bloc MP who threw his hat in the race, came in a third with 27.8 per cent and was dropped off after the first round.
He told reporters he was disappointed but pledged to fight side-by-side with Paillé to help "make Quebec a country" despite attacking his leadership style during the race.
Fortin had argued that Paillé's top down approach was turning people off from the party.
"I am saddened not to have won, of course, it's completely normal, I gave it my all and I really believed it could be done. But I am happy to see that the room here was filled with partisans who believe in the Bloc Quebecois and that members participated in the vote at a respectable level."
Although 36,341 Bloc Quebecois members were eligible to cast a ballot in the leadership contest, only 14,039 — or 38.7 per cent — chose to do so.
The low voter participation did not concern Paillé nor did it seem to bother former BQ leader Gilles Duceppe. The 1997 leadership race he won saw 48,000 members cast votes.
"For a mail-in vote, this is pretty good," he said.
The Bloc Quebecois' membership sank after its disastrous May 2 election when they lost 43 of their 47 seats.
From a membership level approaching 53,000, more than 16,500 members allowed their membership to lapse in the months following the Bloc's collapse in Quebec.
Leadership hopeful Mourani said she found Sunday's result disappointing but felt that the party hadn't done enough to inform members that a leadership race was actually underway.
She felt especially bad, she said, for the 100 or so new members she had attracted to the party by pledging a new style of politics and a more collaborative approach.
"The only sadness I have is for them," she said.
Thirty-nine per cent of party members, in the end, had backed her vision, she noted, adding she intended to keep presenting her ideas to the new leader and to the party's membership at its next convention.
"If we do the work that needs to be done, I think in four years we will reconquer the hearts of Quebecers," she said.
But if it didn't work, one reporter suggested, perhaps then she would get her chance at the BQ leadership again.
"Oh you now, I don't have a crystal ball," she answered.
The longest serving MP in the House of Commons, the Bloc's Louis Plamondon, suggested Sunday that he thinks the best person won the job.
"Daniel is a good orator, but also he is a perfectionist and he is a good worker — a big worker — when a chief is like that, the rest of the party has an example to do the same. And I'm sure Daniel will give good spirit to the party and good motivation for a lot of members who were waiting (to see who would lead)," Plamondon said.
Paillé's ministerial experience with the Parti Quebecois government and his background teaching economics at university were key asset that would help him go toe-to-toe with Harper and the other opposition leaders, he added.
In his speech to party faithful, Duceppe said throughout the Bloc's history it had vanquished the Liberal and the Conservative option by demonstrating that these two options didn't meet Quebecers' needs. "Now, the new leader needs to demonstrate that the NDP option is also not a response to the needs of Quebecers," he said.
"Our party needs to demonstrate through its defense of Quebecers interest that…the federal option does not respond to Quebecers needs. Only the sovereightist option responds to the needs of Quebecers and that our nation's potential can only be fulfilled through a country of Quebec."
NDP MP Hoang Mai, who came to the Hyatt where the Bloc Quebecois was meeting, said he was convinced the NDP was doing a good job defending Quebec's interests in Ottawa despite the fact that the party is dropping in the polls and some MPs in his caucus had recently voiced their disapproval at the way things were being run.