In the wake of the shooting death of Edmonton police Const. Daniel Woodall, a trust fund has been established to help the family he left behind.
The Edmonton Police Service tweeted Wednesday that donations for the Woodall family can be made at RBC branches across the country.
People have rallied to show their support for the family of Const. Daniel Woodall after news broke of his death. He was the first Edmonton police officer killed on duty in nearly 25 years. Another officer was also wounded in the shooting.
Edmonton police has also set up condolence books in the lobby of each of their police stations. More details on the locations of the condolence books can be found online.
A local Edmonton print shop, Print Machine, has created an "#EPSstrong" T-shirt. The shirts are being sold for $20 each and the print shop aims to raise $50,000. All proceeds will be donated to the Woodall family. You can buy the shirt here.
Edmonton police are currently working out the details of Woodall's memorial service. Their flags will remain at half mast until then.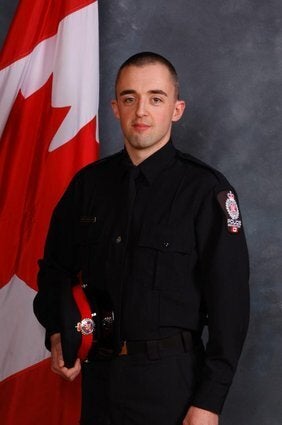 Edmonton Police Shooting, June 2015