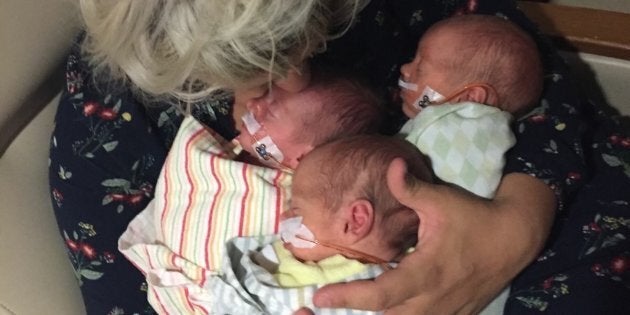 Saskatchewan mom Danielle Johnston made headlines recently when she resuscitated one of her triplets while giving birth to the other two.
Her family had been staying in Regina in a camper while the newborns received treatment at a neonatal intensive care unit. The entire family was scheduled to return home next week.
That was until Saturday afternoon, when a massive blaze engulfed their farmhouse near Griffin, Sask. They had owned the property since 2010.
Johnston said she heard about the fire when her husband, Trevor, received a call from one of their neighbours.
"I could hear something in his voice that said he wasn't joking," she told HuffPost Canada.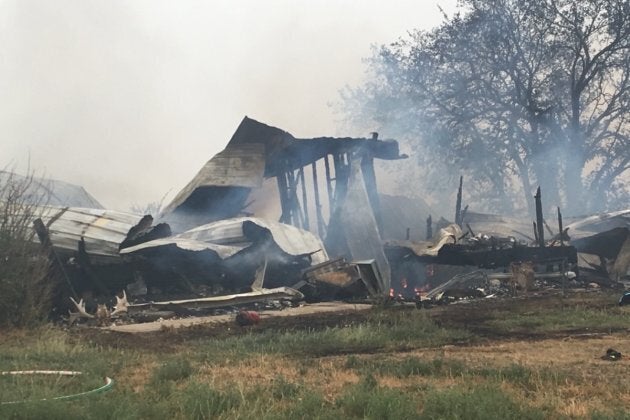 The entire home was burned to the ground along with all of the family's possessions.
"It was pretty overwhelming to see everything that you have gone. But at least we weren't in there," Johnston told HuffPost Canada. The family also lost three cats and a dog in the fire.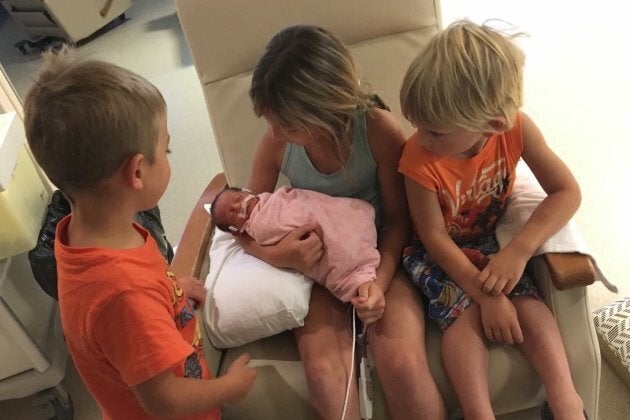 "Danielle is the most kind-hearted, loving person on the face of the planet. She would give anything to anybody. She's the best mother I've ever met in my life," Ereth told the Star-Phoenix. She's known Johnston since junior high.
The Johnstons have been moved by the support they're receiving from their neighbours.
"It's overwhelming. Everybody has done so much. Everybody is doing something. Everybody wants to help us," Danielle told HuffPost Canada.
She's the best mother I've ever met in my lifeBrianna Ereth, family friend of the Johnston family
"In an effort to help the family with their needs at this very difficult time, please find it in your heart to give graciously to help get this family back on their feet... all 18 of them!" the description reads.
Johnston said she finally had a chance to look at the GoFundMe page on Sunday night and seeing the messages of support and donations has been "humbling."
"I just sat there and bawled. So many people are giving to us," she said.
The Johnstons were finally able to leave the hospital with their newborn triplets on Sunday and Danielle praised the staff for helping save her babies.
"Those doctors and those nurses in the NICU are a cut above the rest," she said.
"They were on ventilation. They were born so young, premature. But now you look at them and they look like regular newborns and they're doing what they're supposed to be doing."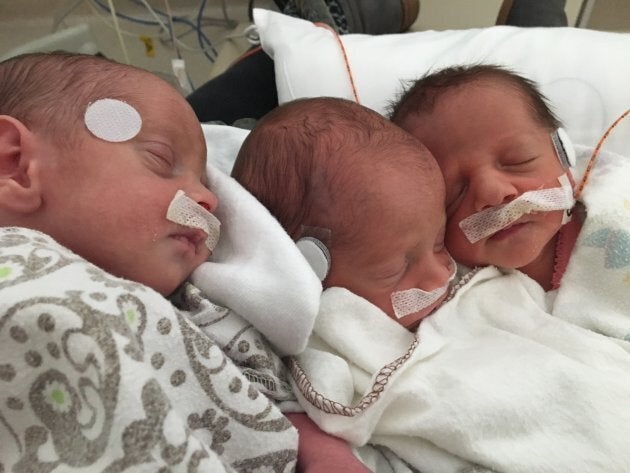 Danielle knows the family has a lot of work ahead but she's been inspired by the support she's received from her neighbours and the online community.
"We're going to rebuild. And continue on. We're going to definitely give back as much as we can in our life," she said.
"I'm not a very emotional person but it's not hard to think about all this and get a tear in your eye," she added.
"How do you even thank people. Thank you isn't enough."
With files from Ron Nurwisah