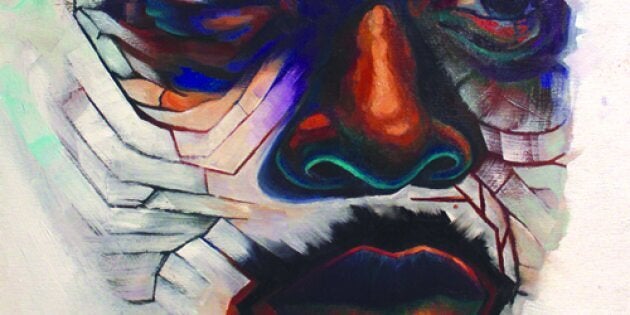 Art Is Power: A bi-weekly column where Che Kothari, renowned photographer & executive director of Manifesto, asks artists to succinctly define the power of art.
I love travelling the world and exploring the beauty which exists in all of her nooks and crannies. There are so many things taking place at the very same moment, however, and with travel comes the sacrifice of missing things that you really want to be a part of in your home town.
I got an invitation for an exhibition opening a couple weeks back, but when I looked at the dates I was disappointed as I am currently travelling through India and I would not be able to attend. The invite was from a collective in the city that I really respect featuring an artist from the collective who I really admire.
I first got to know Danilo, the artist being featured, under the guise of Equinox 199 who was a part of the hip hop group Pangea Project -- with fellow poets and emcees Change & Ian Kamau. I remember bringing the three artists to my studio to document their profound words of wisdom in short video poems. I only released the one with Kamau and still have Change & Equinox's in my archive...maybe one day I'll get around to releasing them :)
What I loved about their crew, beyond the knowledge they were spreading through their lyrics, was the brotherhood they shared through their art. As I got to know them each more individually I learned about Danilo's passion and skills in the visual arts. Since that time, Pangea doesn't perform together any more and Danilo is more focused on his visual arts career, and has found a new crew of artists to support that area of focus -- the 185 Augusta Collective.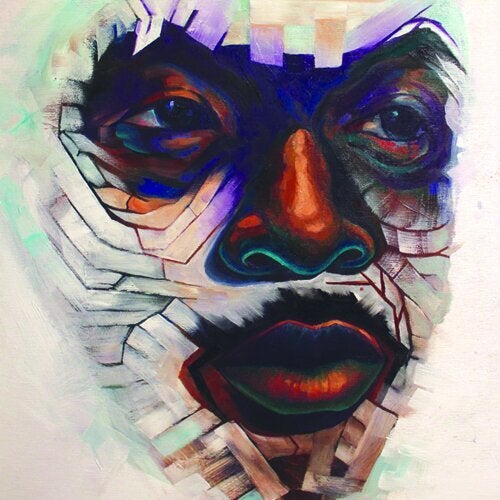 This collective is a powerful group of artists with their headquarters in one of the most grounded areas of downtown Toronto, Kensington Market. I remember going to an opening of their space and being blown away by the intimate energy that emanated from the home/gallery onto the streets. So many of Toronto's leading and progressive artists were in the space and the artwork being shown was of collective member Javid (JAH) -- an extremely talented artist in his own right.
The way that this collective supports each other is beautiful and inspiring. It is reminiscent of other visual arts collectives and groups like the Group of Seven, Basquiat & Warhol, General Idea, The Guerrilla Girls, all of whom pushed forward ideas to the collective consciousness of the time and uplifted each others works to new heights of excellence by the mere proximity of their artistic processes. The crew seems more like a family who really cares about the messages that each of the collective members is putting out; providing a nurturing environment to incubate new ideas and work them into final exhibitions.
All I heard from people who attended was that this show was amazing. You can still go see the show until April 7:
"Starships and Angels" -- A solo Exhibition by Danilo M. McCallum.

Exhibition runs: Mar 20th - April 7th 2013.

Closing Reception April 7th 3-7pm

Gallery Space: 185 Augusta (185 Augusta Ave, Kensington Market)

Gallery open Wed-Sun 12:30-6pm or by appointment.
Sadly, I don't get back in time to see it myself... but trust me, 185 is one of the world's nooks you don't want to miss.
Missing the show, I had to ask Danilo about it, his journey with the arts, and of course, his thoughts on why ART IS POWER.
Q. How did you become involved with the arts?
Graffiti Art was my first full out love affair with art. I've been drawing since forever, but graf was my first clear committed relationship with art. Actually my first job was doing murals in aerosol transforming the city and working in the community with a creative team.
I come from quite a creative family, going back to aunts and uncles in Jamrock. But a cousin of mine in Queens, New York was one of my biggest inspirations in terms of visual art. The pieces and throw-ups through out NY seeped into my blood stream and consciousness at a young age. That was it. Hip Hop and visual art gave me a platform to channel the twisted visions in my mind out into the world... and that was a gift.
Grade 10 (surrounded by the creativity of my Oakwood high school crew in Toronto) I committed myself to art. The marriage was made; union solidified. And it has been that way since then, and will be until the end. Inshallah.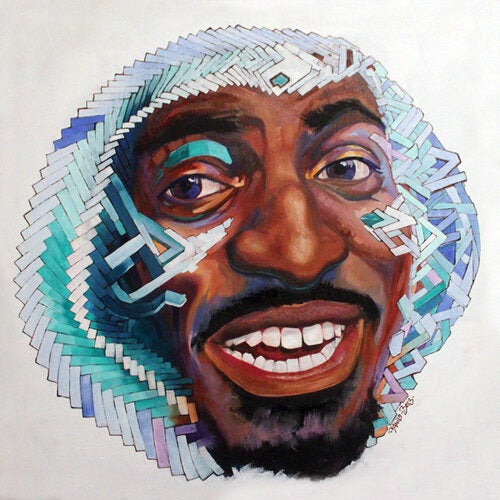 Q. How has art changed your life?
Art is my life. Almost all of my friends are artists and/or very creative people in one way or another. I cannot see my existence without it. We're married and inseparable. I've thought about this deeply and I'd have to say I identify as an Artist before anything else.
Art has changed my life by giving me strong bonds, lifelong friendships and the vibrant community that I am a part of. Sounds kinda corny but it's real talk -- I relate to people through creativity.
Bottom-line though, ART HAS GIVEN ME PURPOSE.
Q. What does ART IS POWER mean to you?
Well this is a two-part answer.
Ultimately, for me, art has been self-empowering. It's the avenue in which I found my voice, grew confident, and gained a deeper understanding of self. Knowing with certainty what you want to do with your life is 'half the battle' as they say. That certainty is fuel for the other half of the battle...which is to execute what you know is your path. Art has given me that certainty and purpose, to follow my dream to the edge of the earth if need be. To tell my story through my eyes. Sounds dramatic perhaps? But when you're driven by a sense of purpose it's a very powerful thing!
The solo exhibition I just presented "Starships and Angels" at its source is a narrative about individuals following their inner passions. Characters are visited by Dream Guardians who are sent to help each of us pursue our inner dream. When you are pursuing your own personal dream you are charged by a sense of purpose. And when you have purpose you have power.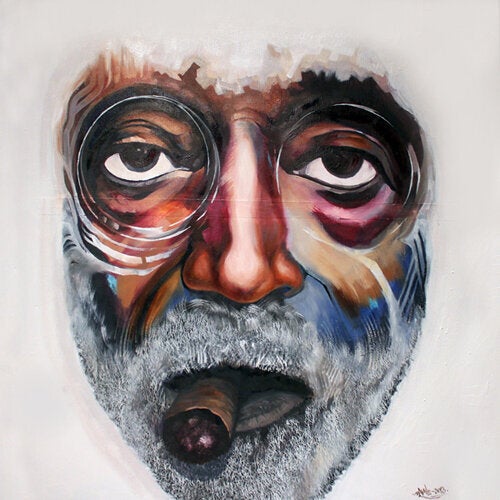 The second thing that ART IS POWER has to do with, is community building.
I've worked doing art in the non-profit sector for over a decade. In communities that feel they are constantly silenced or their voices are under represented in society, art is a vehicle for expressing those voices. It's a way to be heard within their own communities (which is empowering in and of itself). And to get their voices heard by the overarching society on a whole. I've watched children and youth grow and through self-expression in the arts they realize their own potential. Regardless of if they go on to become artists, or engineers or entrepreneurs with their own business; through artistic expression they begin to grasp a sense of the possibilities that are out there in the world waiting for them. And just as important are the possibilities and gifts they have to give to the world to create change. Much of it starts small and then the snowball effect begins and their vision and aspirations become greater. I also know this firsthand for it's been the path my life has taken.
Presently with the team/family I roll with, the 185 Augusta collective, I constantly feel empowered cause of the talents each of my comrades possess and the support that we give to each other. Often the visual artist's life, and creation process exists in solitude and honestly that can be a lonely journey. But when you're surrounded by creative minds that share the same vision as you it's a constant source of enrichment. Your energy is constantly fuelled and refuelled by theirs; trust me that is empowering! It empowers me and I in effect then can inspire my team. Cipher complete. You shine, I shine. I shine, you shine.
And as this empowering energy pays itself forward, I have watched as the dynamism that 185 generates has also become a source of inspiration for our surrounding community. The energy of brotherhood and sisterhood within 185 is magnetic. True story. My team is powerful, brilliant and a continuous source of motivation. That is Hi-Powa. Indeed extremely powerful!
Check out previous Art Is Power Series Articles: