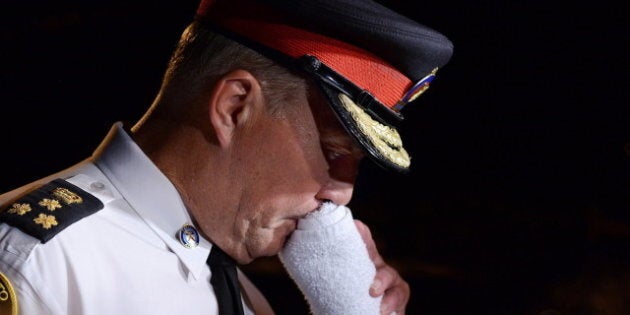 Torontonians woke up shocked by a shooting in the city's east end that left two dead, a bout of violence that police described as "unprecedented."
Late Monday night, a outdoor party of more than 200 turned into panic as multiple guns were used in a shootout. "The level of violence is something we have never experienced," Toronto's police chief Bill Blair said, according to CP.
Citizens took to Twitter with mixed reactions, many noting a recent shooting at Toronto's Eaton Centre that left two dead.
"What's up with Toronto nowadays? so much crime" Tweeted @chaanntel, while @purpledocket wrote: "Twitter frustrating this morn. After EatonCentre tragedy, words like 'us' and 'our.' After #DanzigShooting tragedy, mostly 'they' and 'them'"
The shooting happened before 11 p.m. on Danzig St., near Morningside Ave., and Lawrence Ave. East, Canadian Press reports. The area was packed with police cars and emergency response vehicles late Monday night as crews ferried away the injured on stretchers and treated others on buses brought in as mobile clinics.
"I now fear for my life living in this city and coming into work everyday," wrote @JustPeteMe.
Meanwhile, many citizens voiced disappointment: "Disenchanged with Toronto #Danzigshooting," wrote user Stephanie Todd.
With files from Canadian Press
See more reactions in the slideshow below