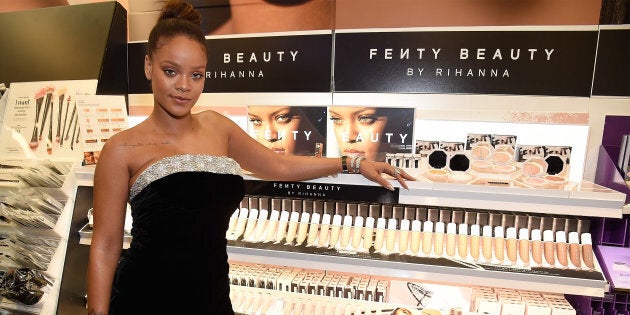 When Rihanna's beauty line, Fenty Beauty, launched last week, the excitement was almost palpable. The superstar took over the Sephora in Times Square to show the world what she'd created — and drove home the point that makeup needs to be for everyone.
"In every product, I was like, 'There needs to be something for a dark-skinned girl! There needs to be something for a really pale girl! There needs to be [something for] someone in between!," she told reporters at the event, according to MTV. "There's so many different shades ... You want people to appreciate the product, and not feel like, 'Oh, that looks cute — but it only looks good on her.'"
As social media posts have revealed, it's the deep shades in Rihanna's new line that are proving to be the most popular, showing that the beauty industry has been missing out on a massive audience for way too long.
And the rave reviews just keep rolling in.
There's even some murmurings that other beauty lines, like KKW Beauty belonging to Kim Kardashian West, are trying to grab a bit of the spotlight on dark shades for themselves by choosing this moment to promote their deeper toned wares.
Popular in the Community