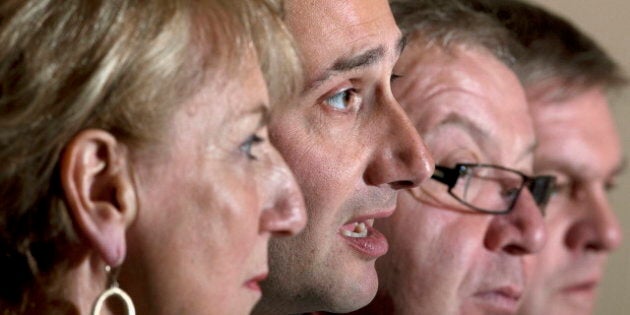 Three of Atlantic Canada's four premiers may hold a wide lead over their nearest rival but Canadians on the East Coast are far from a pro-incumbent mood, as three of the governing parties have experienced a steep decline in support. For one premier, the consequences could be grave.
Robert Ghiz of Prince Edward Island, David Alward of New Brunswick, and Kathy Dunderdale of Newfoundland and Labrador all hold leads of 12 points or more over the main opposition parties in each of their respective provinces. But Darrell Dexter's NDP sits neck-and-neck with the Nova Scotia Liberals, according to a new survey by the Halifax-based Corporate Research Associates.
Though Nova Scotia does not technically have to go to the polls until early 2014, an election some time next year is more likely. Dexter recently shuffled his cabinet and some of his out-going ministers declared their intention not to run again in the next election.
Angus-Reid places Dexter as the least popular premier in the country, with an approval rating of only 27 per cent. CRA puts support for his party at 35 per cent, a drop of nine points since their last poll from February. The Liberals, under leader Stephen McNeil, have the support of 33 per cent of Nova Scotians, an increase of six points in only three months.
McNeil also outscores Dexter on the question of who Nova Scotians want for their premier: 27 per cent chose the Liberal leader, compared to only 23 per cent who chose Dexter. Jamie Baillie of the Tories was the choice of 21 per cent of respondents, while his party managed 28 per cent among decided voters -- making for a close three-way race.
For the Nova Scotia New Democrats, this is their lowest level of support in more than a year. Only 41 per cent of residents said they were completely or mostly satisfied with their government, the lowest score of the four Atlantic provinces.
But Dexter isn't the only premier with an unhappy electorate. Ghiz's PEI Liberals dropped three points to 47 per cent , while satisfaction with his government dropped 21 points since February to 42 per cent. Kathy Dunderdale's Tories were down five points to 49 per cent, marking the first time in quite awhile that the PCs have registered under 50 per cent support in the province. Lorraine Michael, who scored as Canada's most popular provincial opposition leader in Angus-Reid's polling, has seen her party reach new heights. With a five point gain, the Newfoundland and Labrador NDP has the support of 33 per cent of voters.
But the premier closest to an election faces the greatest challenge in the region. Dexter still holds a narrow lead in Nova Scotia and has time to turn things around. Joining his fellow premiers in hammering the federal government might be a good start.
Éric Grenier taps The Pulse of federal and regional politics for Huffington Post Canada readers on most Tuesdays and Fridays. Grenier is the author of ThreeHundredEight.com, covering Canadian politics, polls, and electoral projections.