If you've ever wondered where David Beckham gets his good looks, look no further than his mom Sandra Georgina West.
A vintage photo Beckham posted on Instagram in honour of Mothering Sunday (that's Mother's Day for us folks on the other side of the pond) last month showcased the similarities between the mother and son.
The soccer star's crinkling eyes and sweet smile are definitely reminiscent of his mum.
The 40-year-old family man often takes to Instagram to show his brood love. So that wasn't the first time he's posted pictures with his mom. He posted a few to celebrate her birthday last year:
The similarities don't stop at the looks. It seems like Beckham inherited some of his mother's hairdresser skills. Beckham, whose been known to sport an odd hairstyle or two, doesn't limit his hair experiments to his own head -- he plays hairdresser to his three sons, too.
When asked by Yahoo Style if his mother taught the tricks of the trade he said "No, she didn't! I wish she did. I do cut my sons' hair from time-to-time. When they have a buzz cut, I do it. If I have to use scissors, the boys know not to ask — she never taught me how to do that." But maybe it's all just in the genes.
West's not the only mum he's featured on his Instagram though. Here's a photo he took with another mother...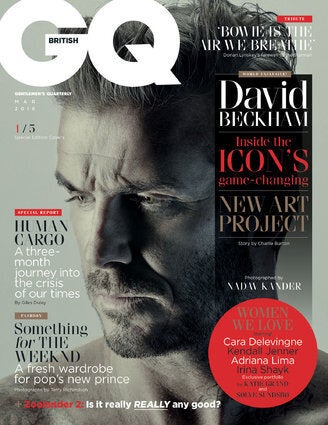 David Beckham's GQ Covers
Popular in the Community