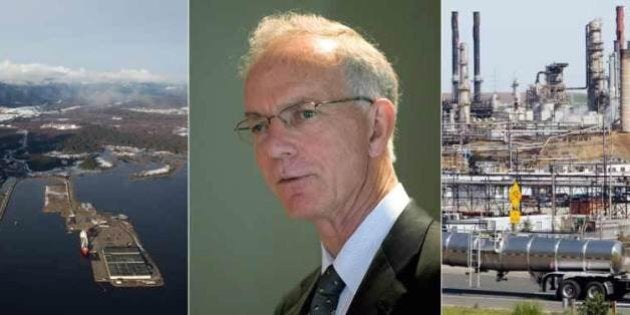 Unfortunately, David Black has a Tom Fletcher problem.
Fletcher is Black's most prominent voice in his newspaper chain, being both the B.C. legislative reporter and a columnist, a powerful position from which he not only reports on politicians in Victoria, but also seeks to influence them by passing judgement.
That Fletcher's judgement is unerringly conservative is not news. For all the rhetoric you hear about the "liberal media," most columnists in our newspapers are conservative. But David Black's problem is that Tom Fletcher has the disease afflicting the Tea Party variety of conservatives in that he's a climate denier.
Fletcher's latest column jumps to the defence of Chilliwack-Hope MLA Laurie Throness who recently stood in the House and admitted he too is a climate denier, but would go along with those in his caucus who believe otherwise. Fletcher has also claimed that the pine beetle outbreak is not about climate change, and Tweets climate denier links frequently.
The timing of Fletcher's latest column is relevant too, coming at the same time as the most stark and authoritative warning ever by the world's climate scientists.
But Fletcher is not the type to ever accept any amount of this evidence. He will go to his grave with his ideology firmly intact, regardless of the facts. If Ronald Reagan instead of Al Gore had championed climate science, then perhaps Fletcher would have considered it for a moment or two.
It's bad enough that Black is allowing his newspaper chain to print misinformation. Newspaper people are usually pretty big on getting their facts right. But it is worse that Black is letting this happen at the same time he is seeking environmental credibility to bolster his refinery plans. The disconnect makes people wonder whether they can trust his "green" claims about Kitimat if his newspapers are preaching climate denial.
For those of us who love the coast, the threat isn't just about risky tankers full of bitumen, but it's also about the fact that climate change is making the ocean more acidic. Shellfish are already dying in B.C. waters and things are set to get worse.
The recent warning from the world's climate scientists said that we have until 2100 to get off fossil fuels. If David Black really wants to help B.C.'s coast, he'd put his considerably business expertise into things like electrification of our vehicle fleet instead of building more fossil fuel infrastructure that takes us in the wrong direction.
And, he'd give Tom Fletcher that gold watch sooner rather than later, so that his newspapers can be part of the solution instead of part of the problem.
Popular in the Community