David Bowie is having quite a year. After laying low the past decade -- as low as one can lie when one's music never stops being played -- after suffering a heart attack following the release of his 2003 album "Reality," he's burst back into the pop cultural consciousness this year.
At the opening of the AGO's "David Bowie Is..." exhibition this week, HuffPost Canada Music spoke to V&A curator Victoria Broackes, who brought the exhibit here to Toronto.
Why a Bowie exhibit and what are people going to get out of it?
David Bowie was the top of a very short list of people who we [V&A] considered doing a single subject exhibition about -- but I had no idea he had this remarkable archive. Until talking to other people in the music business we were introduced to his manager and from that found out that he has this astonishing archive of 75,000 objects, and we got talking and the opportunity to do this exhibition came up.
People are used to exhibitions of visual artists, handle putting a musical artist into a gallery?
I suppose that with Bowie we have someone who is much more than a musical artist, so for us [V&A] we are the national museum of art and design and performance, and Bowie actually fuses all three of those things perfectly. He's always worked at crossroads and his overwriting message is that we shouldn't be pigeonholed by labels. The museum covers fashion, it covers photography, it covers graphics, it covers design, and architecture -- Bowie is all of those things.
The exhibition is also far more than just about Bowie, I think, since Bowie is a pretty great way to look at the last 60 years of our lives. And one of the things that Bowie does is take his influences from huge range of places and other artists, quite intellectual, quite avant-garde, and he introduces them in his own innovative way to a very large amount of people. And so, the exhibition is an opportunity also to look further, through Bowie, about the people and the places he's taken his ideas from and also where he sent them to.
Q&A continues after slideshow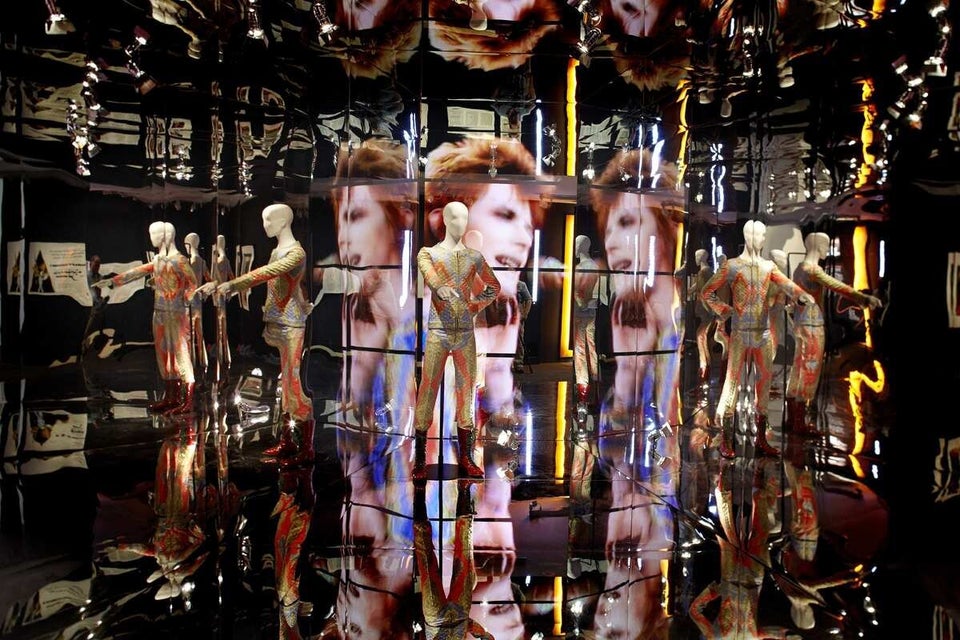 David Bowie Exhibit @ AGO
I would bet a lot of people would assume they maybe didn't know that David Bowie was a painter or a sculptor or something, and that we'd be seeing that aspect, as opposed to this, which is very much looking at his whole artistic career.
That was very important to us. I won't say which exhibition it was, but I remember there was a review of an exhibition years ago and it said 'they managed to take the rock n' roll out of the rock n' roll.' That kind of stayed in my head when we were doing this. Bowie is so much more than a pop musician, but the music and the sound mean such a lot to people. So the challenge for us was to create an exhibition where sound and vision were at the heart of it, but also to broaden the spectrum.
It's an interesting timing especially with the Mercury Prize nomination.
Well, yes to open here. The whole thing has been interesting timing 'cause I can honestly say we [V&A] didn't know about the new single.
Nobody knew about it, it literally popped out of nowhere. One day he said: 'Oh yeah, I did this.'
I know, but we have been on the phone with him everyday, we were working with John Barnbrook who is doing our designing, the art book, and working with us on the exhibition and he was designing his new album cover, and I wondered why he kept going missing! But, that's what he was up to.
So we didn't know about that and at the same time I thought, 'Oh, we're getting towards a perfect Bowie moment.' That sometimes happens when you're working on an exhibition. And so in late January, the world went mad again and the landscape all changed and by the time we opened in March, there was a definite feeling that this was a big Bowie moment. But through the course of the exhibition what I found almost as exciting as everything else, has been pretty exciting in general: was how the word went out that there was an exhibition, not just for die-hard Bowie fans, or for a particular age group, it was an exhibition that every body could enjoy and take something from. And by the end of it we had all the teenagers coming up, and that was really great.
Can you tell me about a few of the specific exhibits, and some background on why you included them?
Well, the early section of the exhibition -- we start in London because London is such an important part of Bowie's past and where he grew up, and such a big part of his inspiration and in that section we very much look at the ideas he was having in his
early which was before he became a success -- he was trying really hard he was even operating as a professional musician but not quite breaking through. We got sketches from his teenage bands where he is designing costumes, designing a new logo, every band he was in got a complete make over, he clearly from that age was really aware for the need of a strong physical identity and even stage sales -- you'd think most teenage boys wouldn't be able to get a gig, but Bowie was always pushing it to the next level.
In the same vein, we've got a jacket in there -- just a plane, green, cord jacket -- that's quite dull, but if you look closely and see drawn on stripes, Bowie drew those by hand with felt-tip, and again I think, it's objects like that where you think it just shows both somebody who will not take what's given to him and accept it, he was always pushing it on to the next level. So that's what he was doing drawing on those stripes. So including things like that, which I think are interesting because they shed light on what we're going to see in a lot of stages in his career.
And then moving on through the exhibition we've got the "Starman" costume by Freddie Burretti, which he wore on [the Ziggy Stardust] tour in 1972. That was a performance that so many say had changed their lives, I actually get quite emotional because I have met so many people in the last two years who say that it did change their lives and that for one reason or another they were feeling part of an outsiders group and that Bowie had brought them all together. So we got that in the show with the mirrors reflecting all of us.
Because of course that's the thing about Bowie he manages to be a cult and massively popular at the same time, which is quite a difficult thing to pull off, so we think we're in a very select club, but actually we're in an enormous club.
Popular in the Community