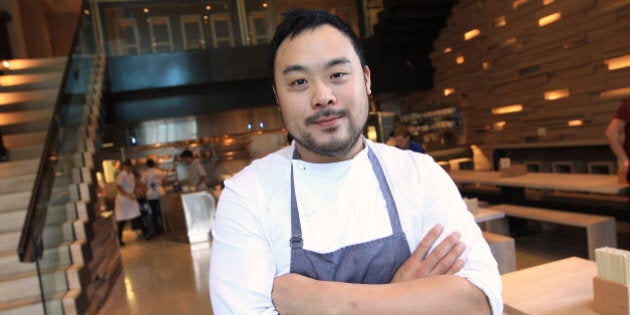 Leave it to David Chang to say how he really feels about Toronto, one of his homes away from home since expanding his Momofuku empire abroad over the last couple years.
The outspoken and irreverent 36-year-old New Yorker is described as "America's most relevant chef" in a revealing profile in the Vogue September issue, but his strong opinions on things outside the world of food define Chang just as much as the ramen and pork buns that made him famous.
Chang admits he hasn't had much time to truly get to know the city, despite having lived here for more than five months over the past while. But if he's not working you'll probably find him throwing back a Bud Light at a Blue Jays or Raptors game (like everyone else he would kill for a Leafs ticket), wandering around Chinatown and just generally feeling more connected to Rush, one of his favourite bands of all time.
"I feel like as I spend time in Toronto, I understand Rush more," Chang told The Huffington Post Canada during a recent visit to Toronto. "Rush couldn't have existed in any other place but Toronto."
Overall, even the quality of life in Toronto versus Manhattan's was a draw for Momofuku employees who moved north of the border. Just don't get him started about how the the price of alcohol compares.
"I don't think alcohol should be as expensive as it is here and no, it certainly shouldn't be government controlled," he says, noting that the cost of booze has been one of the biggest challenges of doing business in Toronto.
"I hate sounding like a fucking conservative Republican here but the only people that win out is the government, the LCBO is ridiculous, c'mon," Chang quips, referring to the provincially-owned Liquor Control Board of Ontario.
Politics aside, we also spoke to Chang about Canadian cuisine's lack of identity, his NASA cooking experiments and his obsessions with cheap beer, spicy food and Shaquille O'Neal.
What do you think of Toronto's dining scene?
If people ask me what do you think could improve in Toronto dining I'd say there's nothing to improve on. There's great restaurants, there's a lot of talent here, it's all moving in a good direction. People are more food conscious and more food aware and it's great... Think about where TIFF was 20 years ago, and it's just percolated and turned into this avalanche and helped really define Toronto. You can sort of see that with Terroir happening here and just food in general and you can see that there's this Canadian pride. It's going to happen.
What does 'Canadian' food mean to you?
I think that it's still in the pursuit of being defined. I think that's a cool thing because nothing is set in stone, so it could be anything... Certainly there are Canadian ingredients but how it formulates itself, it's very similar to America right now. People are trying to figure out what American food is, it's certainly an amalgamation. I think that it's either going to be good or it's going to be bad but all signs have pointed to it being good... Obviously Quebec has 'its' cuisine, but I think it's to be determined for out West and the East. Maybe the whole point of Canadian cuisine is to not have Canadian cuisine, just to serve great food.
What is one of the first things you crave to eat when you return home from abroad?
Usually something really spicy, whether that be Korean food or Szechuan food, that's what I crave when I come home, something that's literally going to make me sweat.
What's your favourite food to make for yourself at home after a boozy night out?
I never make food for myself after a boozy night out because that would just take a lot of work but the go-to is pizza. One of the benefits to ordering food in New York is that you can get food 24/7. The last time I tried to do something after a boozy night out was probably 10 years ago and I almost burned down my apartment because I fell asleep while I was cooking. Don't cook if you're under the influence...it's not a good thing to cook when you're tired.
What's your favourite poison?
It's less and less these days but, just because it's impossible to find now, a bottle of 15-year Pappy Van Winkle (Kentucky bourbon). It's always a treat when you find it because it's so good.
If you could prepare only one last meal, what would it be?
Blue crabs in light American or Canadian beer...steaming it in beer and Old Bay Seasoning.
What would be in your emergency "survival pantry"?
It's funny, I did something with NASA recently and Commander (Chris) Hadfield, so the Canadian space agency too. It seems that Canadian and American astronauts, when stuck in space, the one thing they crave the most is hot sauce...I'd probably bring Sriracha or something like that.
What is the wildest thing you've ever done in a kitchen, culinary or otherwise?
Cooking for Commander Hadfield. Not in space, but the closest I would ever get to it, was cool...and knowing that my recipe was a total failure. Sorry I didn't know how to fucking cook in zero gravity. I tried, I didn't know what they had stocked on the station either.
What is the best restaurant that no one's ever heard of?
Elkano in San Sebastian…while it is certainly a famous restaurant it gets sort of lost in the grand scheme of the San Sebastian eating circuit because if they make it out in the direction of Elkano, Etxebarri is already there. So they should not only do Etxebarri, they should definitely do Elkano as well.
What would you be doing if you couldn't be a chef?
I think being Shaquille O'Neal would be the most amazing thing. There's nothing I would have done differently in his life. Everything he's done I think is pretty spot on, even like the bad rap videos, the shoes, the movies, everything.
What is your favourite cheap food thrill?
Probably eating in the streets of Beijing and trying to find skewers of lamb, and making sure that it's lamb, and eating on literally a dollar a day and all the baked breads and dumplings and stuff because it's really like in alleyways that you just see some pretty fucking crazy shit. I remember seeing a school desk made out of steel and the top was punctured and the drawer was full of charcoal so the desk was literally a cooking (appliance) and you know there are some delicious foods coming off of that...the best recommendation is get lost and try new things.
What is the most memorable food city in the world?
Tokyo is clearly number one to me. But Singapore and San Sebastian (too), and I'd like to say Paris but I can get a lot of the Parisian stuff in Tokyo.
Which Toronto restaurants have you been to and would recommend?
One restaurant that I want to try which people seem to love is Hopgoods and I haven't had the chance. I just have to go out more. Khao San Road, that was really delicious, that seems to be the restaurant that I've eaten at the most just because of the location to the restaurant (and) Grand Electric was delicious...
I tend to just stick to Chinatown here and the dumpling shops. If you see me out more often than not I've just gone to Chinatown...It's usually just wandering the streets and that's how I do it. Obviously I go to Asian Legend but...I've learned that there are certain days at Asian Legend that are much better than others because the cooks from the other Asian Legends cook two nights at the Asian Legend here (in Chinatown). Because I go there enough, there's a couple I found out would eat there and only ate there because of the cooks. They knew the schedule. It's always delicious but there are other days when it's more delicious than others and it interested me because that's what I do. I go to places where I don't know anybody. I'm not really following a blog or a guide, I'm just going into a restaurant and I'll literally be like 'What are they ordering over there?' and then 'OK, that's what I want.'
What's the most unusual and delicious food that you would suggest people try?
The biggest surprise I guess was eating southern Barbarian cuisine or Yunnanese food in China, because you see goat cheese, you see mint, tomatoes, things that you never seen in any other (region). It makes sense, it's delicious. They're using New World ingredients and we had a little bit of fun with that in the Chinatown Lucky Peach issue but that to me was very very much the newest thing and it probably has been around for a long time and we just didn't know.
That was like the cheapest beer we could put on. I really like shitty beer. I don't really love Pabst but I just want cheap beer and that's the cheapest beer we have. PBR is fine but it has this awful hipster connotation, and beer is fucking expensive. Alcohol is so expensive here... Bud light bottle, that's my only beer, but if I go to a restaurant I ask 'What's your weakest, lightest, shittiest beer you have that taste like Bud Light, anything that tastes like water.'
'Grilled' is a new regular chef interview that runs every other week. Who would you like to hear from next? Let us know at canadaliving@huffingtonpost.com.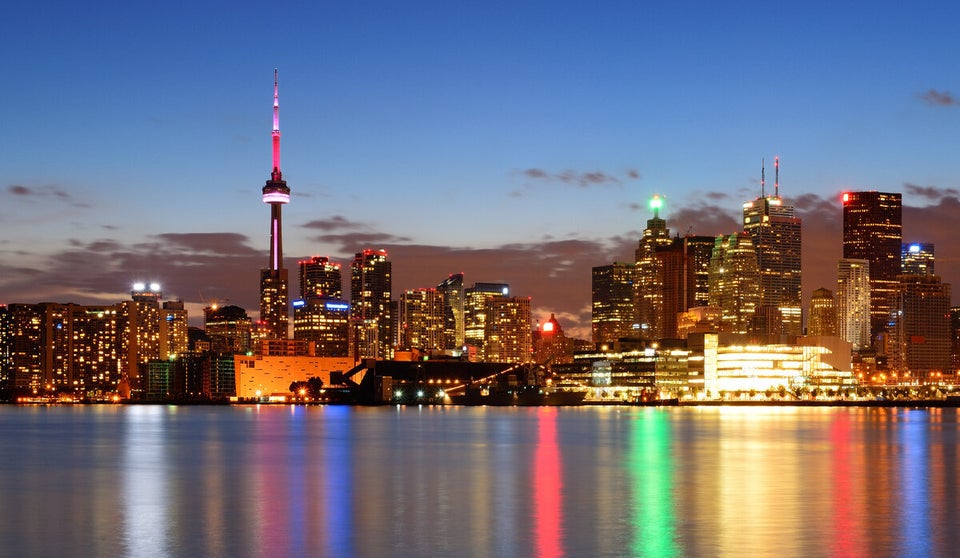 Top Toronto Restaurants