Firefighters worked tirelessly after Ecuador's recent earthquake to rescue survivors.
At least 654 people were killed in the 7.8 magnitude quake, Reuters reported over the weekend, and around 16,600 injured. 58 people were reported missing.
But one volunteer in particular is being honoured for his work — a four-year-old yellow Labrador named Dayko.
The dog left a "large gap in the canine unit," the department wrote Friday, as he was one of the best at locating missing people.
But he was also beloved for his gentleness, his skill on obstacle courses and friendly character.
Dayko was buried Friday in a memorial service.
Many Facebook commenters were quick to accuse Dayko's handlers of neglect and abuse, but in another post Monday, the fire department reminded readers that he was a working dog and asked them to refrain from "unfounded" comments.
"What killed Dayko is heatstroke, this happens because dogs do not have a very efficient system to regulate its temperature; which does not allow you to remove heat through perspiration as human beings," they wrote.
"We express a fraternal gratitude to everyone who supported us."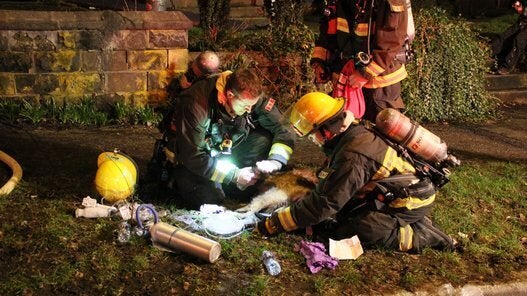 Vancouver Firefighters Save Dog From Burning House