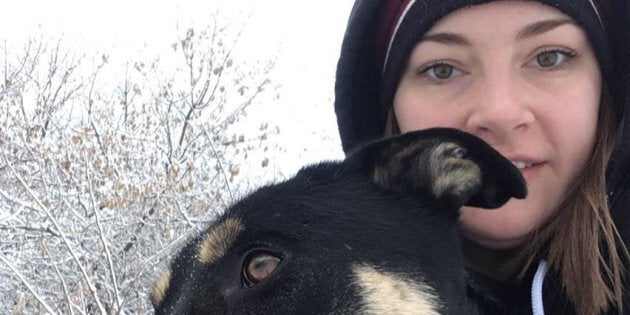 UPDATE - April 11, 2018: Dayna Brons has passed away, her family said in a statement Wednesday.
"Dayna will be forever remembered for her joyful smile, and her passion and love of sport," relatives wrote. Read more here.
As the flood of support for victims of last week's deadly bus crash in Saskatchewan continues, some users on social media are making sure the only woman who was in the vehicle doesn't get left out of the headlines.
Friday's tragic crash involving the Humboldt Broncos junior hockey team's bus and a tractor trailer killed 15 people and injured 14 others. Officials are still investigating the cause of the incident and some experts warn it might take months to come up with an answer.
Dayna Brons, the Broncos' athletic therapist, was one of the injured and is still in hospital, according to the Saskatoon StarPhoenix. As of Monday, only two of the injured have been released from hospital and four are listed in critical condition.
Brons graduated from the University of Regina and grew up watching the Humboldt team, the outlet reported. The school's kinesiology department shared a statement to say it was praying for Brons and her family.
On Twitter, some users called on others to keep Brons in their thoughts.
Major figures in the hockey have also made special mention of Brons.
Hockey icon Hayley Wickenheiser tweeted about the "only girl on the boys' team" on Monday, saying she has been thinking about Brons and rooting for her to pull through.
Edmonton Oilers head coach Todd McLellan directly appealed for Brons to be included in the coverage of the tragedy's aftermath.
"You know, everybody asks me, 'How are the boys doing? How are the guys doing? Are they good? Do they need anything?'" McLellan said at a press conference Monday, according to Global News.
"She was a big part of that team too and she's in the hospital and as...[people] use [just] the male term, they leave her out."
Watch his statement via Global below:
The response to the team's tragedy across Canada has been monumental. Within days of the incident, more than $7 million has been raised for the crash's victims and their families. Canadians have also been leaving their hockey sticks out on their porches to pay tribute to the lives lost.
With a file from The Canadian Press
Popular in the Community