The rotting carcasses of two dead blue whales continue to stink up Newfoundland's west coast, but an expert says residents of one town shouldn't worry too much about a mammal exploding.
Trout River's whale has drawn many visitors, but it has also caused a stench, making local residents worried about the possible effects on tourism and the buildup of methane gas inside its body.
Town clerk Emily Butler told CBC News on Monday that the whale could explode, as it has grown bigger since it washed up on a beach.
But it's more likely that gases will escape the whale's body as its skin breaks down and deflate like a balloon, Jack Lawson, a researcher with the Department of Fisheries and Oceans (DFO) told The Canadian Press.
Still, that doesn't solve the issue of two big dead whales on Newfoundland's coast. The stench currently permeating in Trout River could make it difficult to move the animal at all, Maurice Budgell, chair of the King's Point Heritage Society, told CBC News.
In 2001, a 15-metre humpback whale was found on a beach near Cobb's Arm, N.L., and volunteers with the heritage society took on the task of building a whale pavilion where its skeleton would go on display.
The whale, which weighed as much as 50 tons, was moved by boat to King's Point, where volunteers stripped the blubber off its bones.
Some of the tools used to pull off the meat still reeked of whale 10 years after the job was done, Budgell said.
"[The communities] better do something with it, I'm tellin' ya, or they're going to have a real big problem on their hands this summer with regards to the smell," he told the network.
Precisely how the whales will be moved is as much of a mystery as by whom.
It's the responsibility of municipalities in Newfoundland and Labrador to deal with whales that wash up on shore. Trout River and Rocky Harbour could sink, bury or slice up the carcasses, Vancouver Aquarium researcher Lance Barrett-Lennard told Canada.com.
Alternatively, a whale can be disposed of by being towed out to sea and weighed down with train wheels, or buried in a hole where its blubber will leak into the ground.
Fisheries Minister Gail Shea tweeted on Wednesday that the federal government is working with a museum on an agreement to take the whales' remains.
That agreement could not come soon enough for Trout River, a town that is dealing with a problem that the National Post compared to having 30 dead elephants dropped on your doorstep.
There are also safety concerns. Lawson told the newspaper that the whale's skin is losing its integrity, and that if people were walking beside the animal they could fall into it and become trapped in its liquefied insides.
"I have fallen through the side of a whale up to my chest," he said. "It's not very nice."
In the meantime, a website titled, "Has the Whale Exploded Yet?" is carefully watching to see whether the mammal in Trout River will burst.
Check out photos of a dead blue whale that washed up in Trout River, N.L.: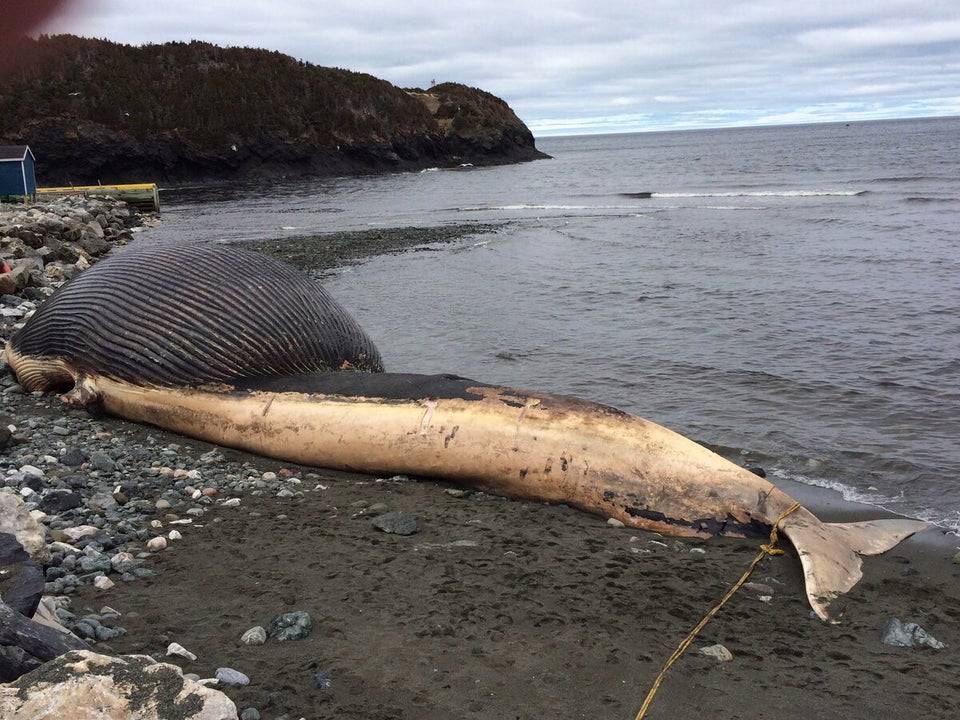 Dead Blue Whale In Newfoundland