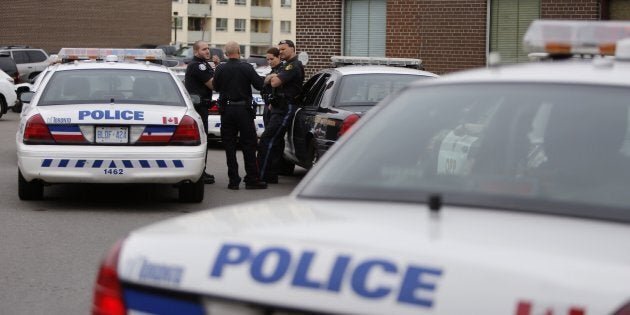 The use of force by police is infrequent. Research suggests that the use of force occurs in less than two per cent of all police-civilian encounters. Some police agencies claim that use of force occurs in less than one per cent of all calls for service.
Deadly force is extremely rare and some officers can go their entire career without ever discharging their firearm in the line of duty. However, the number of people shot and killed by police annually remains unknown. In both Canada and the U.S., there exists no national database on lethal force by police.
In Canada, police agencies will release use of force statistics in annual reports, but these data are very basic (e.g., total number of incidents). When a person is shot by police, the media will often report on it and/or a civilian investigative body – if one exists – will provide a very brief news release informing the public of an impending investigation. Very rarely will a police service provide details into a deadly force incident, and some incidents are not reported by major media outlets.
Since police use of deadly force is a significant concern, it would be logical to assume that information on the number of officer-involved shooting fatalities would be available to the public. However, this information is not easily accessible or does not exist.
My research has attempted to track and document lethal force by Canadian police in 2017 and as of mid-July, I have found that police have shot at 30 individuals resulting in 11 fatalities. These numbers are unverified and far from complete, and most importantly lack context and any other relevant information about each incident. This illustrates how much we do not know about police use of deadly force in Canada.
In an op-ed published one year ago, I argue in favour of a national database on police use of lethal force and provided suggestions on documenting incidents in a consistent and comprehensive fashion. It appears that little progress has been accomplished with respect to tracking deadly force and making it publicly available.
Federal, provincial, and territorial leaders must cooperate to create and engineer a national database on deadly force by police.
Tracking police use of deadly force in Canada should be considerably less challenging than in the United States, due to far fewer existing law enforcement agencies and the significantly lower number of lethal force incidents. Although the way in which use of force data are collected varies between jurisdictions, lethal force incidents are consistently documented and reported by agencies.
A national database on police use of lethal force would not only inform the public on how often the police use lethal force in Canada, but also provide valuable information for police leaders and government officials to identify trends and patterns and compare incidents across jurisdictions rather than in isolation which can lead to improvements on individual and collective performance.
Federal, provincial, and territorial leaders must cooperate to create and engineer a national database on deadly force by police. For a national database to be effective and comprehensive, federal, provincial, and territorial governments need to revise legislation that would require law enforcement agencies to collect and document certain information during forceful encounters. This list includes, but is not limited to: demographic characteristics of the officer(s) and civilian(s) involved in each incident (including race/ethnicity); the location of each incident (i.e., neighbourhood, highway, cross-streets); any injuries suffered by the officer(s) and civilian(s); if the civilian was armed; the nature of the incident (e.g., vehicle pursuit, domestic call, robbery); years of experience and education level of officer(s); and whether other types of force were attempted (including de-escalation).
The list is not exhaustive but it does provide insightful data for each lethal force incident. Another valuable piece of information to take into consideration is the civilian's mental state – this includes whether the person may have a mental illness and/or is under the influence of alcohol/drugs. The problem with documenting this characteristic is that police officers are not trained medical professionals and are not qualified to determine the mental state of an individual. However, a national database would be valuable as this information could be added once it becomes available from either a medical professional or a coroner's report.
Also, it is important that a national database includes all incidents during which an officer discharges their firearm and miss and/or do not kill a civilian. Choosing to simply include cases in which a person is shot and killed is inaccurate because the number of shoot and miss or injure incidents is far greater than those which result in a fatality. These incidents must also be included in a national database in order to reflect a more accurate number of deadly force incidents.
Police agencies should be eager to contribute to a national database on deadly force because: 1) it illustrates transparency by police; 2) it allows agencies to provide more and better context into lethal force incidents; and 3) it shows that deadly force is infrequent (and in some cases, justified). A national database on deadly force gives the public insight into lethal force incidents, and allows researchers to analyze and empirically study lethal force data across Canada which can lead to better policing practices through evidence based policing. It is a win-win for all Canadians.
In the 21st century where so much information is available at the click of a button, it is expected that the public be made aware of the number of people who are shot and killed by police each year. Sadly, this is not the case. A national database is a simple solution to this problem and is long overdue.
Follow HuffPost Canada Blogs on Facebook
Popular in the Community