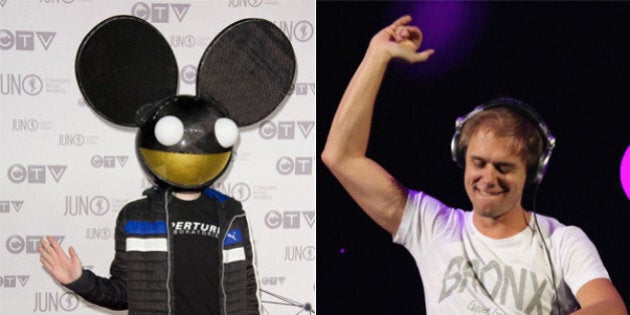 Deadmau5 just can't seem to resist a fight.
We saw this tendency when the Canadian EDM artist told Avicii's manager to "shut the f*** up," and when he blasted Arcade Fire for throwing shade at DJs.
This time, however, it appears that the Mau5 has met his match.
The artist went on a bit of a tear about trance music on Thursday, accusing British act Binary Finary of killing it in the late '90s.
From there he took a shot at superstar DJ Armin van Buuren's "A State of Trance" radio show.
The Dutchman would not take that one lying down.
We're not sure what van Buuren was referring to. Maybe it was the time that they planned a collaboration before Deadmau5 allegedly dropped out.
Whatever it was, the artist backtracked from his earlier criticism as many Twitter users took shots at him.
Then, finally, he tried to make peace with van Buuren.
But that id of his took over one last time.
It's interesting that Deadmau5 would criticize a musical genre for moving past its prime. Trance isn't the only thing that used to be good.
CLARIFICATION: This article previously stated that the exchange between Deadmau5 and Armin van Buuren began with the Canadian DJ taking a shot at the latter's "A State of Trance" radio show. It actually began when Deadmau5 threw shade at Binary Finary.