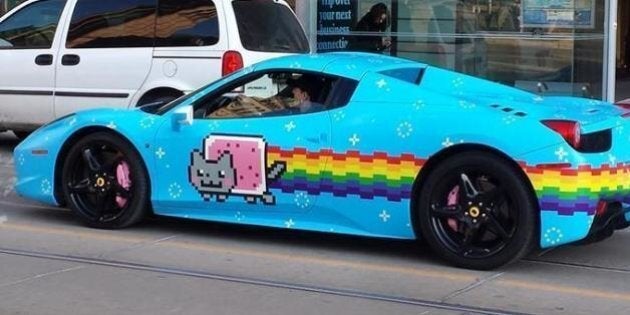 You either love it or hate it when it comes to Deadmau5's Purrari (Ferrari 458 Italia) and its car wrap Nyan Cat graphics as seen above. Evidently, Ferrari North America falls under the category of hating it, as they were apparently none too pleased with the custom "Purrari" badges and associated floor mats and emblems seen on Deadmau5's exotic sports car.
This bugged Ferrari North America so much so that the Italian supercar maker sent the self-admitted instigator a super lame cease-and-desist to have the custom emblems / wrap removed.
Deadmau5 (aka Joel Zimmerman) wrapped his 458 in honour of the legendary Nyan Cat, as he raced the car from Miami to Ibiza as part of the 2014 Gumball Rally and more recently took controversial Toronto Mayor Rob Ford out for a spin during one of his viral Deadmau5 coffee run videos.
Sadly, the Purrari wrap has since been removed and returned to its original look, and the custom made "Purrari" badges – which are dead ringers for the standard Ferrari text – went with them. Deadmau5 doesn't say if the unwrapping was due to the C&D from Ferrari or if it's because he put his Ferrari 458 up for sale?
#RIPpurrari, you had a great run.
Popular in the Community