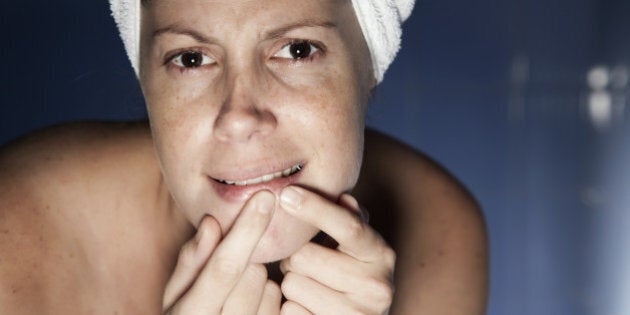 I'm no saint when it comes to treating my body like a temple, but I would say I'm still pretty damn good: I eat a good range of whole, natural foods; I was a barre instructor until very recently and still love to exercise, and hardly drink more than a few glasses of champagne/ whiskey/ wine at a time. So why, at closer to 30 than 20, did my skin suddenly and unexpectedly resemble a painful slice of pepperoni pizza? I never experienced acne as a teen, and was utterly puzzled as to what was going on with my face just a few short months ago.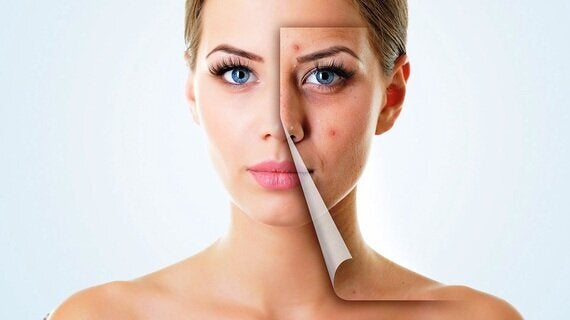 My initial instinct was to RUN to a dermatologist, but I'm admittedly slightly terrified at the thought of taking antibiotics long term, which are often prescribed for acne, and even more so of the frighteningly dark and long-listed side effects of Accutane. The naturopathic side me of urged the wanting to hide in a dark corner side of me to seek out other options first, and to my delight, there are plenty of successful treatments. Here's what I put on and in myself to clear up my complexion, giving me the ability to chuck my full-coverage foundation in favor of my beloved tinted moisturizer again.
Hands down and without a doubt, I owe a huge part of my now clear complexion to the SkinB5 Acne Treatment System. As a sufferer of adult-onset acne, my deep, painful cysts couldn't be eradicated with a simple overnight spot treatment; both internal and external issues need to be addressed, which is exactly what SkinB5 does.
The topical treatments are super simple, gentle, and surprisingly non-fussy. Formulated without harsh chemicals, drying benzoyl peroxide, animal products, parabens or synthetic fragrances, the gentle foaming face wash felt pleasant to use and didn't hurt my delicate, sore skin, which a surprising amount of other products did.
Post-wash, a lightweight moisturizer is used twice daily, and an included in the system is an award-winning purifying mask, which I used once or twice a week. The magic ingredient in the topical products is Vitamin B5, which refines skin tone and texture.
A myriad of other beautifully beneficial ingredients in the products include aloe and green tea to soothe and heal skin; chamomile to reduce irritation and inflammation; bergamot and menta piperita oil to act as a gentle antiseptic; and a whole whack of natural extracts to restore, revitalize and repair the complexion. The simple routine does exactly what is says it is going to do, and my skin started to decongest, respond and begin to repair itself almost immediately.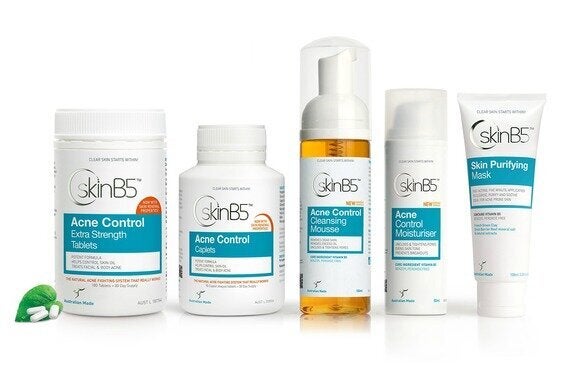 The internal acne remedy SkinB5 treats with comes in a caplet and tablet form, and seriously clears up even the most problematic skin naturally. Seriously -- if there was ever was a miracle, magic pill for clear skin --without any scary side effects! -- this is it. Both the tablets and caplets can be taken independently or simultaneously, depending on the severity and type of acne you're suffering from.
For me, I took one tablet and one caplet each three times a day. Working with a specific cocktail of vitamins and minerals to clear, control and prevent all kinds of breakouts from black and whiteheads, cysts and body acne while combating skin concerns like enlarged pores and oily skin, these pills literally work magic on the complexion.
Additionally, the caplets are formulated with Vitex, which helps regulate hormones, while the blend also strengthens the immune system and helps alleviate stress -- all factors that contribute to acne. As a beauty editor, I've tried and tested tons of every kind of product over the years, and this one's the real deal. Not to sound all dramatic, but it honestly changed my life -- I only wish I had tried it sooner!
If you prefer to battle blemishes, uneven tone and texture and dark marks left from scars in a spa environment, go ahead and book yourself in for a facial. But not just any facial: if your acne is cystic, like mine was, extractions just aren't possible, and a more dynamic approach must be taken.
Skinstitut offers a variety of skin-clearing. in-office treatments, which are complimented with the brand's super effective at-home products. Fiona Tuck, a skin and nutrition expert who helped develop Skinstitut's product range, explains, "A lot of skincare companies put ingredients on the label, so you think you're getting a lot of that ingredient, but you might not actually be getting enough of the concentration to get results; products need to be in specific amounts to have a therapeutic effect. For example, just because a product says its got a peptide in it, unless there's enough of that peptide in there, it wont have an effect at all.
"And a lot of skincare companies will put the ingredient in, but they won't tell you how much is in there, so it's very difficult to know if that product actually works -- if the ingredients aren't in a high enough concentration, they won't have any effect on your skin whatsoever. It doesn't matter if you spend $10 or $100; you don't really know, and the only way you can tell whether a product works or not is when you get a change on your skin. With Skinstitut, I helped develop the formulations, so I know what's in there!"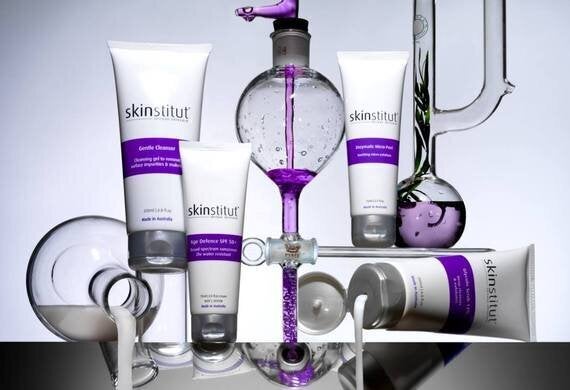 I can personally attest to the range being incredibly effective, and it's quickly become a mainstay in my vanity (which says a lot, as there is very little available real estate for new products). But let's rewind to the facials Skinstitut offers. Upon arrival, a highly skilled skin therapist meets with you to discuss your complexion's current state, and what you wish to achieve.
A plan is then developed, which involves the therapist choosing which facial treatment will help achieve your best results, and a specially tailored product routine to support your skin goals. Settling on a mini-series of three chemical peels, my skin has honestly never looked more even, smooth and refreshed. Eradicating my enlarged pores, dull tone and uneven texture, this modern-day treatment is nothing like the terror-inducing chemical peels that conjure images of Samantha Jones' red, scaly face on that Sex and the City episode we can never unsee.
Four different strengths of peels are offered, from the gentle AHA Enzyme Peel, which using micro-exfoliation technology to seriously smooth skin, to the Purple Peel, which is a cosmedial grade peel for sun-damaged skin in need of regeneration. My skin benefitted from both an AHA Enzyme Peel and a Peel Accelerator Treatment. Both peels stung a teeny, tiny bit upon application, felt like a mild sunburn for about three days, and then revealed what I can only say is my freshest-looking complexion yet. My acne pigmentation is seriously reduced, and my overall complexion is more even, smooth and revitalized.
Another major aspect of controlling adult-onset acne is ensuring you're just as conscious as what you're putting in your body, and not just on it. I know eating clean sounds like the most boring thing in the world, but it doesn't have to be, nor does it have to be complicated. For me, balancing hormones was key; magic powder maca aids in this, and can be sprinkled into smoothies, on top of berries, into oatmeal, or stirred into yogurt, soup, or even coffee. Boosting energy while evening out imbalances, this Peruvian plant naturally helped get me back to looking and feeling more like myself.
For a more powerful dose of body-balancing supplements, evening out hormones is key to clear skin. HUM Nutrition's Moody Bird's formula does just that, with its natural blend of Chaste Berry (aka Vitex) and Dong Quai root. Promoting a healthy balance during your monthly cycle, this vegan and plant-based supplement reduces PMS symptoms like breakouts, cramps, cravings and moodiness -- all seriously beneficial boosters to your complexion and overall wellbeing.
One of the most difficult diet adjustments for me was cutting out back on dairy -- not only do I love cheese far too much to give it up completely, but I don't personally like to eliminate entire food groups. Finding non-dairy alternative sources for my favourite foods was often an exercise in futility, with the exception of WelleCo.'s The Super Elixir Nourishing Protein.
Mega (and mega gorgeous) model Elle Macpherson developed the range of wellness products, which includes the notoriously glow-inducing Super Elixir alkalizing greens. Formulated with an impressive, carefully curated array of 45 natural ingredients, like Chinese Herbs and natural enzymes, The Super Elixir improves your body's system on every level, from aiding the circulatory, digestive and nervous systems to strengthening hair, skin and nails.
But back to the Nourishing Protein: both the chocolate and vanilla flavours are divine, and are made from non-GMO, plant based USDA Organic pea and brown rice protein. Besides offering a big boost of protein, other benefits include reduced stress, thanks to B Vitamins, antioxidant protection from Acai, and an increased metabolism from digestive enzymes.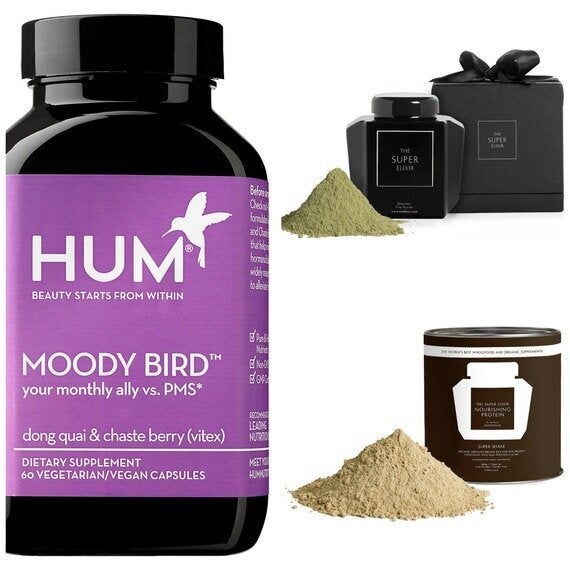 Now that my skin is clear, I plan on keeping it that way. I'm still taking SkinB5, and have adjusted my dosage to maintain my newly happy complexion.
In the mornings and evenings, I follow my tailor-made Skinstitut routine, which includes five easy and skin-beautifying products: the L-Lactic Cleanser, which exfoliates and refines; the deeply hydrating Multi-Active Mist; the Vitamin-rich Moisture Defense for daytime and the skin soothing Laser Aid protecting lotion in the evening; the best retinol serum I have ever come across to keep my skin clear and line-free; a twice weekly deep clean with the feel-good Glycolic Scrub 14%, and a weekly super smoothing overnight mask, the Enzymatic Micro Peel.
To further fade lingering and stubborn acne scars, I'm using SkinCeuticals Advanced Pigment Corrector. Using multi-action technology to drastically reduce the appearance of discolouration, my skin tone is visibly more even, luminous and more radiant than ever. So much, in fact, I am comfortable going out without foundation now! Clear skin has never felt better.
Follow HuffPost Canada Blogs on Facebook
Popular in the Community