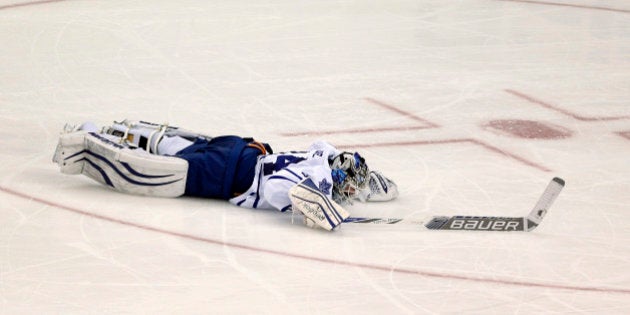 Dear Toronto Maple Leafs:
Since January it has been so difficult to watch you play; not because your expertise on the ice has diminished dramatically, but more so because it is obvious you were suffering terribly.
I am 55 years old, and I felt pain in my gut, existential anguish, watching you get beaten, over and over. As the final whistle blew in one game after an other I felt hopeless. I did because it was so obvious you were all trying in your own way to win or at least figure things out.
But you were lost, and you were more so than we had ever seen you. I found that terribly sad. I did because I have felt blue in my life as well; I've been lost and know the difficulty of keeping my head up. But when I get lost, I do so in private where as you display your mental absenteeism in front of millions. That must be humiliating.
Leafs, how did your confidence dissipate so thoroughly? Where did those magnificent tip-ins at the net by James van Riemsdyk go? What happened to Phil Kessel's speedy strides down the ice? Where have the last nine years gone? What happened after 1967? How is it a city with perhaps the greatest feed of hockey players in the world have missed the playoffs for close to a decade? How is it we've had some of the best hockey personnel come to Toronto -- like Randy Carlyle -- individuals who wear a Stanley Cup ring, and all of them failed so miserably?
We're all deeply mystified. What happened?
So like millions of Leafs fan, I've been thinking, working on figuring out this decade-old conundrum. And I'm figuring that it could be we've been looking in the wrong bag for the solution?
Is it possible the challenge to the Toronto Maple Leafs does not only start and stop in the dressing room, during practices and throughout a game? Might it be the real trouble emanates from the psyche of the town in which you play and where I live.
Isn't it entirely possible Toronto is simply not a winning place but instead embraces mediocrity; and a revolution to embrace excellence is required of the players, management, media, fans and the city overall?
While the reader might think this is absurd, consider: if all of Anaheim's players came to Toronto, and we sent our team there, isn't it likely Anaheim would fail and the Leafs would fly? Likely.
Further, look closely at your own history. Remember when you were a kid and how critical you were of those who ran past you in a race. We wrote articles about CEO's who made a ton of money insinuating they were selfish and even thieves. Even when the Blue Jays won back-to-back World Series we failed to post a sign at the entrance of our town: "Welcome to Toronto, Double World Series Winners." Mediocrity became the level we worked toward.
Our parents, teachers and leaders figured being unexceptional was a way of maintaining a balance of sorts, a way of not hurting others. We began to lag mentally and our confidence dropped thinking we actually couldn't achieve greatness, or shouldn't.
Because of this mentality we remained small-towners. We didn't want to become too big for our bridges so we wouldn't invest in superstars. When we had Wayne Gretzky in our grip, we let the Great One slip through. Like a small town our media thinks in simple terms, black-and-white, qualifying our players as winners on Monday night and losers on Friday.
Like small towners, the fans never really protest, because the players are like our brothers and we wouldn't want to offend family.
Leafs, at some point Toronto is going to make that leap from the teenager to an adult, a world-class environment. When we do we will pursue winning without guilt. To do this, however, the team must create an oasis in the dressing room and on the ice that is outside the underlying mentality found on the street. Ownership and management must create a mindset that is not "Toronto" but more so that of the cities they come from. The media must stop looking for a target to focus on, the "bad guy" on the ice, as if to say "uhu so you think you're better than the rest of us, eh!?"
The fans must stop being embedded in its thinking, believing that what's happening in this moment will always happen but instead be reflective, recognizing things can change. And none of us can be lulled to sleep by mediocrity, but instead must embrace a true competitive nature, complexity, drive and an authentic will to win.
We're all in this together fighting for the next iteration of time when this city truly grows up and the goal light of adulthood goes on and stays on, when we finally win the Stanley Cup again. But for now, our hearts just bleed for our boys on the ice and we hope and pray that a savior, a certain consciousness, will rescue all of us from mediocrity in the 2015-16 season.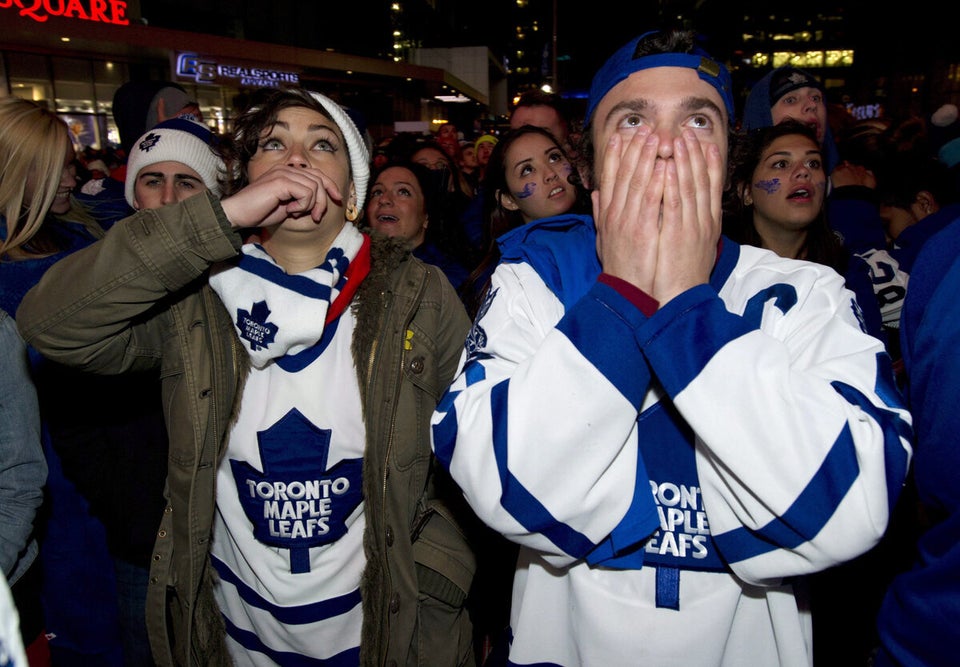 PHOTOS: Sad Maple Leafs Fans