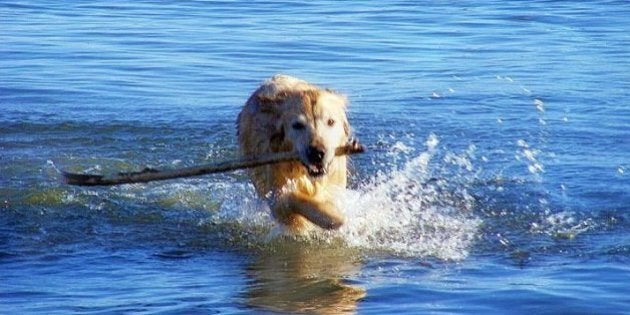 Some of you may remember my blog post from Thanksgiving about being thankful for the gift of Cooper in our lives. He had recently been diagnosed with osteosarcoma, so we knew the time we had with him was short.
Turns out, it was a little shorter than we'd hoped, but longer than most receive.
Today, Cooper's journey came to an end.
The tumour on his leg had grown to a point where the skin broke, and there was really nothing more that we could do. The cancer had eaten through the bone and it was only a matter of time until the leg broke. Our vet told me on Thursday night that the hard reality was, that we'd likely put down a dog that was 100 per cent healthy, except for the tumour that would eventually do its worst. We chose a short, painless death for him, over the agony of all of us -- most of all, him -- suffering.
It wasn't what we expected this morning. But in hindsight, the signs were there. As I drank my tea, Feist, our gentle little cat, walked up to Cooper and went nose-to-nose with him, something she seldom did (in our presence, anyway). She then put her tiny paw on his swollen leg, and then leaned over and licked it. She knew something wasn't right, and wanted to let him know it was alright. I wish I had my phone with me to record it.
Uncharacteristic of her, she was up and about today, instead of snoozing on our bed. She hung out with us in the living room and kitchen, never more than 15 feet from our big, furry friend.
Then George, our big beast, set up camp in the kitchen. He was the one who made it clear to Cooper on the day we brought him home that he was the alpha male in the house. Cooper swung George a wide berth most of the time after that, and George especially delighted in stretching himself out the entire length of the top stair so Cooper couldn't get up, because he knew Coop would never dare go past him.
Yet it was George who silently stayed with Cooper those first few nights in the house and cuddled up to him in thunderstorms. And both George and Feist hung out with their friend today. No misbehaving. Just hanging out. A silent, stoic farewell.
It was around 11:30 a.m. when we knew what we had to do. Cooper came in from another lie in the snowy sunshine and the wound was open again. This time, it was nearly impossible to stop it from bleeding. Between us we decided it was the right thing to do. We called the vet, we called my brother, we called his other mummy and a couple of friends and broke the news that it was time to let him go.
Then we let him in and out as much as he wanted to go. We cooked him a steak. Our daughter said her goodbye before heading off to work, armed with tissues. She didn't think she could bring herself to be there at the end, and that's OK. She was there for him in his final hours, gently wiping the blood from his face, giving him treats and kissing his nose and stroking his fur. That's what counts.
"Paul stroked his face and I lay on his chest and whispered in his ear how much we loved him, and then it was over."
A friend and I took him for one last walk down to the beach he loved. For an hour, he ran free, met a few other dogs, rolled around in the snow (and on a dead fish), and then let us know he'd had enough. Just before 4 p.m., my husband and I put him in the car for one last ride.
He lay in the back seat and walked without a leash into the vet. We were 25 minutes early. Usually, dogs sniff their way around a vet's office. He didn't. He gingerly climbed up on the scratched leather couch -- head at Paul's end, tail on mine -- and lay down while we petted him. I watched the tail of the purple, kitchy cat clock (in a white vet's coat) twitch back and forth as the seconds ticked, and Cooper's tail twitched, too. I think he was grateful that we loved him enough to let him go.
Then, it was time. He walked into the room, sat down on the floor and the vet shaved his good paw. Paul stroked his face and I lay on his chest and whispered in his ear how much we loved him, and then it was over. In seconds, our beautiful, golden boy was gone.
We are thankful for so many things in these last few days. We're thankful that the renovations at our house had him spend a few days at what we like to call the Auntie Robyne and Uncle Billy Spa and Whoopie Emporium, where he got lots of treats, and love equal to what he would have received at home.
While he was there, he played the inside-outside-give-me-a-bickie game to endlessly patient surrogate parents. He woke up early and played in the snow. He lived like a king. And then when I picked him up on Thursday, he licked my entire face as though he hadn't seen me for a year. His whole body shook with joy when he saw me, and that ranks as one of the best feelings in the world.
We're thankful for our vet, Dr. Karim Aziz, for his tender care of Cooper when he was in for a checkup on Thursday, and again in his final minutes today. And we're thankful to his former parents, who loved him as much as we did, for sharing him with us.
But mostly, we're thankful for Cooper, and the joy we brought to our lives.
The cats were at the door waiting for us when we got home tonight, where Cooper would normally be. No meowing for soft food. No complaining. They were just there, waiting.
They, like us, know the house won't ever be the same.
Follow HuffPost Canada Blogs on Facebook