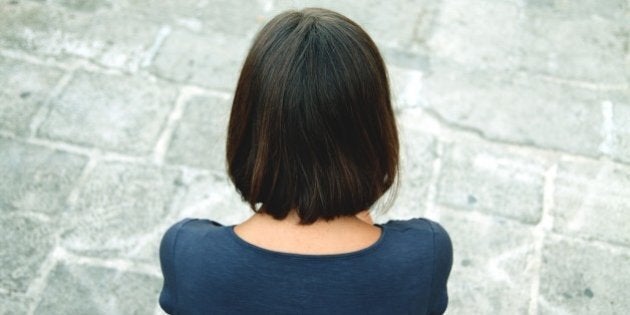 My friend died six weeks ago.
His name was Kent Nolan. He was 25. He was talented, handsome and successful. He was an actor, a writer, and a filmmaker; the kind people call, "incredibly promising." He was a son, a brother and a friend. He was unbelievably kind.
'What will I write about this?' was not the first thing I thought when I'd heard Kent died. It was probably the twentieth after, 'How? Why? When? And again, how?' on repeat. The overriding feeling upon being told about his death, at a TIFF party around 11 p.m. when the alcohol begins to hit was, "Stop lying to me." Then it was, "Who would lie to me about something like this?"
I had just seen him the day before.
Watching the news of his death spread through that club, a crowd of young, pretty film up-and-comers that he was a part of, remains the most surreal experience of my life. Death is weird and people take ownership of it. Maybe I shouldn't be writing about Kent at all.
How do you talk about an ending this tragic, a career thwarted, a life and a person who was lost before he had even begun?
I had met Kent many times but our friendship began with us playing trampoline dodge ball. If you know me, that's weird. I hate all sports, especially group ones, but I had to go. It was at a birthday party for my friend, Kevin. The guests were a clique of cool, fiercely intelligent go-getters; mainly the cast members of a hot summer procedural that played cops who could moonlight as models.
They were a group that I wanted to be a part of. What I didn't know is that they were a group that would give me something I really needed: proof. Proof that if I was patient, there were better things ahead for me than what lay behind.
I recently found a quote, "Sometimes a light goes out, but is blown again into an instant flame by an encounter with another human being," and it made me miss Kent in a sharper way that I had since the week of his death.
I have come to believe that our notion of time, measured with clocks, is only convenient fiction. I only had this summer with Kent, but I knew him in a deeper way than a season suggests. Maybe the amount of time you get with someone is predestined, something you agree upon before the first shot is fired. Maybe you don't get a say.
I don't know which idea I find more comforting.
Lately, I try to focus into the past and remember, trying to grab wisps of him before it's all gone.
I remember sitting with Kent at a rooftop party, summer in full swing, talking about the future, talking about filmmaking, talking about our mutual friends. We both thought it was weird we hadn't become friends before. We had a lot in common. We were both child actors. We both liked asking questions. We both wanted to make things. He also loved Menchie's,"fro-yo" as he called it.
Some people thought Kent was naïve but he wasn't. People think I'm naïve, too and I hate it. This was another way I thought Kent a kindred spirit; most people could not see our complicated interiors because we were good at smiling
Kent had had a lot of hard things happen to him and he rarely talked about them. He was one of those people that always chose to be kind, to work hard with a smile, to make life easy -- qualities I respected and adored most in him.
Qualities I find hard to think about now.
I remember dialing his number one summer night on my busted iPhone. It was one of the first and only sweltering June nights.
"Yo, Kent. Let's go dance to rap music. Aidan's coming, too."
I remember the sweat pouring down our faces, the three of us pressed against each other, dancing until the lights came up. We took a cab home east. Aidan and I were in the back. Kent in the front with his backpack on, laughing.
When I want to remember what it felt like to be young, this is the night I will think of. I got a new iPhone the week after he died. It deleted all the pictures of that night, the only pictures I had of he and I alone together.
I can break off pieces of this summer into things that I can hold; the airy feeling of a vodka-soda hangover, those sunglasses that I left in New York, my scraped knee, the stranglehold grief of a broken heart lifting. Now, Kent is one of those pieces. He is something I will associate with this summer, and tragically, in his case alone, nowhere else.
This is a difficult for a lot of reasons; all the things Kent and I won't get to do together, the things he won't get to do at all.
As eerie foreshadowing, I had had a conversation with my father a few weeks before Kent's death. "You have no idea how quickly people are going to leave your life," he told me.
Only, my dad wasn't talking about people dying. He was talking about friends, lovers, weird cousins; people you didn't count on leaving, who one day fade out of your life forever.
He was talking about sitting across from your high school best friend, wondering when they became someone you don't understand. As you hug them and feel how you both strain; how much you both wish things were the same.
He was talking about calling your grandpa and silently deciding that dementia really can get that bad overnight.
He was talking about seeing an ex-boyfriend and having to resign yourself to the fact that you are strangers again, only this time, with memories.
I think my Dad was telling me that being in your twenties is defined by reconciling what's ended, what's beginning and having to decide which is better.
I have never lost a friend my age before. I remember telling one of my ex-boyfriends that that when I was twenty. He was 25, playing the guitar. He looked at me sad and with confidence, "If you can bet on anything changing, it's that."
It was the one thing he was ever right about.
I have one final image of Kent. I am standing on the Bay Street sidewalk outside a TIFF party that has just ended. My shoes are off and I'm pretty drunk. The sidewalk is colder than the new September air. The pavement feels nice of my feet. I'm wearing a dress composed of rhinestones, a skin coloured net and not much else. I am talking to Aidan, saying that my feet hurt but that I don't want to go home. Out of the corner of my eye, I see Kent. He's in a tuxedo. He looks handsome and a little lost. I walk over to him.
"Where are you going?" I ask Kent.
"I don't know. Home, maybe. What about you?"
He looked eager, with kind and young eyes. He looked just like he always had. I don't know if he looked like he wanted to stay with us, or if I'm making that up now.
"I'm going to go home," I said to Kent, deciding in that moment. "See you tomorrow." Then, I hugged Kent. I remember how the crispness of his suit felt against my hands.
That night outside the party, I didn't think I was hugging him goodbye. I only thought I was hugging goodnight. What kills me is the space between those two thoughts, the deception. I thought I was doing some little, insignificant thing. I was just saying goodbye to a friend in a crowd. Really, it was something so much bigger than that. I threw it away like nothing.
Why is life defined by thinking that something is one thing, when really, it's something very different?
I wonder now if Kent can read this, someway, somehow. I feel stupid that I even wrote that. I guess no matter what, I will always be prone to magical thinking.