Is this the best bromance we've ever witnessed? YUP!
At the men's 200-metre semifinals on Wednesday, sprinters were gasping and pushing themselves past limits they trained to surpass their whole lives. All except Andre De Grasse and Usain Bolt.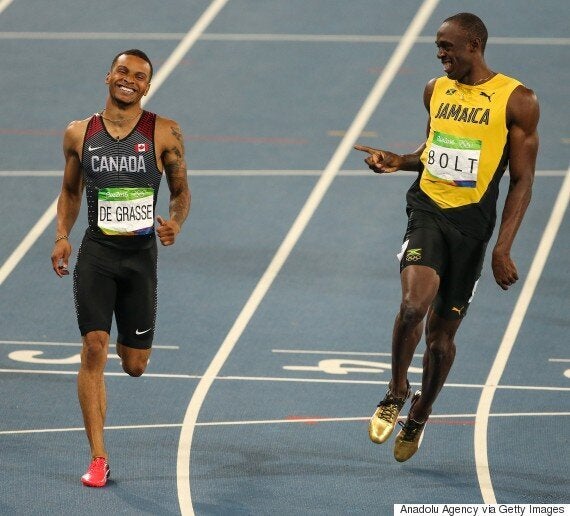 It all started when Bolt, as he always does, blazed past his competition to an early first-place finish. Canada's De Grasse caught up in the last 20 metres, running toe-to-toe with the world's fastest runner.
Noticing the Canadian's cheekiness, Bolt couldn't help but laugh. The two cruised past their competitors and crossed the finish line together smiling at each other. De Grasse trailed the Jamaican by 0.02 seconds.
It's more than a little impressive, considering De Grasse and Bolt's leisurely grins happened during an Olympic sprint.
And De Grasse beat the Canadian 200-metre record, no big deal.
Post-race, Bolt told De Grasse what he told his Jamaican teammate Yohan Blake, who hadn't qualified.
Bolt told reporters he quizzed his younger rival as they crossed the finish line, according to The Guardian.
"I said, 'What are you doing, it's a semi-final?' That was really unnecessary," Bolt said. "I don't know what he was trying to do but he's a young kid, he's great."
De Grasse wasn't sheepish over his antics on the track.
"Yeah, I was just having some fun," De Grasse told the National Post. "I was kind of tentative. I was thinking, 'Should I pass him or save it for tomorrow?'"
But I definitely wanted to make him work a little bit and push ... we were kind of joking around saying, 'Why are we running this fast?'"
For two athletes who didn't know each other a year ago, they've gotten exceptionally chummy.
The two competitors, who share a sponsor in athleticwear brand Puma, first raced against each last year at the world championships.
Bolt later told media later that the young sprinter "runs just like me", according to Maclean's .
Immediately after Wednesday's race, Twitter's swooned over the two sprinters' mutual admiration of each other, dubbing the pair "DeBolt."
One British Columbian had the perfect soundtrack for the sprinters.
"Yeah man, can you beat me? Can you beat me? Aw yeah, what's up son," she said, impersonating Bolt.
A Canadian radio station noticed that Alberta already shipped it.
And of course, there are buddy team comparisons galore.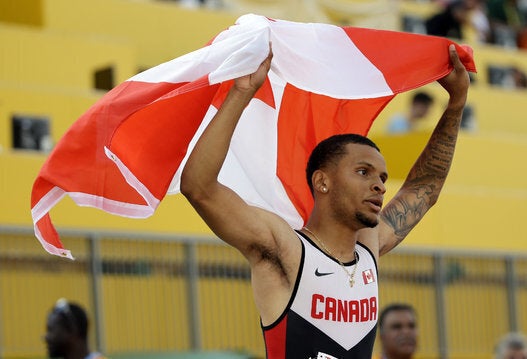 Canadian Athletes To Watch At Rio Olympics 2016