Deborah Coyne visited The Huffington Post Canada's office in Toronto on Wednesday to explain why she wants to be the leader of the Liberal Party of Canada.
Coyne answered questions from HuffPost readers on gun control and why she thinks she can win.
She also explained her plan to strengthen the federal government, and gave her take on fellow candidate Marc Garneau's attacks on Justin Trudeau, the ongoing troubles in the Senate, the role of the monarchy, Gen Y paying for Baby Boomers to retire and what she'll do if she doesn't win the leadership.
You can read the highlights below.
On why she's running for the leadership
"I do think the Liberal Party bottomed out in 2011 and, as an observer, I see the party having lost its distinctiveness as a voice of bold national leadership."
"The very notion of strong national government is under attack. Canadians are being conditioned to think that the national government doesn't have much to do with their lives, and that there are no real national answers to the challenges we face. And I say this is wrong."
"Canadians know they don't like polarized politics, they don't want everything simply left and right. The Liberals can come back. For me, the unifying feature of the party is what will attract the kind of attention that's needed to get the Liberals back in the game."
"What I am proposing is simply getting back to the fundamentals of a federation. The fundamentals of having strong national leadership. There are things that have to be done together nationally. Even Quebecers are Canadian citizens."
"In the past, we've had many things where Quebec, in particular, will be demanding to opt out of this or that. And it's clearly a political thing just to weaken Canada. Well let's stand up and talk to Canadians as Canadians."
"We will not be coherent internationally unless we're coherent nationally. As long as we have no climate change policy, we are the dinosaurs on the international scene. As long as we are letting aboriginal communities live in third world conditions, how do we have any credibility?"
"I don't comment on other candidates. I believe we're all in it for the best reasons and to build up the party. Marc, of course, is entitled to his ideas. And we move forward."
On not running for office in 2008 or 2011 and why she feels she can win a seat now
"Why I didn't run is there were no ridings. I ran in a nomination for Don Valley West, and that was not to be won. In 2011, I did look around. It's not for lack of looking at ridings. I am, I've always said, a Canadian without borders."
"Whether or not I can win a byelection, or an election, I'll let the people decide. And I will find a riding here in Toronto."
"One of the things that this race is all about is party reform, and I can tell you that my experience in nominations has led to my party reform paper ... I'd like to have a role in fixing that as well.
"I am a strong supporter of gun control, and we all want to reduce gun violence. One of the very good things about Canada, after the Sandy Hook tragedy, is it is one area where we're very different from the United States. We do not, and never have had, the constitutional right to bear arms, and we have a different attitude toward gun control."
"Bring together the experts, listen and see if there is a need for a national registry of some sort. Do it with greater sensitivity to the rural populations that have trouble with registering every one of their long-guns. I'm not part of that community, I never knew that you would have a separate long-gun for fishing and for deer."
"That is Mr. Harper's base [NRA-style gun advocates], he plays to that base. So we hear that out of proportion to what it should be. That's a challenge."
On the troubles in the Senate
"I would support having an elected senate, but it has to have very exact powers."
"Right now, it's way too much political energy. It's all messed up. Mr. Harper's wasted two years before the Supreme Court of Canada reference. And he's asked all the right questions, even how do you abolish it, because there is a tendency to say 'let's abolish it.' Right now I'd focus on the administrative things ... Just get moving. I'm a very practical, fix it, kind of politician."
"We need a Canadian head of state. You need a head of state that protects the integrity of Parliament and obviously ours is unable to do that."
On appealing to Quebec voters
"We have to get back to just saying the same message to Quebec. You appeal to Quebecers as Canadians."
"I can't believe that there isn't enough of an outcry about this."
"[Raising the OAS age, but not for Boomers] is exactly what's wrong with national government right now . It's just trying to say 'oh, we'll do this because nobody will complain and everybody under 50 won't notice.'"
On whether she'll run fof a seat in 2015 if she doesn't win the leadership
"Yes. And there is apparently a new riding in Toronto"
"I have this interest in seeing why government in the 21st century can't operate in a better way, can't take the long-term, can't say the things that have to be said."
This interview has been edited and condensed.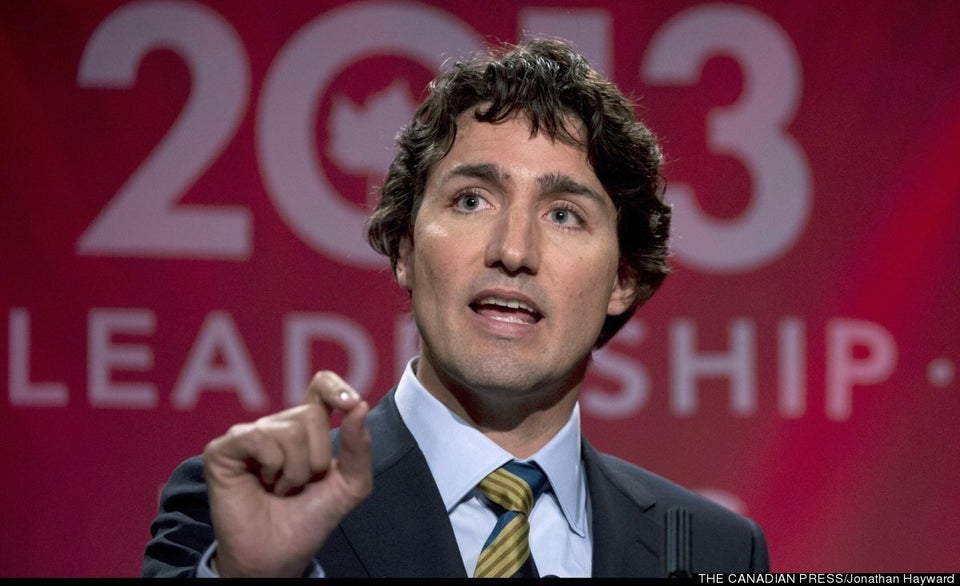 Liberal Leadership Debate
Popular in the Community