It's been fewer than 24 hours since the results of the Alberta provincial election came down, and already a freshly elected NDP MLA finds herself in hot water.
Deborah Drever, who won the Calgary-Bow riding away from Conservative candidate Byron Nelson, has found herself the subject of scrutiny after several questionable photos were pulled from her open social media profiles Wednesday.
In one photo, taken from Facebook, a hand can be seen giving the middle finger to the Canadian flag. Drever's comment beside the photo reads "OH JKJKJKJK LOVE CANADA."
In another, she is seen posing beside a t-shirt emblazoned with a marijuana leaf.
Drever, a 26-year-old student at Mount Royal University, told the Calgary Herald she took down her profile after she woke up to a slew of criticisms and screengrabs on Twitter.
She claims it is not her finger seen in the flag post and that she does not smoke marijuana.
"Really, I was just joking around. I don't smoke pot, in fact I'm allergic to it."
Drever's campaign manager, Ron Hamelin, told Metro Calgary Drever was being "funny and silly" in the weed photo.
"It's like you're not allowed to be funny and be happy and be a jokester, prankster," he said. "It's just something to try to discredit and steer away from the actual values and actual platform at hand."
He told the newspaper Drever took down her Facebook profile so people don't get the "wrong impression."
Some Twitter users expressed disappointment in the rookie MLA's judgement.
Others, however, said she should be cut some slack.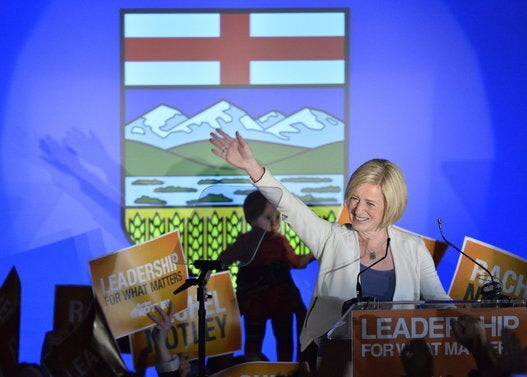 Alberta Election Day 2015