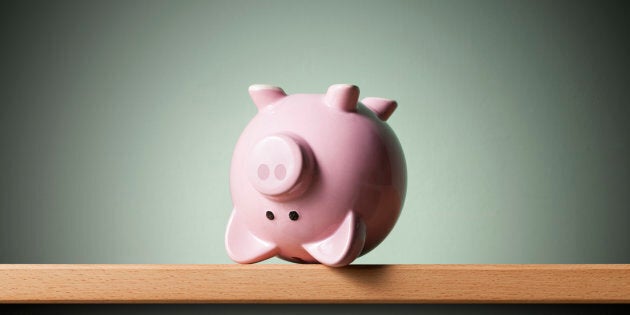 Years and years of aggressive consumer borrowing are catching up to Canada, witha new report from the Bank for International Settlements (BIS) showing the country is a top candidate for a banking crisis.
The BIS, a "central bank of central banks" that evaluates risks to the global financial system on a quarterly basis, singled out China, Hong Kong and Canada as the three places that "stand out" for having the highest risk of a financial crisis.
The level of all Canadian private debt outside the financial sector is 9.6 per cent higher than normal in Canada, just above nine-per-cent threshold that the BIS considers a "red light" indicating a high risk of a banking crisis. That's behind only Hong Kong (30.7 per cent), China (16.7 per cent) and Switzerland (16.3 per cent).
"The indicators currently point to the build-up of risks in several economies," the BIS report stated.
And a new report from credit agency Equifax, released Monday, found that Canadians' total debt, including mortgages, jumped 6 per cent over the past year, to a total of $1.821 trillion in the fourth quarter of 2017.
Watch: What happens when there's an interest rate hike?
The survey found that a larger share of Canadians (46 per cent) are paying down their debt, while a smaller share (37 per cent) are accumulating more debt. But those who are taking on more debt are accelerating the amount they are taking on, causing the overall debt numbers to keep rising.
In all, the average Canadian owed $22,837 in the fourth quarter, up 3.3 per cent over the past year.
"Despite the high debt, mortgage payments are generally on time, which could be attributed to low unemployment numbers and mortgage and auto finance interest rates which are still at historically low and reasonable levels," said Regina Malina, senior director of decision insights at Equifax Canada, in a statement.
According to recent data from the Canadian Bankers Association, the delinquency rate on mortgages is actually at its lowest level in more than a decade, again thanks to low interest rates that have made payments manageable.
Malina noted that, with new mortgage rules in effect, designed to limit the amount buyers are borrowing, there could be an impact on Canada's housing market.
"As the new mortgage rules begin to impact approval rates, there may be a shift in the profile of mortgage customers, and activity in the real estate market, but at this point most people are managing their payments," Malina said.
Millennials have less debt
Malina noted that millennials, the youngest borrowers, have had the highest delinquency rate on their debts, but that rate has fallen nine per cent over the past year.
"Their overall debt has continued to increase, but they seem to be handling their payments better," Malina noted. But she added that the debt of older Canadians continues to grow, "perhaps suggesting millennials are getting some help."