Earlier this summer I took my Toronto Interior Design Group team -- along with the Cityline cameras -- on a busy media tour in western Canada. While visiting Vancouver, I met a lot of interesting people and found many memorable design ideas in so many places, from showrooms to the shoreline, and from spacious hotels to compact homes. Inspiration came from a rather unexpected place, however, when I was invited to the real houses of two Real Housewives of Vancouver: Jody Claman and Amanda Hansen.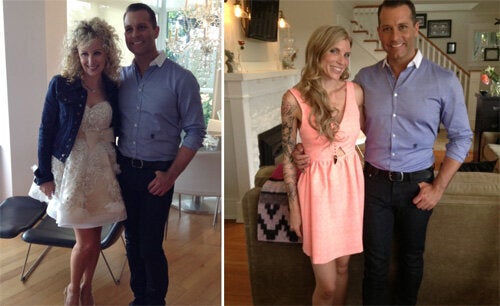 Amanda's home mixed periods perfectly -- a style of design I'm known for. The classic character of the century-old house plays into her edgy modern Edison bulb light fixtures (the style with glowing filaments that recall old mad scientist laboratories), housed in architectural glass shades. Her complex palette of materials all work with the simple white walls to create a sophisticated but playful air -- fitting for an artistic family.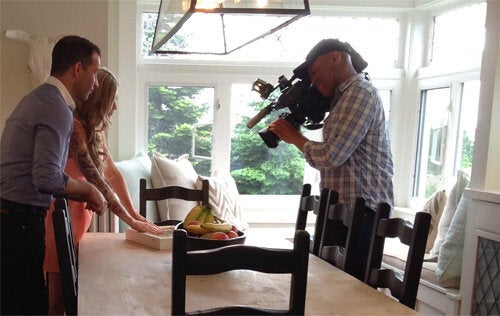 To blend periods like Amanda, apply these tips to your mix:
1. Energize your lighting: The Edison bulb style can now be found in many decor stores and works equally well in traditional or modern schemes. Try these where bulbs are exposed, such as a high pendant, glass sconces or an unshaded strip above a mirror. To take the look a step further, switch to clear glass or wire shades and let the glowing bulb be the star.
2. Combine textures: The trio of glass, metal and wood works in almost any scheme, and especially here where different eras are coming together in harmony. Make sure to have at least these textures, as well as a few different fabrics -- it's better to avoid trying to "match" period pieces, and instead go for intentional contrast.
3. Inject some plastic: You can grab a version of this Eames style moulded plastic chair at many trendy furniture boutiques -- I have a rocking version myself in my design studio. Mid-Century pieces like this inject some modern style with a little retro charm and lots of timeless beauty, and the smooth texture will add to your palette.
4. Clean white slate: Unless you're a professional mixer, a simple white backdrop is best to keep the look harmonious. Amanda's white walls highlight the architectural character and give the space a clean orderly look -- even when art projects are going on.
Jody's house also followed many of my stand-by design tips. Her kitchen was part of an open concept, and like Amanda's it relied on lots of white. However, in Jody's case white is found in her plentiful seating, and the walls, although seemingly neutral upon first glance, actually bring life to the room via a soft subtle pink. (Try Benjamin Moore's CC-158 Apple Blossom for a similar feminine flair.)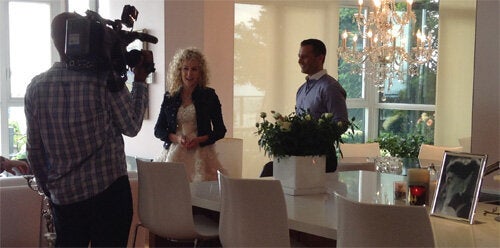 Here are a few more ideas inspired by Jody's home on how to entertain like an expert:
1. Maximize seating: Using generous contemporary sofas with many compact chairs gives a small gathering ample space to lounge, and a large gathering more than enough seats to go around.
2. Expand the space: Jody's dining nook at the end of the room is framed by two fully mirrored walls. Taking the mirror floor to ceiling (rather than hung in a frame) makes the space appear twice as large, especially since the third wall is actually floor to ceiling windows.
3. Circle the Table: The dining area here is a square, so a circular table actually makes a perfect fit, filling the area evenly and letting all of the guests face each other (keeping anyone from feeling boxed out of the conversation).
4. Embrace what you love: Rather than compromising to fit more in, the scheme here makes room for statement pieces, including a person-sized pink statue, a baby grand piano and an oversized painting above the fireplace. Using large pieces you love makes more of an impact than little nicknacks you settled for - and after the table has been cleared a piano makes a perfect gathering spot!
So who says a kitchen is only for cooking? Even in a small space, you can fit a music hall or art studio, along with a plenty of personality, so take some of these tips and mix a little Real Vancouver style into your own home. Then, for even more inspiration, you'll find the story continues on my Keep Up With Yanic blog (www.tidg.ca/keepupwithyanic). See you there!
Popular in the Community