OTTAWA — Calgary Conservative leadership hopeful Deepak Obhrai laughed and laughed when he heard Kevin O'Leary tell his supporters they should put him down as number two on their preferential ballot.
"I'm still in a daze and in a shock," he told HuffPost Canada Wednesday. "I'm still trying to understand what happened yesterday," he said, still laughing.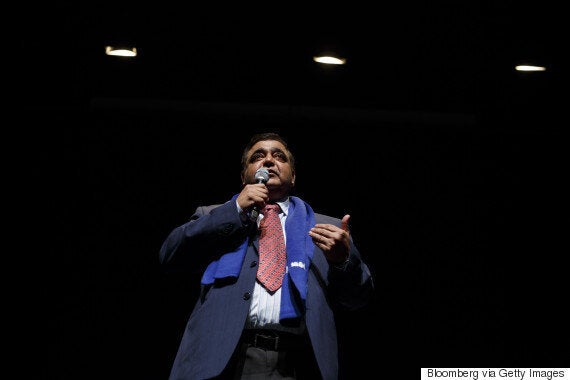 Obhrai said his campaign has been focused on taking the Conservative party forward — by reaching out to new Canadians and millennials — and O'Leary seems to recognize that.
In a video posted Tuesday,O'Leary — who is campaigning for Quebec MP Maxime Bernier after suspending his own campaign — describes how he is filling out his own preferential ballot for the contest.
"Just for the fun of it, I'm going to make a second choice, because I want to support the democratic process," O'Leary said. "And I'll tell you who that is going to be, you're not going to believe it. But here it happens, I'm putting Deepak in as number two. Why? I love the guy, I really do. What a trooper.
"Is he going to win? No. But does he deserve my second vote? Yes. I just want to appreciate the work that he has done for such a long time for the Conservative party and he is fun to work with."
Obhrai's eldest daughter, Priti, who is helping manage his campaign, was the first to tell him he had to watch O'Leary's video.
"At the part where he says, 'My second choice is Deepak Obhrai,' there was a moment of stunned silence," Obhrai recounted. "It took a while to think. I couldn't stop laughing."
O'Leary goes on to say that he has met all the Tory leadership candidates — great men and women who will be important for the party's future — but Obhrai has a "special place" in his heart: "I just love him."
Obhrai has been one of the celebrity businessman's fiercest critics, saying last year that the party didn't need a "so-called white knight." He complained O'Leary talked "nonsense" and said the TV personality didn't have the "foggiest idea" what the Conservative party stood for.
Obhrai also suggested O'Leary would be better fit to run as NDP leader and, earlier this year, challenged him to a one-on-one debate, which O'Leary declined.
The Calgary MP said he made those comments when O'Leary was being "very derogatory" towards party members and members of Parliament. But after watching how O'Leary ran his campaign, Obhrai admits he attracted an audience, connected with Canadians, and helped build a stronger party.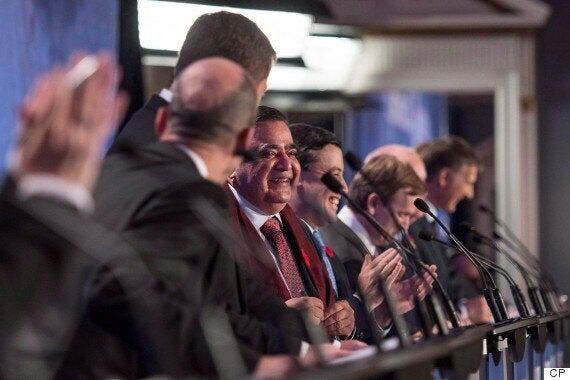 Queen's University associate professor Jonathan Rose told HuffPost Canada that O'Leary's endorsement of Obhrai could be either strategic or intentional.
"There is two ways of doing it: one is to say, 'Don't vote.' The other is to say, 'Vote for someone who is not going to affect the outcome,'" said Rose. That would be "also kind of an insult to Deepak. It's telling him his votes don't matter."
"If it is intentional, then we go by what he said [that O'Leary likes Obhrai as a person]."
Obhrai dismissed the suggestion that O'Leary is only urging his 35,000 supporters to mark the veteran MP second on the ballot to lessen the chance of another candidate displacing Bernier, his preferred choice.
"No, I don't think so. I think, at the end of the day, the message that I am giving out is resonating right across the country," he responded. "It seems that he recognized that, that was the strength, that is where the party needed to go."
Wooing non-traditional supporters
Both, he and O'Leary, are trying to build a more inclusive and diverse party, and both went after non-traditional supporters, he added.
"I'll be very blunt with you, people have left us and are still not willing to come back," he said, referring to Canadians who feel excluded by messages perceived to be anti-immigrant.
Obhrai and Bernier have few policy overlaps: Obhrai wants to spend more public money training nurses, while Bernier wants to eliminate the federal government's role in health care.
But the Calgary MP suggests what will matter is having a majority of caucus supporting the new leader.
"This is what happened with [former Canadian Alliance leader] Stockwell Day. Caucus was not with him and he had to resign."
Bernier has little caucus support, for now. Competitors Erin O'Toole and Andrew Scheer have the most support from their colleagues.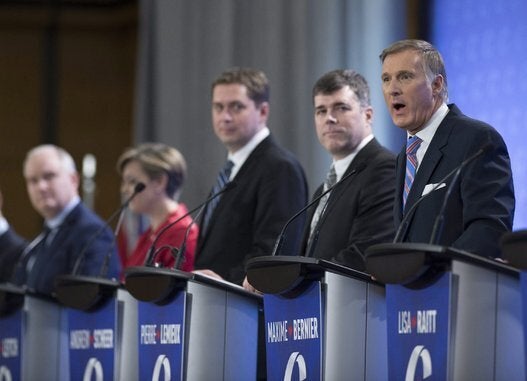 Conservative Leadership Candidates