OTTAWA — Conservative leadership hopeful Kellie Leitch is acting "un-Canadian" and is "fear mongering" with her campaign to screen prospective immigrants for so-called Canadian values, says rival candidate Deepak Obhrai.
In a video launching his leadership campaign's website, the Calgary MP says the current debate over anti-Canadian values is also "anti-human rights."
Without naming Leitch, who has made the proposal her campaign's central focus, Obhrai says the debate is "a very un-Canadian response to an issue, that in my opinion doesn't exist. The real threat to Canada is home-grown terrorist," Obhrai says.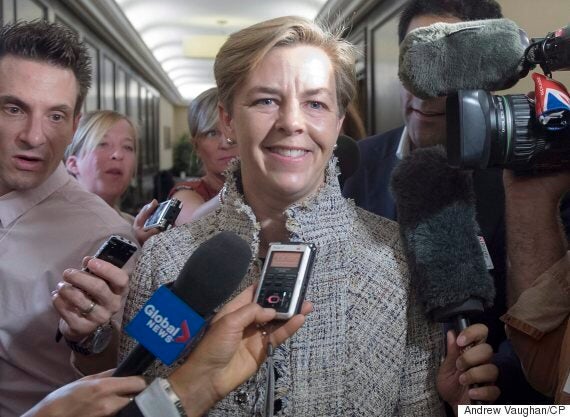 Kellie Leitch arrives at the Conservative summer caucus retreat in Halifax on Sept. 13, 2016. (Photo: Andrew Vaughan/CP)
"That is where we should be spending our energy."
Obhrai, 66, is the longest serving Conservative MP, having been elected in Calgary first with the Reform party in 1997. His campaign slogan is: "The voice of experience."
In his four-minute video, Obhrai says people who come to Canada are looking for the freedoms guaranteed under Canadian laws and the Charter of Rights and Freedoms. "The freedom to be free of all these so-called un-Canadian values that have been put forward," he says, as the video lists forced marriages, female mutilation, sex trafficking, sexual abuse, rape, and torture.
"They are running away from those and coming to our country," he said. "Women are coming to our country so they can be free of that oppression."
Mentions proposed tip line for barbaric cultural practices
Obhrai also takes aim at the Conservative party's electoral promise of an RCMP tip line for barbaric cultural practices — announced by Leitch during the campaign — saying it was one example of "where our misplaced priority was."
"There is no major crisis regarding barbaric practices, or so-called barbaric practices in this country, because we have laws and the freedom and protection," he says.
People need to pause and review Canada's history of turning back migrant boats and Jewish refugees, of imposing the Chinese head tax, interning Japanese-Canadians during the Second World War, and "of course, the terrible tragedy of the residential school system, that arose from fear mongering.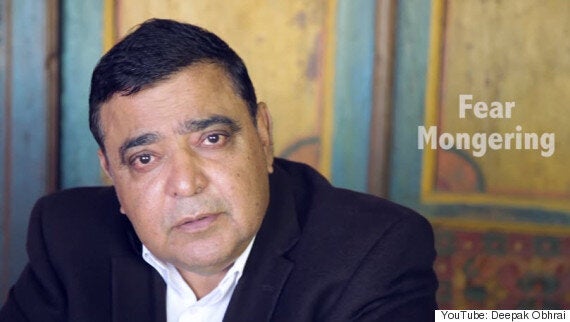 "It is important that we all work not to create any fear mongering here," he adds.
Canada is an example to the world of people of diverse background living peacefully together, Obhrai says.
"Ladies and gentlemen, we should be proud of our Canadian values which is to treat everyone equally, respectfully."
Leitch campaign blasts Scheer as 'out-of-touch elite'
Obhrai's video comes on the heels of a Leitch fundraising email sent by her campaign manager Nick Kouvalis Thursday, stating: "Conservatives shouldn't attack Conservatives."
Kouvalis was responding to another leadership candidate, Saskatchewan MP Andrew Scheer, who announced his bid in Ottawa Wednesday at the National Press Theatre. When asked about Leitch's plan, Scheer said he didn't think it was practical or preferable to "police what's going on in people's minds."
Canada should focus on screening for security threats and newcomers, and be engaged in a discussion about what makes Canada great, Scheer told reporters, listing: our common-law tradition, Westminster parliamentary system, and the fundamental principles of equality.
Kouvalis labelled Scheer an "out-of-touch elite" and claimed he had attacked Leitch for her views.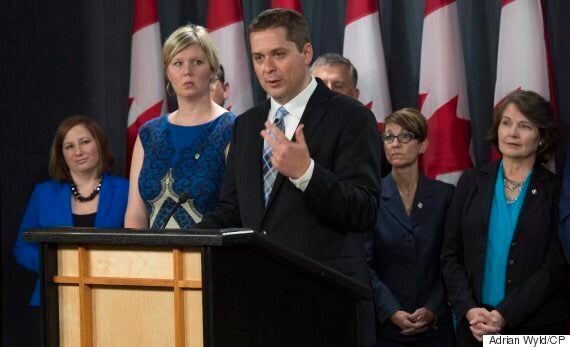 Andrew Scheer, joined by MPs who support him and his wife Jill, speaks to media in Ottawa on Sept. 28, 2016. (Photo: Adrian Wyld/CP)
"What makes this one more amusing is that it was from a 'Conservative'... Announcing their desire to lead our grassroots Party from that great grassroots holy of holies... the National Press Theatre," Kouvalis wrote in the email.
Kouvalis, incredulously unable to understand why a Tory leadership candidate would want to speak to reporters in a location designed to hold press conferences, said it should come as no surprise that Scheer would pander to the "whinging media hordes by attacking Kellie and her view," which he also states is "the view of the vast majority of our members" and the vast majority of Canadians.
Obhrai wants to bring 'inclusiveness' back
In an email to his supporters, Obhrai said he hoped to shake up the Conservative establishment and bring "inclusiveness back into our party."
Without naming her, he suggested Leitch's proposal is having a negative impact on the party.
Obhrai spent many years campaigning for the Tories in ethnic communities. He was also a vocal opponent of his government's plan to strip dual citizens of their Canadian citizenship if they were convicted of terrorism.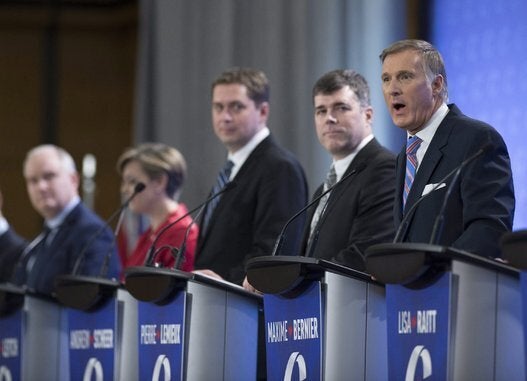 Conservative Leadership Candidates