OTTAWA — Calgary MP Deepak Obhrai is testing the waters for a possible Conservative leadership run.
"I'm trying to feel my support, what support do I have. I don't want to run if I don't have the base to run," he told The Huffington Post Canada this week.
Obhrai, the dean of the Conservative caucus, declined to further discuss his current plans. But a caucus member approached to sign a form supporting Obhrai's candidacy said his solicitation came with a commitment that when he loses he would throw his support behind another candidate: Peter MacKay.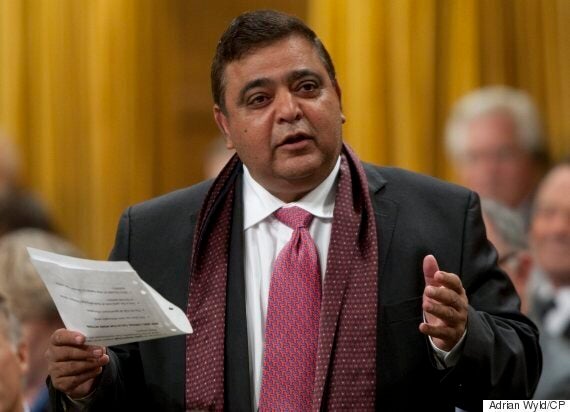 Deepak Obhrai rises during question period in the House of Commons on Parliament Hill in Ottawa, Wednesday September 21, 2011. (Photo: Adrian Wyld/CP)
Ohbrai would neither confirm nor deny the unusual pitch.
"He tells me his wife has to approve," Obhrai said, said of MacKay's possible entrance into the race. "I haven't officially filed any papers, I'm just gauging the support."
MacKay, a former cabinet minister from Nova Scotia, who as leader of the Progressive Conservative party was responsible for uniting-the-right federally under the Conservative umbrella, left politics last year to spend time with his family. He is the presumptive front-runner should he choose to join the race.
In January, MacKay joined the law firm Baker & McKenzie in Toronto but he continues to make media rounds. He appeared at the press gallery dinner earlier this month, and, a week ago, testified at a Senate hearing that the F-35 fighter jet was a superior aircraft to anything that the Liberal government was contemplating buying. "Do I regret that we did not make the final purchase of that aircraft? Absolutely," he told senators.
MacKay was also a popular draw at the Conservatives' convention in Vancouver in May, posing for pictures with fans and meeting fellow Tories.
There, he told HuffPost, he still hadn't made up his mind, was gauging levels of support and trying to figure out if he had the fire to take on the job.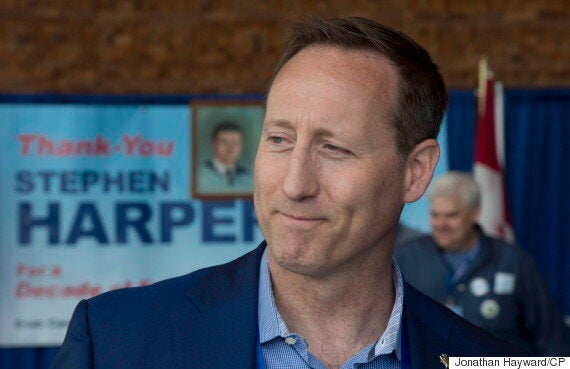 Peter MacKay is seen at the Conservative Party of Canada convention in Vancouver, Friday, May 27, 2016. (Photo: Jonathan Hayward/CP)
"I'm not there yet, in terms of making such a life-altering decision to come back to politics after what is a relatively short time," he said. MacKay has a baby daughter at home and a three year-old boy, and is conscious that re-entering politics can be difficult on family life.
"You don't have to look far at my biography to see that I grew up in a political family that didn't make it. So it's a big decision," he told HuffPost.
This week, MacKay did not respond to requests for comment regarding Obhrai's solicitations.
Obhrai helped former PC leader in 2003
Both men share some history. In 2003, MacKay requested that Obhrai be one of four Canadian Alliance MPs to join his Progressive Conservative caucus out of concern the PC party might lose its official status in the Commons. Obhrai, who was first elected as a Reform MP in 1997 and had been sitting as a member of the Canadian Alliance since 2000, was identified as a member of the PC caucus from Dec. 12, 2003 to February 2, 2004, before the Conservatives merged in the Commons.
Obhrai also served as MacKay's parliamentary secretary when the latter was foreign affairs minister in the first days of prime minister Stephen Harper's government, from 2006 to 2007.
In April, Obhrai tweeted it was great to visit his "good friend" MacKay.
Obhrai has already been vocal about the Tory leadership race. In January, he made national headlines for bashing possible leadership candidate Kevin O'Leary, the celebrity businessman and TV star from Dragons' Den and Shark Tank, as being unfit to be leader and out-of-touch with the grassroots.
Obhrai has taken it to O'Leary
The Conservative party has gone through a tremendous amount of rebuilding since the Reform party split from the PCs and then merged back again in 2003, Obhrai told HuffPost at the time.
"I never saw this guy [O'Leary] anywhere.... I haven't heard from him in those 18 years, and now we have a celebrity trying to run? Well, he doesn't have the foggiest idea what this party is all about," Obhrai said.
In February, he said O'Leary, who expressed a desire not to get involved in any military campaigns, would be a better fit for the NDP. "He will definitely not find a warm reception in the Conservative caucus," the Tory MP said.
Said party can't be a 'white-only club'
If Obhrai were to join the race, it's likely he would raise the issues of minorities and inclusion in the Tory party. He loudly criticized the party's executive for raising membership fees, complaining it would freeze out many new Canadians the Tories had tried hard to court.
The new rules were turning the Conservative party into an "elitist and white-only club," he told HuffPost in April. The party subsequently changed the rules.
Obhrai was born in Tanzania to South Asian parents and was educated in India and in the United Kingdom. He worked as an air traffic controller before immigrating to Canada in 1977 at the age of 27.
An article in on NRIInternet.com, a publication for Indians living outside of India, described how Obhrai faced discrimination when first arriving in Canada.
He prefers to stress his community service and connections with the grassroots.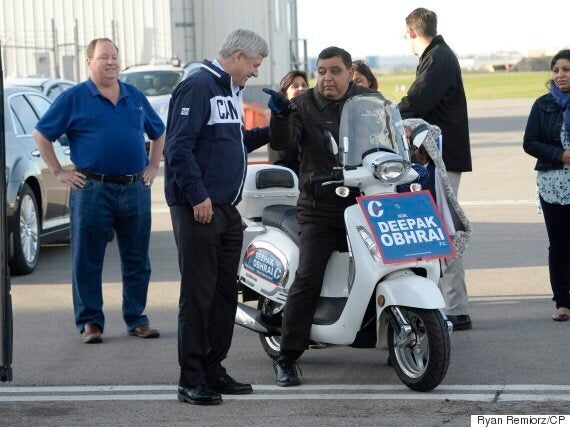 Former Conservative Leader Stephen Harper talks with Deepak Obhrai in Calgary Tuesday, Sept.15, 2015. (Photo: Ryan Remiorz/CP)
In an article by New Canadian Media last year, featuring him as the longest-serving visible minority MP, Obhrai credited his community work for sparking an interest in politics.
"I started at the grassroots level and from there I built a base of support," he is quoted saying.
Obhrai served as president of the India–Canada Association, the Monterey Community Association and the Hindu Society of Calgary and was vice-president of the National Indo-Canadian Council. He hosts the National Diwali celebrations on Parliament Hill.
He hasn't been shy to chastise his own colleagues. Last year, he lashed out at Conservative MP John Williamson for saying it made no sense to pay "whities" to stay home while companies bring in "brown people" as temporary foreign workers.
"Very disturbed by Williamson's race-based comments," Obhrai wrote on Twitter. "Foolish statement damages all of us. Years of hard work down the drain."
Obhrai spent years courting support for various versions of the Conservative party in ethnic communities.
The Calgary MP is also on the record for speaking out against his government's Bill C-24, legislation that sought to strip dual Canadians of their citizenship if they were convicted of terrorist acts. The Conservatives tried to use the bill to show the Liberals were soft on terror but it backfired and is one reasons the Grits won handily in ethnic communities.
"One of the strongest human rights principles is to create all Canadian citizens equal, no matter what. That is the fundamental human rights situation. That is what I am concerned about in this bill," Obhrai told the Commons back in 2014.
"When a Canadian citizen's citizenship is revoked, unless that citizenship was obtained fraudulently — and I can agree with revoking it for that reason — we are treating one Canadian differently from another Canadian, and in my opinion that is against a fundamental human rights provision… a Canadian is a Canadian is a Canadian," the foreign affairs parliamentary secretary told then immigration minister Chris Alexander.
Obhrai would later abstain from voting on the bill. And Liberal leader Justin Trudeau, now prime minister, would famously go on to repeat Obhrai's "a Canadian is a Canadian is a Canadian" line while defending his party's stance against C-24 during the 2015 election campaign.
With a file from the Canadian Press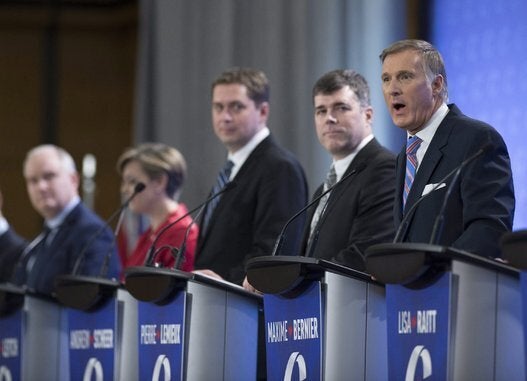 Conservative Leadership Candidates