Deepak Obhrai is trying to make a point.
Canada has changed. Young people and immigrants understand that, the Conservative candidate tells The Huffington Post Canada over lunch at the Fairmont Château Laurier hotel, a stone's throw away from Parliament Hill. But the Tories' base seems unable to accept it, he suggests.
"This party has to be the party of the future, not of the past," he says, tapping his finger against the table. "If we want to be a party of the past, we will become a protest party."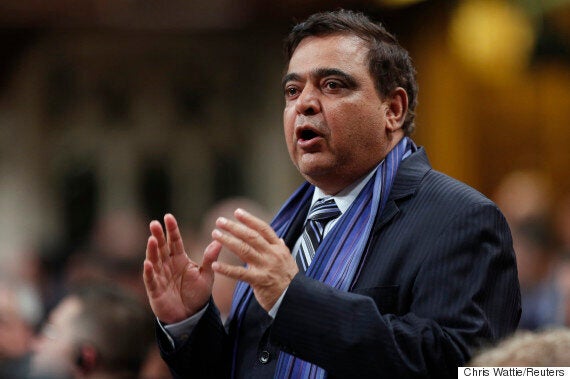 The 2015 Conservative election campaign, with its "barbaric practices" tip line, pledge to deport dual citizens convicted of terrorism, and re-emphasis on banning niqabs during citizenship ceremonies, reversed many of the gains the Tories — primarily Obhrai and former cabinet minister Jason Kenney — spent years achieving within immigrant communities.
On and off stage, Obhrai stresses that the Tories are in danger of further alienating a large segment of the population with antagonizing proposals, such as fellow contestant Kellie Leitch's pledge to screen newcomers for Canadian values and require face-to-face interviews.
"Why do you think I'm speaking?" the Calgary MP asks rhetorically.
Obhrai orders a lobster Cobb salad and grabs a piece of bread. He heralds Canada's successful integration model with new immigrants and suggests the base of his party doesn't reflect or understand this experience.
"When I go to EDAs [electoral district associations], all those white, old men sitting there who think Canada is still in the 1980s, 1970s, those are the ones giving [Leitch] money," he says, munching on a piece of bread.
Those are also the people writing to him every time he opens his mouth, he says. Most of the emails are anti-Muslim, many say he is out to lunch.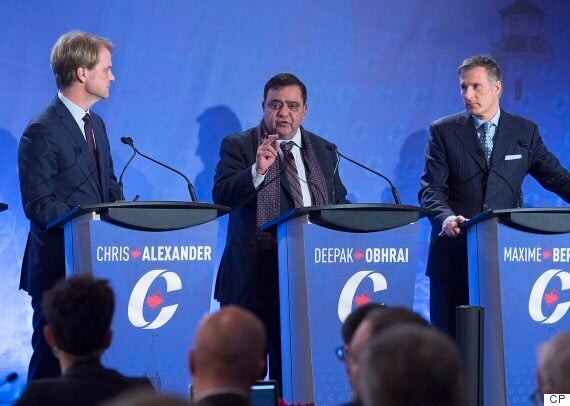 "This is a party election," Obhrai adds, lowering his voice and leaning across the table. "You have to appeal to the party base, not the general public."
His voice is now a whisper. "This is the base of the Conservative party, the old Conservative party."
Leitch, who has drawn attention for praising U.S. President Donald Trump's electoral campaign, is "fear mongering," he says. "She is not the person that I knew."
The two have known each other for years. Although Leitch's party roots lie with the Ontario Progressive Conservatives and Obhrai's are with the Reform party, he says he took her to many cultural events.
Now, they are on what he calls "hello, hello terms."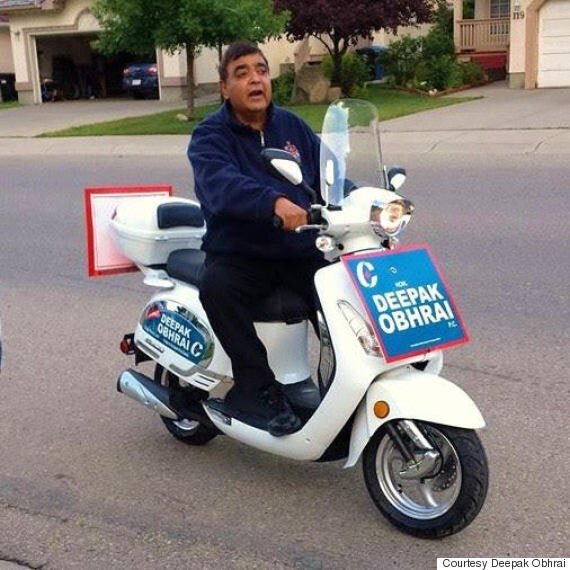 Some people are very afraid of change, Obhrai says. They tell him Canada needs to remain "this type of culture" without sharia law and "all these things." One woman who recently quit the board of his riding association told him Christians are under threat from Muslims and sharia law.
"Are Christians under threat in this country?" He shrugs. "I don't have time for that."
At the same time though, Obhrai seems to relish responding to those who contact him.
"I keep reminding them that it is the Muslim community that is helping us fight radicalization. Nobody else. It is the Muslim community that is our first strength," he says. They are working with police. "They are our first line of defence."
There are Muslims who come and say they want sharia law, Obhrai offers without prompting. "That fuels this fear of change," he says, but Canada's foundation is based on common law and freedom, which is "non-compatible with sharia law."
"It will never come," he says.
"I've been here for 20 years, for 40 years. I've gone through the whole experience of racism everywhere. Why do you think I'm running?"
"Even the niqab," Obhrai continues, "what is very interesting about the niqab is the second generation that tastes the freedom that we provide, they don't follow those old traditions."
He has seen it in his riding, he says, helping himself to a pita crisp. There is a woman, he says, the wife of an imam, who goes to his friend's halal store wearing a niqab, but when she goes to Ikea she wears no coverings. "That is the freedom that we give."
"I've been here for 20 years, for 40 years. I've gone through the whole experience of racism everywhere. Why do you think I'm running? … The others are not talking about it," he says of his 13 competitors for the leadership.
"This whole country is built by immigrants, young people…. What about them? Are they facing these barriers? Yes, they are…. Who is going to talk about this? On the national stage, I stand up and talk about it. Despite the fact I get massive amounts of emails."
The lobster salad is delivered. Obhrai declines fresh ground pepper but accepts the offer of Tabasco sauce. "I'm Indian," he says with a shrug and a smile.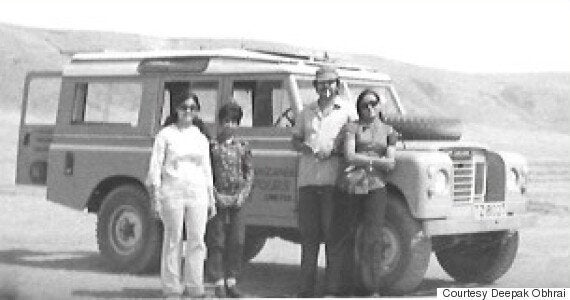 Obhrai was born on July 5, 1950, in Tanganyika (known as Tanzania since 1964) in a mountain town called Oldeani near the world-famous NGorongoro Crater.
His father was a diabetic who died when Obhrai was six. His mother, armed with a bachelor's degree, got a job at a bank.
"If my mother hadn't been educated, I might have been an under-the-tree mechanic," he says, referring to informal shops that pop up in the countryside, literally under a tree.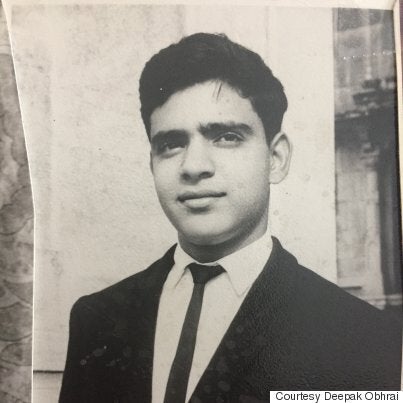 Obhrai went to primary school in Moshi, a town at the base of Mount Kilimanjaro. He attended high school in Arusha and was later sent to Indore, India, to study at the prestigious Daly College.
At the time, Tanzania was a one-party socialist state, India a multiparty democracy.
"One of the things I realized when I came back and was living in Africa was the [South] Asian community did not participate in the political process of the country, and when the time came, they paid the price."
In 1972, Ugandan President Idi Amin ordered the expulsion of 80,000 people of Asian heritage. In the decade that followed, Tanzania nationalized banks and businesses, the vast majority of which were owned by Asians.
Because they didn't engage with the political system and "were not identified as locals, they had to leave," Obhrai says.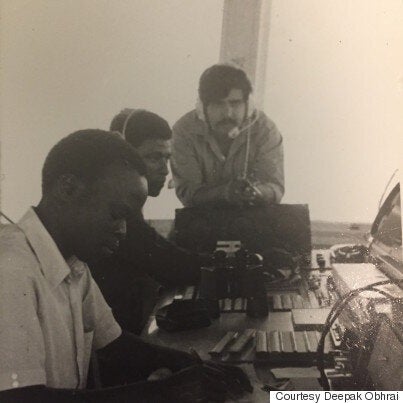 Obhrai moved to the Britain, where he studied to be an air traffic controller but realized he didn't want to live there.
"The British think we are 'coolies,'" he says, referring to the term used in India for luggage boys.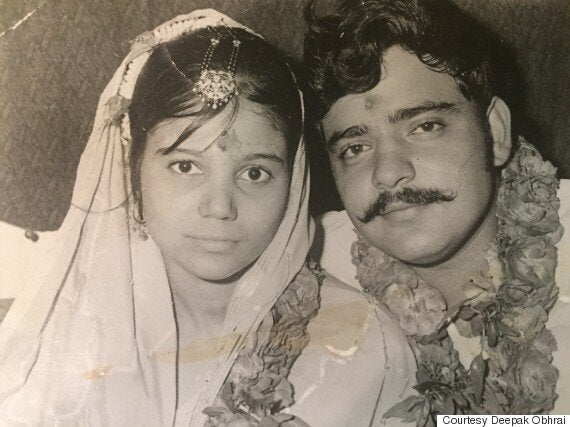 A year later, Obhrai landed in Calgary with his wife, Neena, (they wed in 1971) and their three-year-old daughter, Priti. Obhrai initially intended to go to Montreal, but with René Lévesque's Parti Québécois government in power, he was advised to "go West."
"I was working at one of the best international airports, Kilimanjaro International Airport. When I landed in Calgary, it was an old shack! Corrugated roof shack, you know. When I opened the door, I said: 'What kind of airport is this? Am I in the right country? This is Canada?'"
While Obhrai worked to get an accounting degree and later a job with the city, he threw himself into community work.
He and Neena also built a dry cleaning business that expanded to three stores. They had two more children: a daughter, Kaajal, in 1978, and son, Aman, in 1984.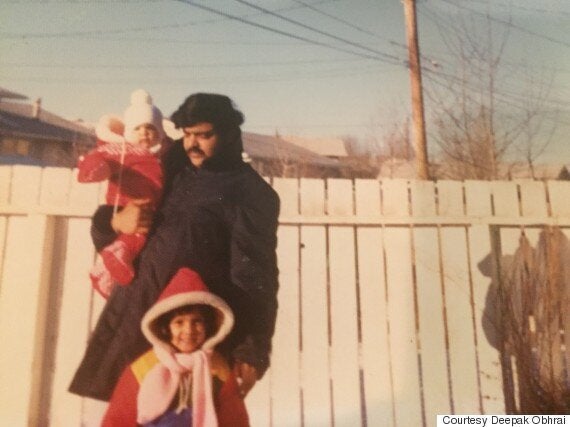 In the 1990s, Obhrai became the president of the India-Canada Association of Calgary, vice-president of the National Indo-Canadian Council for the Alberta region, president of the Monterey Park Community Association, and president of the Hindu Society of Calgary.
He lost his first bid for public office in 1993, as alderman on city council. He tried unsuccessfully to win a provincial byelection nomination for the Progressive Conservatives in Calgary–McCall in 1995. A year later, he lost another bid for a PC nomination in Calgary–Montrose.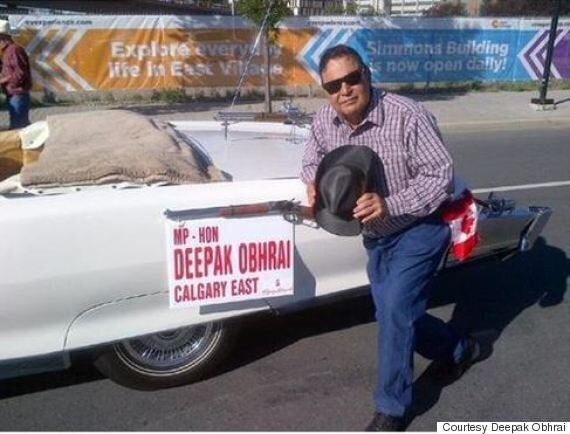 Obhrai says his first attempt taught him how to run an election campaign; the second how to understand party politics, and the third — which he contends was unfairly manipulated — helped him build the base he would use for a successful federal campaign in 1997 under the Reform party banner.
At first, Obhrai says, the board of the riding association tried to block him from running but Reform party leader Preston Manning intervened, telling him to "go" for it and to come change the party.
Manning declined to comment. But Rick Anderson, who was campaign director at the time and charged with keeping contests fair and open, confirmed that the party leadership did intervene.
"I don't remember the nature of the problem in Deepak's riding, but I do recall it was one of a handful where the competition was especially intense, and there was some jostling and the rules needed reinforcing," he told HuffPost.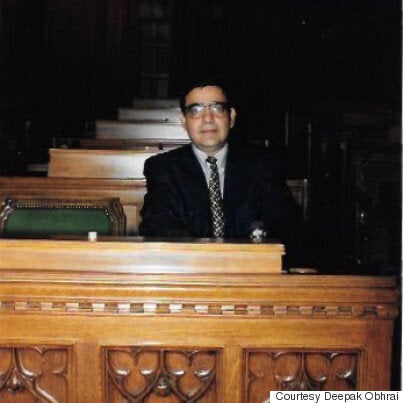 Obhrai says he didn't realize the amount of "institutionalized racism that already existed" in the party.
"I had to fight tooth and nail," he says, leaning in. "That's when Don Martin wrote I was not going to win."
Martin, the host of CTV's "Power Play," used to write for the Calgary Herald. In July 1997, Obhrai insists Martin wrote a column saying he couldn't win. (Despite a microfiche and Infomart search, HuffPost has been unable to find such an article.)
"Despite Don Martin's negative comments, I won the election."
'Not a serious candidate'
Twenty years and seven election wins later, Obhrai is still upset.
Over the years, Martin hasn't been too generous to the Calgary MP. In 2005, Martin gave Obhrai a C- grade, writing that he's "never see[n] a foreign junket he'd refuse and rarely worries the cabinet ministers with the calibre of his questions. He just doesn't leave behind a deep footprint in federal politics."
Martin believes Obhrai has a "chip on his shoulder.
"I have nothing against him except he's the comic relief and not a serious candidate," he wrote in an email.
But many party insiders echo Martin's comments. Obhrai is funny and entertaining but not a serious policy thinker or leadership material, they say.
Obhrai says his strength lies with the grassroots. Not just Indians but whites, Lebanese, Filipinos.
His money comes from young people and "outside traditional people," he says, "which is why I don't register in the polls. Because they go to the traditional supporters.
"You don't need to write that. I'm not interested in that. I'm fine," he adds.
According to the latest Elections Canada filings, Obhrai has raised $108,333 so far, placing him 11th among Tory leadership candidates for both the total amount of donations and for the number of contributors.
In 1997, after Obhrai won a seat in Calgary East, he was named caucus liaison for what the party called its "bridge-building campaign." Obhrai went to ethnic events, held a large Diwali event on Parliament Hill every year, and cemented his role as the "brown guy" in the party.
"The party asked me to open up the base, to go around bring in new Canadians, young Canadians into the party," he says.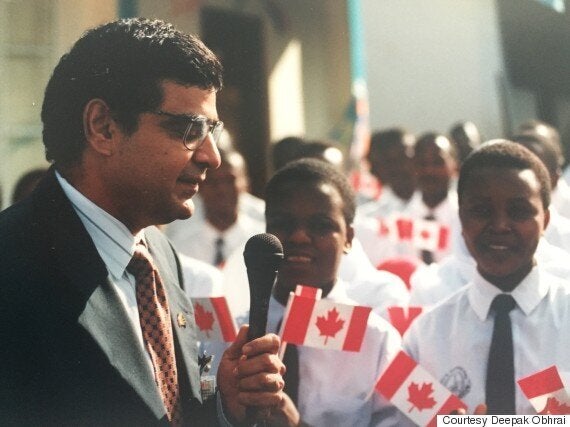 A decade later, with the now-merged Conservative party in power, prime minister Stephen Harper promoted Jason Kenney, his parliamentary secretary, to the newly created job of minister of state for multiculturalism.
Obhrai says he and Kenney met near the Delta Hotel where Harper was making the offers, and Kenney told him: "Take your job back, I don't want it."
Kenney, who is now running to lead the Progressive Conservatives in Alberta, says he doesn't remember it exactly that way.
"Thought he was going to have a heart attack he was laughing so hard."
"[Obhrai] was expecting/hoping to be multiculturalism minister, and I was expecting to be a senior minister," Kenney wrote to HuffPost. "We had a curry lunch where I told him I was going to be PS for multi, and he laughed so hard he was crying. Thought he was going to have a heart attack he was laughing so hard.
"Perhaps, I jokingly suggested we swap jobs. At the end of the day, I ended up loving the [multiculturalism] job, which is why I kept it for a decade, but we were both shocked and found it humorous at first."
Kenney did throw himself into the job of ethnic outreach with gusto. He was lauded for his efforts, leading some Tories to believe Obhrai feels eclipsed by his successor.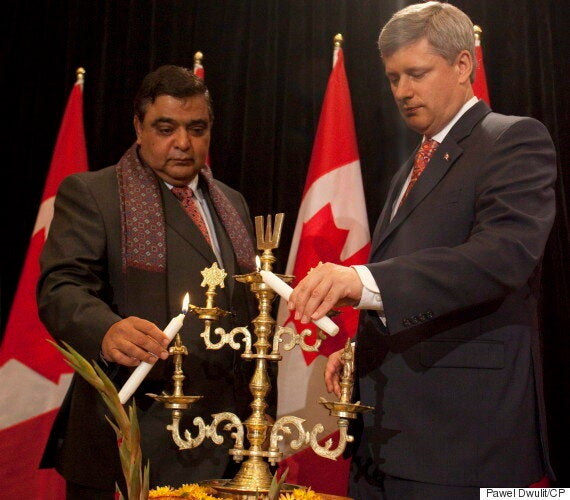 Obhrai had a good gig. He served in the entire Harper government as parliamentary secretary for foreign affairs. If there was a meeting in a faraway land the minister didn't want to attend, Obhrai would be there. His office is a collection of mementos from his travels: plates, plaques, ornaments.
After a few more bites of his lunch, Obhrai pauses.
"I want you to help me write a little story," he says. During the 2008 election, The Globe and Mail's Jane Taber wrote an article describing him as "self-praising," he says, because he pointed out to constituents that he was now an elder. "She was kind of making fun of it."
Obhrai's details are off. It was after the 2011 election, after he wrote a letter to The Calgary Herald and to his supporters pointing out that he was the oldest South Asian left in the House of Commons:
"In my birth country, Tanzania, I would henceforth be referred to by the respectful title of Mzee. In South Asia, I would receive the title of Pradhaan. This means I have now reached the ranks of respected elders. I still look young!"
The fact remains that Obhrai was bruised by Taber's comment: "I didn't understand was why she said that."
He explains: "In African and Indian language, elders are given the highest degree of respect."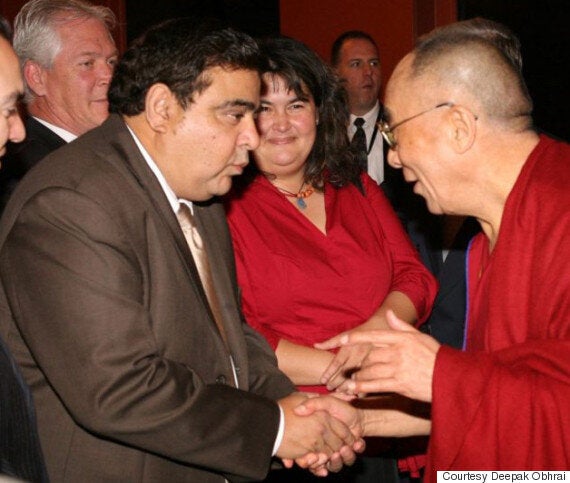 Two days previously, another reporter had told him that there are no elders in the Western world. "Once you become a senior, they are told: Keep going buddy, thank you. They do not have that kind of respect…. Now, I understand why their attack was misplaced," he says. He wants everyone to know he was unaware of this so it can be reflected in "Wikileaks." He probably means Wikipedia.
At 66, the grandfather of two insists he's running to win and should be taken seriously. He is the dean of the Conservative caucus after all — the longest serving Tory on the Hill.
"When I came to this country, nobody gave me money. We came prepared to work hard," Obhrai says, adding that he would maintain settlement costs for refugees.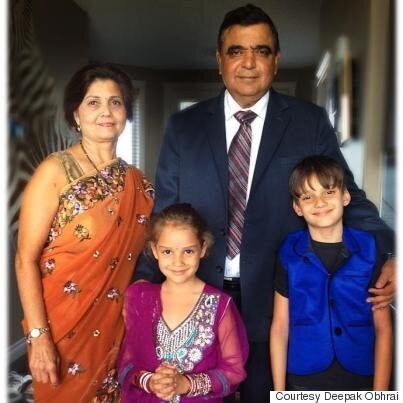 Obhrai favours low taxes and no deficits, but he's willing to run them when the economy nosedives. He likes the public health care system and wants to invest more in training nurses and would consider creating a pharmacare program. He wants more foreign investment, less regulation and more government investment in green scientific innovation. Specifically, he wants Ottawa to invest in fast-neutron reactors (FNRs) that would recycle nuclear waste from nuclear plants and create carbon-free energy.
He's fine with scrapping the North American Free Trade Agreement (NAFTA) and would prefer that Canada sign bilateral trade agreements with the United States and Mexico, because, he says, such deals create a more equal level playing field. Still, he supports the free trade deal with the European Union because the region is already integrated.
One of Obhrai's biggest challenges as a potential Tory leader may be his language deficit. Despite fluency in Swahili, Hindi, Punjabi, Gujrati, and English, he does not speak French.
"Look, I speak five languages, it's not difficult for me to learn another language," he says. But he has been trying to learn French since July 2015 and still has trouble stringing a sentence together.
"People are saying 'You are the guy who massacred the language but you were there, you showed respect," he says. "I'm getting more calls from Quebec City to go back."
"From the time I started running, I was told: he won't make it, he'll be out, he'll be this, he'll be that, he won't be able to make the money, he should be out, he doesn't speak French, he doesn't do anything, nobody knows him," Obhrai says.
"My debates prove that I know what the hell that I am talking about. My French, despite the fact [he doesn't speak it] went very well. Despite the fact [people said] I wasn't going to raise the money, I raised the money. I do not follow their traditional way of [thinking].
"I create my own script, which is why I am here for 20 years and the others have gone," he says with a big laugh. "And I will continue doing that."
CORRECTION: An earlier version misspelled Idi Amin's first name. This article has been updated.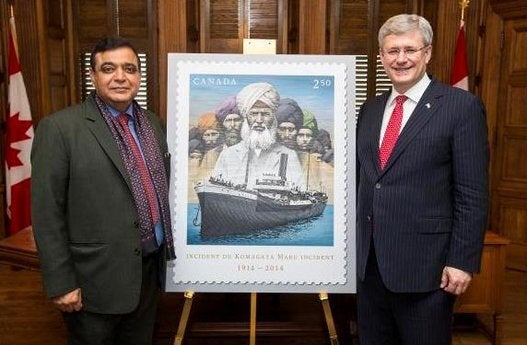 Deepak Obhrai Through The Years