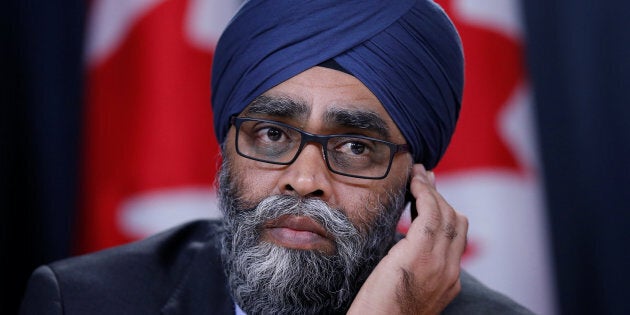 Defence Minister Harjit Sajjan appeared on CTV's Question Period to discuss Canada's peacekeeping mission in Mali, but opened up about his struggle to be seen "as a Canadian" despite his accomplishments.
"There are people out there that will look at certain groups in a certain way and I know that it's still there and we need to tackle that," Sajjan said in a clip posted Saturday.
Host Evan Solomon asked Sajjan if he thinks racism factors into the furor over Sikh separatism and the push for Canadian Sikhs to renounce extremist elements in that cause. Sajjan, who was born in India and came to Canada at the age of five, is one of four Sikh members of Prime Minister Justin Trudeau's cabinet.
Sajjan said that while people see him as the defence minister now, he still needs to answer questions about where he stands on the issue. He added that if he's still dealing with racism at his level, people that don't have his platform or reach are too.
"What if somebody says 'Well you know what? If I become a police officer, well maybe then somebody would consider me as a Canadian, right? Well what if I join the military, right? Maybe then I can be trustworthy and considered as a Canadian, right?,'" he said.
"Well hell, I've done both. If they see me that I've done both, I'm a minister now right, and I still can't be believed right? What does it take for them?"
This isn't the first time Sajjan has opened up about racism he's encountered. He spoke to Global News in late 2016 about his time in the military.
"I finally found out what racism was when I joined the military," he said. "I witnessed a lot of things we wish we could have stomped out."
He's not the only parliamentarian of colour to have spoken up about racism in recent years. Fellow Liberals Celina Caesar-Chavannes and Iqra Khalid have both spoken up about racism they've come up against in their time as MPs.
Caesar-Chavannes posted a Facebook post where she documented microaggressions she's experienced while working in Parliament and Khalid read threats she'd received over M-103 — a highly contentious motion condemning Islamophobia — which included racial slurs and orders to "go back" to her country.
NDP Leader Jagmeet Singh also faced racism during his rise to a federal leadership position including a notable moment on the campaign trail where a heckler accused him of "being in bed with Sharia." Singh's measured response to the woman was internationally lauded.
And late last year, Conservative MP Alice Wong accused Liberal MP Adam Vaughan of using racism and sexism to intimidate her on a bus, according to The Globe and Mail.
The government has consultations planned for an anti-racism strategy that was promised in the recent budget, CBC News reported. The project will be supervised by Heritage Minister Melanie Joly and the Liberals are hoping to avoid the accusations of stifling free speech that have dogged previous anti-racism initiatives.