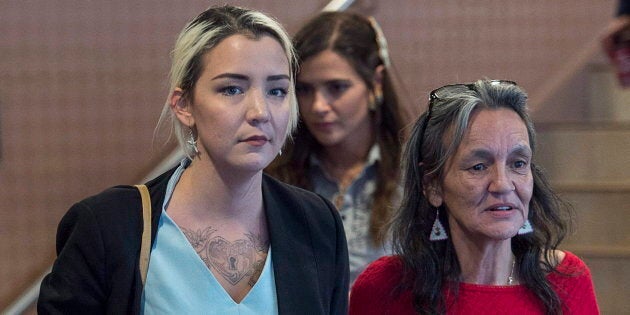 An Inuk woman is being denied the liver transplant she needs because of a "discriminatory" policy, her friends say.
Delilah Saunders was admitted to the Ottawa Hospital on Saturday, Ossie Michelin told HuffPost Canada in an interview. The next day, she stopped responding to text messages.
"That's when we found out just how bad things had gotten," Michelin said, speaking by phone from the hospital.
Saunders has acute liver failure, he said, triggered by a buildup of acetaminophen (Tylenol) she was taking for jaw pain. Her past struggle with alcohol abuse means she can't be put on the waitlist for a liver transplant, Michelin said.
Because she had not been completely sober in the last six months ... she doesn't count.Ossie Michelin
Trillium Gift of Life Network, which runs organ transplants in Ontario, suggests patients refrain from alcohol for six months before getting a transplant.
"Delilah has been through a lot," Michelin said. "She was working so hard to get her addictions under control. But because she had not been completely sober in the last six months ... she doesn't count."
Saunders is 25 years old, nearly the same age her sister Loretta was when she was murdered by her roommates in Halifax. Losing her sister turned Delilah into an advocate for Indigenous women. She testified at the National Inquiry into Missing and Murdered Indigenous Women and Girls and was honoured with an Amnesty International award earlier this year.
Watch: Delilah and her parents discuss Indigenous issues after testifying at the national inquiry
Saunders is currently in stable condition, friend Rebecca Moore said from the hospital.
"Her liver has failed. They have her hooked up to a bunch of machines that essentially do the liver's job. So they're keeping her stable," Moore said. "They say if she doesn't get a liver, it doesn't look good."
Trillium Gift of Life Network says its policy is standard.
"Our research on liver listing criteria points to a six month abstinence from alcohol for alcoholic liver disease patients as the most commonly used protocol across Canada, the US and other international jurisdictions," spokeswoman Jennifer Long told HuffPost Canada in an email. "This does not prevent a health care provider from referring a patient to a transplant program, nor does it prevent a patient from receiving a consultation by a transplant program."
The Ottawa Hospital doesn't perform liver transplants but refers any patients who need one to health-care providers that do, spokeswoman Michaela Schreiter said in an emailed statement.
Doctors in Ottawa have reached out to transplant centres about Saunders "and they've been told no outright," Kelly Morrissey, Saunders' roommate, told HuffPost Canada.
"In fact, healthcare professionals have indicated to friends that even personal live donors ... will not be permitted even if a match is found, based on their discriminatory policy," Morrissey wrote in a press release.
Trillium's statement said its policy is based on "jurisdictional reviews and advice from expert working groups." However, the agency said in September that recent research suggests patients with alcoholism can fare just as well after a liver transplant as others. The "arbitrary" six months of sobriety doesn't necessarily change patient outcomes, Trillium said, but it could increase wait times.
Earlier this year, Trillium announced it would run a three-year pilot project to see if there's evidence to change its policy. The pilot project is still being developed, Long said in her email.
Saunders' friends want the policy changed now.
"I see another sister being systematically oppressed," Moore said. "Delilah has given so much of herself to land and water protecting and advocating for murdered and missing Indigenous women and girls. It's time to give back to her."
CORRECTION: A previous version of this story stated that Delilah Saunders is 26. She is actually 25.
Popular in the Community