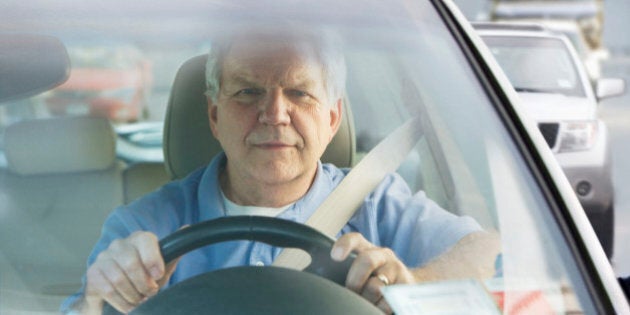 Question: I've driven safely for 60 years! Why do I have to quit driving just because I have memory problems?
Answer: As a memory doctor, the most difficult thing I have to do is to tell the patient and their family about the diagnosis of dementia. The second most difficult thing I have to do is recommend driving cessation. There's no question that driving cessation has potentially dramatic effects on independence and quality of life for patients (and their spouses) and some studies have suggested that experiencing depression is not uncommon after hanging up the keys. Patients legitimately ask me what memory problems have to do with driving, and responding in a sympathetic and instructive manner is absolutely essential.
Driving is a cognitively demanding activity. Cognitive functions such as orientation, attention, concentration, memory, processing speed, perceiving three-dimensional space, insight and judgment are all essential for driving safely. All of these functions are often impaired in people with dementia, even at the earliest phases of the illness.
Many older adults also experience physical limitations from illnesses like arthritis, which limit mobility and impair hand-eye coordination. Similarly, even mild hearing and vision problems can combine with cognitive impairment to further impair driving skills. Finally, numerous medications (both prescription and over-the-counter meds) can contribute to sedation and reduced speed of decision-making.
Assessing a patient's driving ability
In certain countries and locations, a formal diagnosis of dementia automatically implies that driving cessation is required. In other locations, driving with mild dementia is still possible following an appropriate assessment of risks. It is almost universally agreed, however, that people with moderately severe dementia should not drive. When I assess people with mild dementia, I always inquire about a driving history that includes difficulties getting lost while driving, recent motor vehicle collisions, unexplained dents and scratches on the car, and whether there have been any recent moving violations (e.g. going through stop signs or red lights, inappropriate turns etc.). It is essential to get information from family or friends of the patient, as the patient may minimize difficulties or even forget about recent driving problems.
After I raise my concerns about driving safety, I often hear a number of fairly standard responses from my patients such as: "I've never been in an accident before; I only drive during the day in good weather; I never drive on the highway; I only drive in my neighbourhood within five minutes of my home; I only drive with my spouse in the car..." To this I have to reply that none of these very reasonable factors have been consistently shown to reduce the risk of motor vehicle collisions.
After taking the history from the patient and family, and performing the cognitive testing, I then need to decide whether it's safe for the patient to continue driving, whether I need to recommend further testing, or whether I must recommend driving cessation and need to inform the Ministry of Transportation about my concerns. Further testing would usually include an on-road test with a certified driving instructor, which can be quite costly and may not be reimbursed by government or insurance. I usually need to remind my patients in these circumstances, that driving is considered a "privilege" and not a "right," and that it is my medicolegal responsibility to ensure the safety of my patients and others on the road when I believe the person has a medical condition that could affect his/her driving safety.
Even in cases where I am convinced that it is still safe for people with mild dementia to continue driving, I have to tell them that given the (slowly) progressive nature of the illness, there will come a time when they will have to give up driving. We then discuss alternatives such as public transit, taxis, driving services, relying on spouses, friends and family etc. I usually have to admit that none of these alternatives are optimal, and the transition will be challenging.
For 25 years, Dr. Nathan Herrmann has been a memory disorders specialist. He has done research in the fields of mental health in the aging, including dementia, Alzheimer's disease, depression, and suicide.
Have a question for the Memory Doctor? Visit The Memory Doctor blog to submit your question and learn more about dementia, Alzheimer's disease and mental health.
Follow HuffPost Canada Blogs on Facebook
Popular in the Community