OTTAWA — Montreal Mayor Denis Coderre signalled Tuesday that he is open to changing his mind on the Energy East pipeline.
Following a 45-minute meeting with Prime Minister Justin Trudeau, Coderre told reporters that what he had retained from his meeting with his former Liberal caucus colleague was "this notion of being responsible" and of finding "a balance" between economic development and sustainable development.
"If we have a role to play, there are people who have homework to do," he said.
"Energy East must change its project and then we will see," he later told The Huffington Post Canada.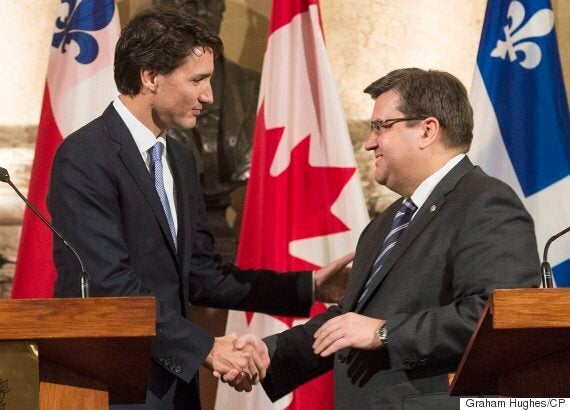 Prime Minister Justin Trudeau shakes hands with Montreal Mayor Denis Coderre following a joint press conference in Montreal. (Photo: Graham Hughes/CP)
For now, the Montreal mayor remains opposed to the project. Last week, he along with mayors representing the Montreal Metropolitan Community came out strongly against the TransCanada Corp. pipeline — which would transport crude oil from Alberta and Saskatchewan through Quebec to a terminal in Saint John, N.B. — citing too many environmental risks, especially to the area's drinking water supply. A major oil spill in the region could cost $10 billion, Coderre said.
The mayors' stand unleashed a torrent of criticism from Western political leaders. Saskatchewan Premier Brad Wall suggested Quebec should back a region of the country that had provided the province with billions in equalization payments, while Alberta Wildrose leader Brian Jean said Montreal was being hypocritical after dumping its raw sewage in the St. Lawrence River.
"We need to understand that, you know, there is no plan B to the planet."
Conservative interim leader Rona Ambrose urged Trudeau in the Commons on Monday to pick up the phone and call Coderre. The Energy East pipeline is a nation building project that shouldn't divide the country, she told reporters. People in Alberta despairing over a hundred thousand job losses feel this is like Pierre Elliott Trudeau's National Energy Program (NEP) of the 1980s, Ambrose said, pitting regions of the country against each other and shortchanging the West.
"It's not because we ask questions, and we ask people to do their homework, that we are lacking respect," Coderre told reporters Tuesday.
"At the end of the day, it is all about being respected," the mayor added. The cities, he said, are trying to be responsible.
"We said 'yes' to Enbridge because they've done their homework," Coderre added, in reference to Line 9B.
"We need to have those environmental impact [assessments]. We need to understand that, you know, there is no plan B to the planet."
PM asked if he'll approve project without mayors' approval
Trudeau sidestepped a question about whether he might greenlight Energy East without the approval of Montreal-area mayors. He said his job is to find ways to export Canada's products and resources in a responsible way.
The Liberals will introduce a review process soon that will take into account the total greenhouse gas emissions created by new energy projects, and also ensure open consultations with broad groups of people, such as municipalities, indigenous peoples, and scientists, Trudeau said.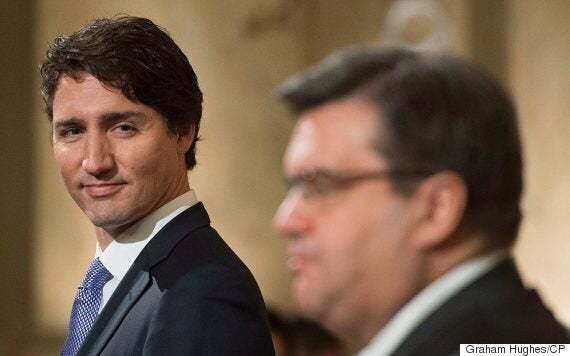 Prime Minister Justin Trudeau looks on as Montreal Mayor Denis Coderre speaks during a news conference in Montreal. (Photo: Graham Hughes/CP)
"The federal government's role is to put in place a process by which TransCanada or any other company could go demonstrate [at the National Energy Board hearings] that a project is in the public interest and get the approval of Canadians," he said.
"For the past 10 years, we had a government that was, rather, a cheerleader for these projects rather than being a responsible arbiter to establish a clear, open, rigorous and transparent process, and that is what we are going to do."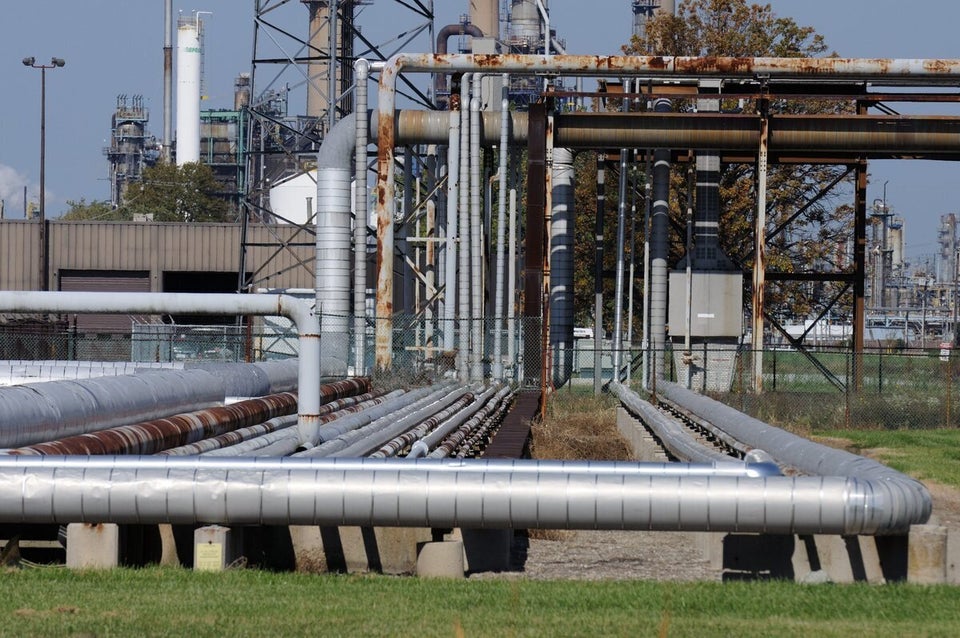 Energy East Pipeline Explained