Therapy dogs are nothing new, but a B.C. clinic may be the first in the country to use them for patients afraid of visiting the dentist's office.
InHarmony Dental Care in Victoria employs two certified therapy dogs to help soothe people get anxious when it comes to getting into the dentist's chair.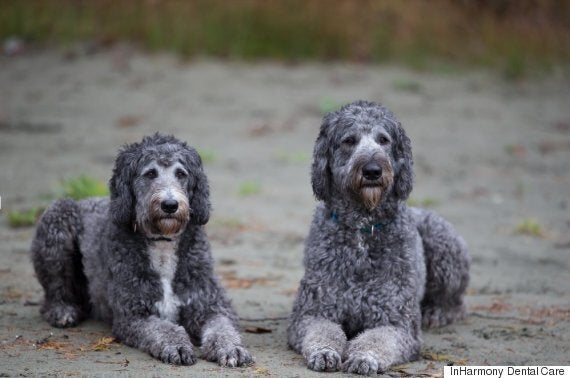 Dentist Dr. Alex Darrach-Cottick and his wife, Kate Darrach-Cottick (who is a life coach) noticed many clinics in the area offered "sleep dentistry" (using medication to help patients relax) when they were first looking to open their practice.
The couple wanted to do something different, and so they bred two, hypo-allergenic, non-shedding dogs to adopt. Gryphon and Ruby now come to work with them twice a week.
The pups meet with nervous patients for a consultation about an hour before treatment to help clients relax and prepare for their appointment.
Kate, who acts as the clinic's anxiety specialist, says it's proven that petting animals can help slow heart rates and reduce blood pressure.
"The dogs — whose support is unconditional and unwavering — lie with their heads on the client's lap," she explains. "Rigby and Gryphon often act as a bridge between a very brave client, who is taking a big step to rebuild the relationship with dentistry, and the dental team."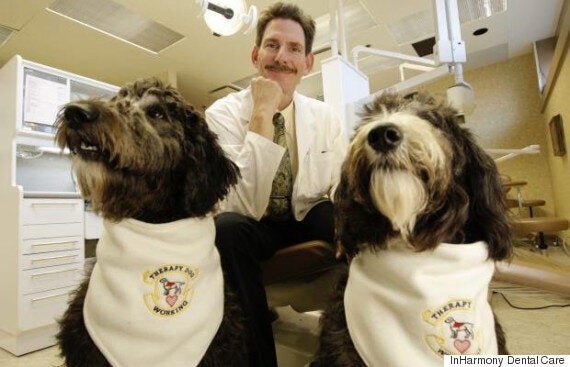 Word of InHarmony's calming canines has spread quickly. While most of their active patients are local, Kate says the clinic has seen people come from the Gulf Islands, the mainland of B.C. and even other areas of Canada seeking treatment.
When Gryphon and Rigby aren't in the office, Kate says they just get to enjoy life on Vancouver Island.
"They travel with our family, run on the beach, and act like dogs when at home," she says. "They live in our home with us, hike, walk on city streets and are a part of our family."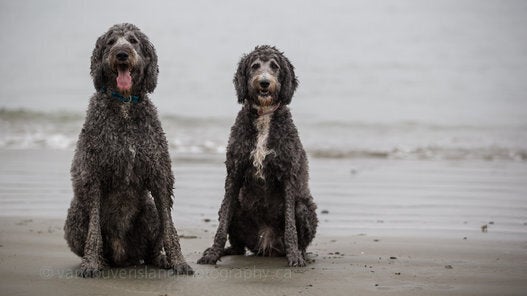 Dentist Therapy Dogs In Victoria, B.C.