Imagine the following scenario: a woman goes to the authorities and reports being a victim of domestic violence. Without looking at the evidence, the officer accuses her of dishonest victimization and tells her that she is making false allegations to push forward her feminist agenda. A little while later, her body is found lying dead in her living room.
Although such an awful scenario would be deemed completely unacceptable due to the heightened awareness of domestic violence against women, it seems as though there is still much work to be done in raising awareness about various forms of violence rooted in racism, xenophobia and more specifically Islamophobia.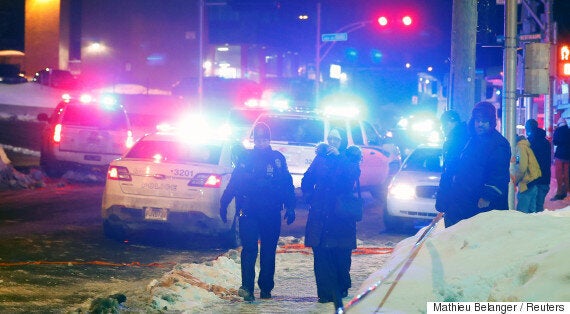 There are various definitions of what Islamophobia is and how it manifests, but one that sums it up is by Dr. Jasmin Zine who is a professor of sociology at Wilfred Laurier University. She states that: "Islamophobia is a fear or hatred of Islam and its adherents (Muslims) that is translated into individual, ideological and systemic forms of oppression."
Last summer, the National Council of Canadian Muslims (NCCM) conducted press conferences in six different cities to bring to light the alarming increase of Islamophobia in Canada. Sadly, some news commentators in Quebec were either quick to brush the problem under the carpet and/or scream: "Conspiracy theory! Nonsense!" Little importance seemed to have been given to research and the troubling statistical evidence corroborating NCCM's straightforward claim: that Islamophobia is real and it's on the rise.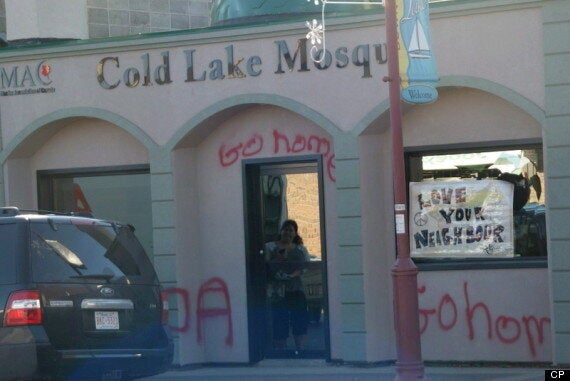 In fact, data gathered by Statistics Canada's shows an increase in the number of hate crimes perpetrated against Canadian Muslims between 2013 to 2014, and this while the overall number of hate crimes appears to be falling.
These numbers however didn't seem to deter pundits, politicians and others with their own agendas from, at best, minimizing and ridiculing those who would point them out or at worst simply ignoring them. Former U.S. Senator Daniel Patrick Moynihan once stated: "Everyone is entitled to their own opinions, but they are not entitled to their own facts." So, how could it be possible that some prominent public figures continue to deny the existence of a growing anti-Muslim sentiment?
The lack of political will in addressing the Muslim community's fears is a reflection of the general climate of Islamophobia in the province.
This past September, a concerned group of Muslim Quebecers approached the Minister of Public Security to blow the whistle on the growing threat of Islamophobia and the steady increase of hate attacks against Muslims. Unfortunately, their concern was completely ignored or, at best, trivialized. The lack of political will in addressing the Muslim community's fears is, unfortunately, a reflection of the general climate of Islamophobia in the province.
In a recent public appearance, the leader of the Coalition Avenir Québec, François Legault, claimed that there is no trend of Islamophobia in Quebec. Other pundits such as Mathieu Bock-Côté and Richard Martineau often accused the Muslim community of self-victimization and using charges of Islamophobia to censure any criticism of Islam.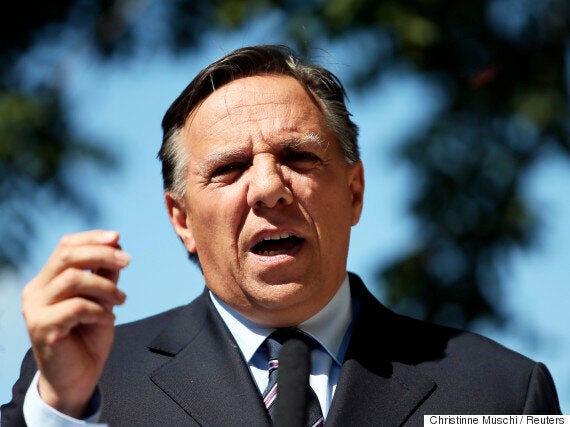 If the likes of Mr. Legault, Mr. Martineau and Mr. Bock-Côté genuinely believe that Islamophobia is a myth, perhaps they can help us explain how six Muslim men were killed in cold blood while peacefully praying in their local mosque? "An isolated case!" they may shout.
So, how would they make sense of the fact that every mosque in the Quebec city region was vandalized prior to the Sainte-Foy shooting? How can they help us explain the following incidents which all occurred within the last three years in the province of Quebec?
The aforementioned represent only a small sample of some of the hate incidents in Quebec which were reported or covered. We will never know the full extent of incidences that occur, as Statistics Canada has reported that up to two-thirds of hate crimes go unreported.
"The denial of racism is a form of racism itself." - Timothy Jacob Wise
Timothy Jacob Wise, an American anti-racism activist once stated: ''The denial of racism is a form of racism itself.'' Likewise, the denial of Islamophobia can also be an act of Islamophobia used to facilitate the propagation of hate speech and violence towards Muslims. How long will our society remain in denial that Islamophobia, racism and xenophobia exist? How many more victims will it take before we start understanding the seriousness of this issue?
Like many diseases, Islamophobia is curable and its treatment is more simple than one may imagine. The first step to attaining this cure is by recognizing that one is afflicted by the illness. We must all recognize that Islamophobia is not only a threat to Muslims, but to our entire society.
The great Thomas Jefferson once stated that democracy functions on a rational and well-informed public. Islamophobia is an irrational fear, often stemming from ignorance or misinformation, and like other kinds of hate, is a cancer that erodes our democracy and hinders our ability to meaningfully and rationally exchange ideas in seeking the betterment of our society.
Follow HuffPost Canada Blogs on Facebook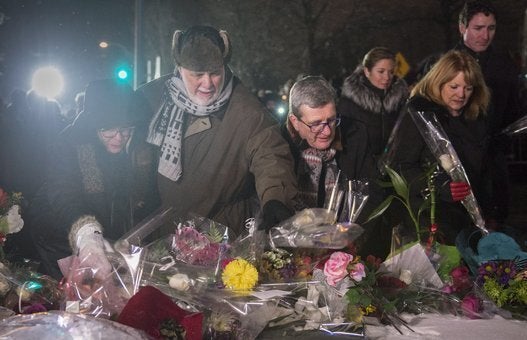 Vigil For Victims Of Quebec City Mosque Attack
Popular in the Community