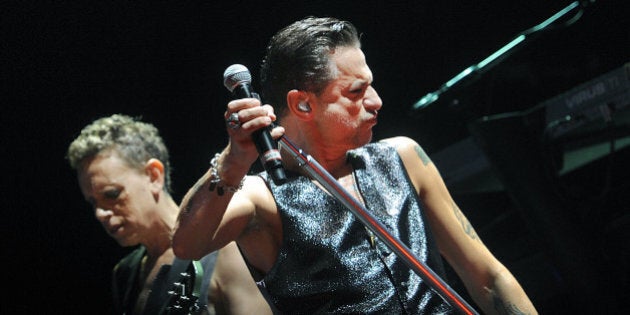 The crowd at Depeche Mode's sold-out Sunday night show at Toronto's Molson Ampitheatre may have given the impression that there were a heckuva lot of babysitters on duty across the GTA, but the music hardly sounded as old as much of the audience.
That's the benefit of being an electronic act, even one as guitar-fuelled as Depeche Mode. They can update the synth sounds to belie the fact that the UK band has been around since 1980. Or maybe vintage synth sounds have become so de rigeur during the last decade that Depeche Mode has collapsed into its own pocket universe where time is meaningless. Which is a pretty good metaphor for a nostalgic show like this which, ultimately, makes both the band and their fans feel young again. But there was something more at work.
Hits like "Enjoy The Silence," "Policy of Truth" and "Walking In My Shoes" don't sound as darkly futuristic as when they came out. But as performed by now-ageless Dave Gahan (51, actually, but now boasting six-pack abs when the ex-junkie was once lucky to just be alive), guitarist-songwriter Martin Gore and keyboardist Andrew Fletcher, they now sound timeless.
This was especially true of "Personal Jesus," which was begun as a slow, old-timey western ballad before the guitar hook crunched in and knocked us all down even as we shouted out the chorus.
It helps that the new songs off their 2013 album "Delta Machine" -- at least the singles "Angel" and "Heaven" -- fit so snugly alongside the old songs, even if their choruses aren't quite as sing-alongable, and that Gahan's baritone hasn't lost any of its dramatic heft. (Neither has Gore's vocals on his trio of lead vocal tracks, even leading him to admit "It's like a musical" during fan favourite "But Not Tonight.")
If there was any doubt of the continued power of Depeche Mode, it was quickly dissipated by the tight-shirted gentleman who enthused to me: "These guys liberate my fucking soul, bro!" Yes, the gayest straight band in history -- one whose shirtless fifty-something lead singer gleefully humped the mic stand while doing jazz hands -- has young bro fans, too.
So why does Depeche Mode still feel so current compared to their 80s new wave and synthpop brethren? Well, we earlier asked original member Andy Fletcher to find out.
A lot's changed in the music scene in the last four years since your previous album, particularly the rise of EDM in North America. How do you think that is going to impact the return of Depeche Mode?
I don't think it directly affects it, because I think we're deemed to be sort of the grandfathers of it, but not directly the stars of it. Obviously, if lots of young people are listening to electronic music that's always going to be good for us. I don't think it's going to be a massive wave of hundreds of thousands of 16 or 17 year olds going to Depeche Mode concerts.
Q&A continues after slideshow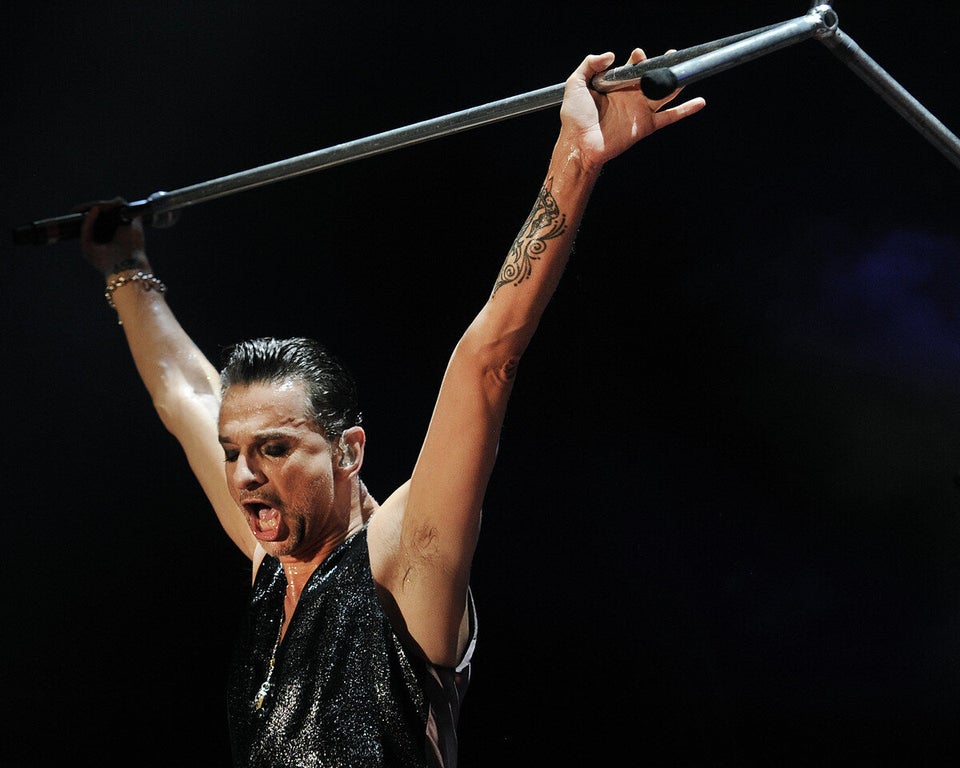 Depeche Mode Pics and Videos
Back when you first broke through, electronic music was pop music, and then for a long time it was not anymore. And even during the rave scene, it never really got poppy again. Now, it's all over the radio. Do you hear a Depeche Mode, Erasure era of musical influence in the pop music of today?
You have to remember in the '80s, we got so much flak from rock journalists saying it was the wrong way to music. Of course, the way we made music in those days is now how all music is made. Again, that doesn't really mean automatically that we're going to have this massive wave of new fans. Indirectly, it's good. All these new artists now think of us in the way we thought of Kraftwerk [as electronic pioneers].
To hear Rihanna -- y'know, we're her favourite band -- and all these other artists saying [such things] is a great honour. When people start saying you influenced me or this influenced me, yeah, it's an amazing feeling. And when we first started a band, we thought there was no way ever that was gonna happen. We thought it was only going to last a couple years, and here we are 30 years later.
One of the great things about Depeche Mode is the songwriting. A lot of those old songs could come out today. A lot of electronic pop nowadays sounds good, but maybe the internal song isn't there. Is there a lesson people could learn from that?
The great period for electronic pop was in the early '80s. Eight of the top 10 records in the U.S. were British. Looking back, you can say it was all bad haircuts and things, but there were really great pop songs. I mean, if you tell me now that these songs are great sounding but in and of themselves they're not great songs, then that's a shame.
People still listen to "Personal Jesus" thirty years later, right? People still listen to those early songs. And yet I don't know, maybe some of the Rihanna songs, but a lot of these songs are...
I think it's a problem with this generation. I was really lucky that when I was about 10 years of age, we had glam in England -- T. Rex, David Bowie, Gary Glitter, Sweet, and Slade, and when I was 16, punk happened. Changed the face of music, and after that was the electronic thing. And even for people, when Oasis were around, that generation, you could say 'yeah, we have these amazing bands Oasis and Blur.' I have to say with this generation, at the moment, it's hard to see them looking back and thinking what they can grasp in future years, I'm not so sure.
Obviously, there's been constant advances in technology. How has that affected the actual creation of a Depeche Mode record?
Generally speaking, more technology creates more options, which can be bad. In the early days, you had a couple synthesizers, you didn't have many options, and now you have many options. We're always up for looking at new technology. But you know, we're using a lot of old favourites still. We take a view, 'we've gotta get a sound,' and whatever it takes to get that sound.
Are you guys using old synths, are you using modular panels and all the new…
An equivalent of an electronic pop band on the more industrial side is Nine Inch Nails, and every time they release a record, it sounds current, but it still sounds like Nine Inch Nails. But he's obviously incorporated new technology.
Well, Trent's very good, you know, he's very talented. That's what we try and do, we try and make a record that sounds like Depeche Mode -– it's Dave's voice, Martin's songs.
What's the game plan for the tour?
They can expect what they always get. I think we're performing our best at the moment. We've got these new tracks sounding particularly strong live. They're very minimal but powerful, which is a good sign. I think our last album, some of the tracks didn't relate very well to live. And we're digging out a few tracks we haven't played live for a long time. I'm sure our fans are going to lap it up.
What's your hindsight take on [1988 the tour documentary] "101"?
It was a very important period for alternative music in America. We were at the forefront, we're the band that first played [the big stadiums]. And from there, alternative music went on to spawn Nirvana, Pearl Jam, all those artists. These were in the beginning days. It was a big risk playing the Rose Bowl and people thought we were mad, but it turned out to be a great success, and it was such exciting times. And we as a band never thought we'd ever make it in America, because we were too European. And suddenly it was just hysteria, it was like the Beatles or something, it was just crazy, and we just couldn't believe it at all. So it was a very big turning point for us, something we never ever could believe could have happened.
And it happened before the big American record too, right? "Violator" came out after.
Yeah. This was "Music for the Masses." It was so crazy, we were playing Houston, and getting 39,000 people, and we'd never had a record in the American top 40. Not even an album in the top 40, or a single in the top 40. Having these 40, 50,000 people turning up at gigs, you know.
So how did that happen in the pre-internet era?
That's when alternative radio was coming from nowhere. People were fed up with American radio playing the Journeys and the Foreigners and stuff. So everyone wanted to listen to new music, and we just happened to be around. The Cure, New Order and people like that. So it was very exciting times.
Were you aware the kind of acid house and the whole rave thing was kind of going on concurrently in the 80s?
Again, that's bit of a similar thing to what's going on over here now. We were part of that, as well. We were daddies then, now we're grandfathers.
Popular in the Community