Depression. It isn't something most people want. Well, not quite.
I stumbled across this quaint shop in the heart of Singapore. It isn't like most of the stores you'll find around this part of the world. There was a certain draw to this brand and I couldn't help but want to know more about the brains behind the amazing pieces that shop boasts.
A quick look at their website shows designs in mainly monochromic colours of black, white and grey, but dull would be the last word you'll use to describe their designs. I developed an instant fondness for the fall 2011 Birth Defect Men's collection -- the designs are a breathe of fresh air compared to what you'll see on the streets. Wearable, but still insanely unconventional.
Established in 2006 by former copywriter Kenny Lim and Art Director Andrew Loh, this men's and women's wear label from Singapore certainly push boundaries. Why DEPRESSION? They were depressed, that's why! As much as they enjoyed creating ads, they got tired of the templates clients forced upon them.
Frustrated with the advertising industry, they started looking for a new medium for them to toy with. DEPRESSION started as a design outfit that would be the antidote to their depression, and fashion became their canvas. Moreover, to them, starting a fashion label was very much about creating a brand concept, image and lifestyle, and that provided much more gratification.
So what shapes and influences their unique designs? Irony. Irony is their inspiration. Most shoppers would expect their aesthetics to play more towards the glam-punk styles. Instead, every collection aims to entertain. Kenny and Andrew's Fall/Winter collection, "BIRTH DEFECTS," aims to exaggerate a certain "flaw" in construction, thereby re-inventing classic pieces. A key piece is the Superhero Blazer, which is simply a men's jacket with a superhero cape attached.
Since they're called DEPRESSION, each collection falls under an umbrella clinical idea. You'll find collections with crazy names such as 'Birth Defects' and 'Dysfunction'. Kenny come ups with the overall concept and direction, and their designs stem from there on.
Sometimes flamboyant and simply far-fetched, one cannot deny that Kenny's ideas are imaginative and original. Andrew, in turn, adds greater detail to the designs and makes sure that the designs aren't too over-the-top to the point that they're unwearable.
Their next collection for Summer/Spring 2012, is titled 'PLASTIC SURGERY', and features detachable pieces that can be taken apart to enhance and modify its look. One piece of clothing, versatile looks!
In a country where homogeneity is celebrated, DEPRESSION certainly stands out. This unassuming store tucked in the middle of one of the country's most popular hangout is definitely an unpolished diamond, waiting to be discovered.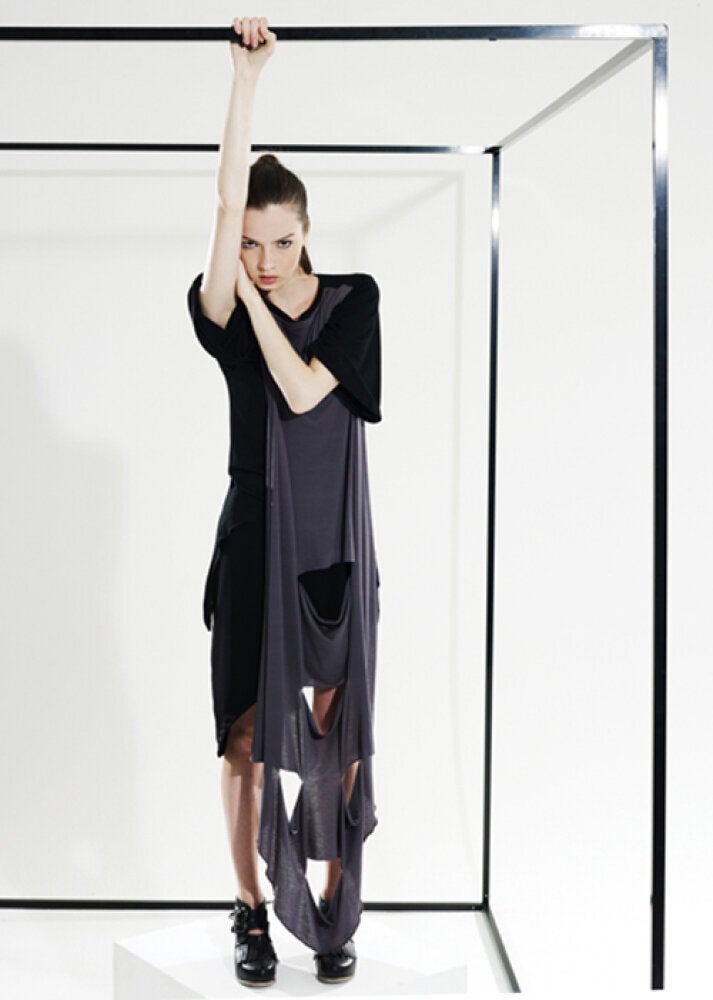 DEPRESSION: Global Designer Spotlight