 I woke up at dawn today and my first thought was of Drs. Kamiar and Arash Alaei winning the first Elizabeth Taylor Human Rights Award at the International AIDS 2012 conference in Washington, D.C. on July 22. I was beckoned by light streaming through an opening in my blinds, the light of a sunrise filled with hope and the promise of freedom.
Dr. Kamiar Alaei, a public health doctoral candidate at the University at Albany, and his brother, Dr. Arash Alaei, were recognized for their "pioneering work in HIV prevention and treatment for people who use drugs in Iran and...outstanding courage and efforts to advocate for human rights of people affected by HIV."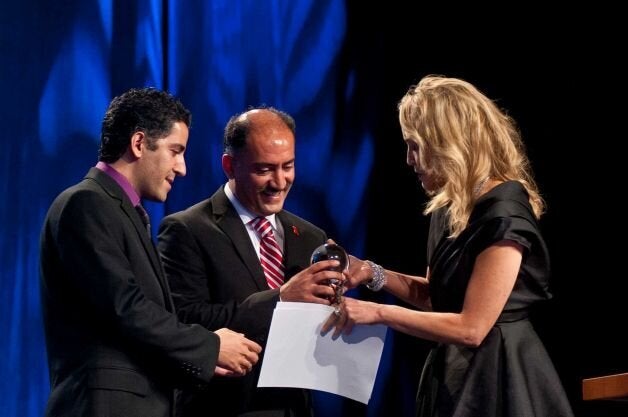 Drs Kamiar and Arash Alaei receive inaugural Elizabeth Taylor Human Rights Award from Sharon Stone on July 22, the opening day of the AIDS 2012 - XIX International AIDS Conference in Washington, DC. (Kris Connor/Getty Images)
I wish I could have been there. Such an award is a great honour. As a public health scientist, I especially admire their work implementing Iran's first HIV/AIDS prevention program. As a health policy researcher, I value their work putting the issues of drug use and HIV/AIDS on Iran's national health care agenda. And as a health inequalities specialist, I respect their creation of Iran's HIV/AIDS prison program, recognized by Physicians for Human Rights as "one of the best in the region if not the world."
Most of all, I am in awe of their strength, courage and commitment in continuing their critical global HIV/AIDS work after enduring years of imprisonment by the Iranian regime resulting from that very work. Having spent much of the time they were imprisoned fighting for the freedom of Josh Fattal, Shane Bauer and Sarah Shourd (who occupied the same prison), I have a visceral understanding of the preciousness of their freedom. Seeing the joy emanating from them as they receive the award, joy that masks years of unimaginable injustice and suffering, brings tears from deep within to the surface.
Reflecting on the ongoing injustices perpetrated by the Iranian regime keeps those tears flowing. I think of their lawyer, Masoud Shafii, without whom Kamiar and Arash would not be free. The same lawyer without whom Josh, Shane and Sarah would not be free. Masoud's belief in truth and justice is so strong and unwavering that he took on the Iranian regime, notorious for abusing human rights in the most evil ways imaginable. He risked his life doing so.
Since Josh and Shane were released 10 months ago, the regime has punished Shafii by confiscating his passport, preventing him from visiting his sister's grave and his children in North America. The regime has detrimentally affected his life, the lives of his family, and the lives of other potential clients and their loved ones by preventing him from practicing law. This is at a time when the regime continues to commit gross violations of human rights, and challenges to Iran's economy are heightened by international sanctions.
The long overdue recognition for the work of Kamiar and Arash Alaei fills me with hope that Masoud will soon be free to receive such well-deserved recognition himself. I will never forget what Masoud did to give my friends and their loved ones their precious lives back. I know he gave the same courage and grace in his fights for Kamiar and Arash, and countless others. His rare combination of fearlessness and compassion make him unbeatable. While fighting so intensively and courageously, he always found time to express his gratitude to me. That gratitude kept me going in a battle that often seemed impossible to win. I feel immeasurable gratitude to him in return.
As I watched birds soar through the pink speckled sky of the sunrise, I thought of all the political prisoners Masoud has helped soar. I pictured Masoud soaring at the first opportunity his freedom gives him.
Please sign this petition urging the Iranian regime to return Mr. Shafii's passport and let him do his job.
See Farahway Global for updates on Mr. Shafii's case and further actions you can take.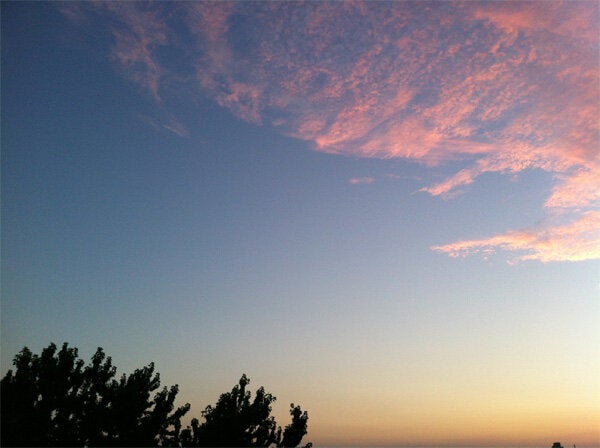 Sunrise (Farah Mawani/Farahway Global)
Popular in the Community