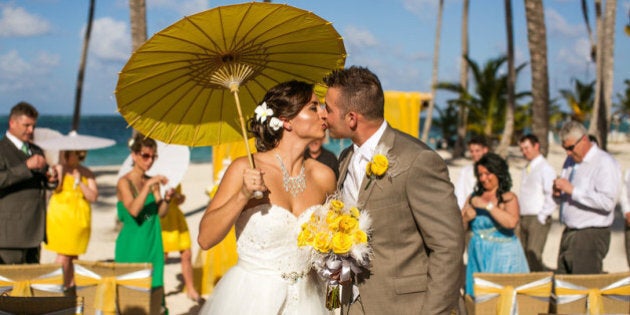 Thanks to our multicultural society, you may find yourself at a wedding this summer that celebrates in ways you aren't familiar with — and we're here to help. Each week, the HuffPost Canada Living team will take a look at a different culture's wedding and tell you about the customs, traditions and rules that go along with celebrating your friends' big days.
Flip-flops? Check. Towel? Check. Wedding outfit? Check. If you have the opportunity to attend a destination wedding this year, feel free to treat it like a vacation: a time to relax, eat fresh food and enjoy quality time with your family and friends.
Couples tend to choose destination wedding locations (Jamaica, the Dominican Republic and Mexico seem to be the most popular choices), based on natural beauty, an excuse to escape the winter blues, but often out of practicality.
"A lot of Canadian families are spread out throughout the country so couples figure it's not going to cost that much more to meet in the Caribbean since many of them would already have to fly to and get a hotel in the local city that the bride and groom live in," says wedding planner Jennifer Borgh of Jennifer Borgh Events.
Borgh says couples tend to spend around $10,000 to $20,000 on their wedding depending on their personal style and location, but overall they end up saving money because of a smaller guest list. Guests typically can pay up to $1,600 to attend the wedding, and the price can vary depending on the departure city.
As for logistics, the wedding is often as easy to access as the resort. Unless the couple has planned a private event off the resort, guests are likely to pass by the venue (or beach) several times during their stay. After the wedding ceremony (depending on the couples' religious or cultural backgrounds), guests can expect a reception, dinner and dance party.
And for couples, there are some etiquette tips to remember as well: Ask guests about any dietary restrictions as you plan the event, make sure the guest code is on the invitation, don't fill up the whole week with wedding-related events and don't be offended if guests say no. Destination weddings are not always cheap, and for a lot of people, it can be out of their budget, Borgh says.
Here are 12 things every guest should know before attending a destination wedding: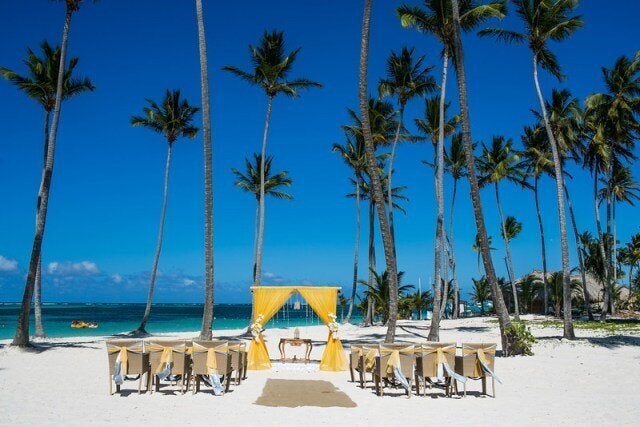 Destination Weddings