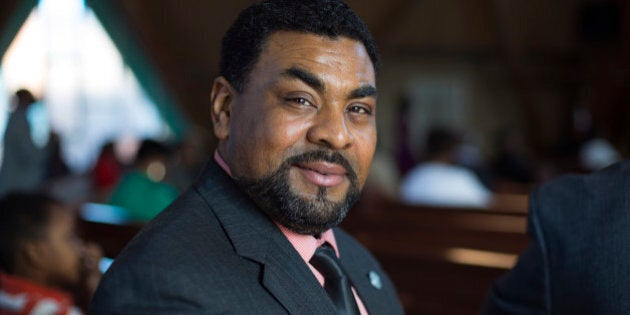 Dewitt Lee is determined to be the amplifier for the voices of Scarborough-Rouge River.
The two-time mayoral candidate, who capitalized on the few opportunities to debate the front runners in the Toronto mayoral races of 2010 and 2014, raised awareness of the city's social responsibility to support its most vulnerable citizens.
He is now more than ever determined to galvanize his support which has grown over his two mayoral campaigns in a specific part of the city. He is currently one of only six nominees in a race to represent Liberal-red in Scarborough and become an MPP.
I met with him last weekend, at his request, after I called him a "fringe candidate" in a blog endorsement of another candidate.
Within Malvern, everywhere he goes, there are people approaching him, promising to vote for him, endorse him and support him.
In a surprising move, he tells me, even the area one-time Liberal MPP, Margarett Best, has thrown her hefty support behind him. "I am community advocate first, politician second and not just on issues affecting the Afro-Caribbean community but where ever imbalance of treatment, service and resources for all Canadians exists."
He sounds like a preacher one minute and a motivational speaker the next. Since moving back to his birthplace of Toronto over 12 years ago from the U.S., he has advocated for, and been a voice and mentor of countless young people.
On a quick bus ride from Scarborough Town Center, he tells me, "I have met so many leaders who have done an incredible job in pooling resources to service this growing area that I look forward to be a catalyst of remarkable change when they receive the more funding, more support and more empowerment."
Within Malvern, everywhere he goes, there are people approaching him, promising to vote for him, endorse him and support him.
Malvern is a social community network and one of the most diverse communities in Toronto. There is no question that the potential and possibility of Scarborough-Rouge River with emerging leaders from all backgrounds including marathon candidate Neethan Shan, who recently announced his run for the NDP.
I ask Lee, how he intends to campaign to win a fierce competition for nomination. "We intend to add through our new members, which are being added in impressive numbers everyday a fresh attitude and an optimist mind frame towards working hand and hand with constituents to ensure that through hope and hard work everyone that wants to full fill their dream can with our help."
He adds: "The youth have called our campaign the "REDvolution" and I think it's very fitting since we are evolving the party with members from all walks of life that have common goals, dreams and concerns."
He promises to deliver on change. "I'm based here [in Malvern], my business is in Scar and will stay in this community." In addition to his political run, Lee is busy organizing an initiative called -- "Made In Malvern" at the Malvern Town Center to be held on Thursday, May 19th. The initiative intends to celebrate the many talents and biographies of emerging leaders from the area.
Lee is a busy community activist and certainly a resilient political candidate.
Follow HuffPost Canada Blogs on Facebook