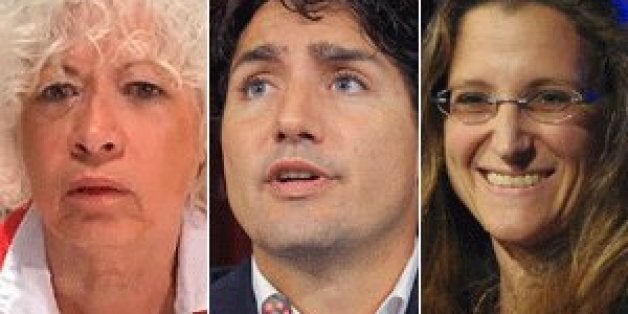 A Liberal candidate in Toronto Centre says party rules will prevent hundreds of her supporters from casting a ballot in next week's nomination race — a move that could favour Liberal Leader Justin Trudeau's preferred candidate, journalist Chrystia Freeland.
Diana Burke, a Royal Bank executive, long-time Liberal organizer and resident in the riding, announced her candidacy on Aug. 13. She told HuffPost Tuesday that she signed up hundreds of new members only to learn on Aug. 27 that anyone who bought a membership after Aug. 20 would not be allowed to vote on Sept. 15.
"I do have a lot of friends who were signed up who are a little upset they can't vote for me," she said in a phone interview.
"Hard work and hope is sort of what I ran my campaign on, and we were all working hard hoping to get these votes out, so it is a bit, sort of a concern," she said, referring to Trudeau's 'hope and hard work' slogan.
"Nobody has called me up and said (Freeland) is the candidate of choice. Justin Trudeau talks about an open nomination, so I believe that I am following Justin's position on nominations."
But Liberal Party of Canada president Mike Crawley told HuffPost "this nomination is being run by the book." Following rules in place since 2009, the membership cut-off date was backdated to give the party time to enter memberships, confirm the voters list and allow campaigns time to challenge any ruling on ineligible members, he said.
Ray Heard wanted to vote for Burke. The frequent pundit and former communications director for Liberal leader John Turner told HuffPost that he returned from vacation and was shocked to discover he could not vote in the nomination ballot because he'd missed the deadline.
"I'm not saying this because I dislike Chrystia Freeland," he said. "I am just distressed that when one gets back from holiday — and a lot of Canadians take holidays in August — you suddenly find you are retroactively excluded from a very important vote."
Heard wrote last week to Crawley and to Howard Stevenson, president of the Ontario wing of the federal Liberal party, asking them to extend the membership cut-off date and push back the vote. Prime Minister Stephen Harper has yet to call a byelection in Toronto Centre, and the earliest he could announce one is Sept. 23. The NDP's nomination race is also set for Sept. 15.
In his email, Heard said putting off the vote would create a more level playing field for all Toronto Centre Liberals and allow candidates to sign up even more members. (The riding has 1,300 eligible voting members). "It will also allay suspicions that the premature deadlines were set in order to enhance the prospects of one candidate," Heard said, alluding to Freeland's candidacy.
Freeland, an acclaimed author and business journalist who was courted by Trudeau's team, quit her job at Thomson Reuters in New York and moved her husband and three children to Toronto this summer after Bob Rae resigned on June 19.
It is thought that she could add economic gravitas to the Liberals' roster. Since Trudeau had publicly pledged to hold open nomination races, however, Freeland was told she would have to battle it out with other contestants.
Heard said he believes that because Trudeau's team successfully requested an extension for registering new supporters during the Liberal leadership race last winter — when the members were complaining of technical problems and short deadlines for vote registrations — a precedent exists for an extension to be granted.
"There is a precedent for this, because Justin got an extension," said Heard, who supported Joyce Murray during the federal Liberal leadership race.
Todd Ross, the third candidate in the Liberals' Toronto Centre race, seemed to suggest Tuesday that he would also favour an extension.
"I'm supportive of anything that makes the process more democratic and transparent," he wrote in an email to HuffPost.
Freeland's campaign spokeswoman said they weren't sure how an extension could be granted so late in the process.
"There are only five days until the nomination. The party has already set the voters lists. Meeting notices have already gone out, and it's too late to send a second mail out," Freeland spokesperson Rebecca MacKenzie said. "Our campaign hasn't seen any complaints, so it's unclear what is being proposed."
Jeremy Broadhurst, the Liberal party's national director, told HuffPost that Heard is comparing apples and oranges, that the situations are completely different.
The party followed the rules that were in place when Rae stepped down, he said. It chose to disenfranchise the fewest people by limiting the cut-off to the minimum seven days before the call of the vote rather than the maximum of 14 days, he added.
The rules were publicly posted and every team knew what they were, Broadhurst said.
"It would have been unfair to suddenly change the rules mid-course as three candidates were engaged in the process."
Broadhurst acknowledged that the rules are unfortunate, and said the party is looking at changing them before nomination races are held for the next general election.
Trudeau's office, Broadhurst said, had nothing to do with the rules governing the Toronto Centre nomination race.
"The leader's office has nothing to do this process at all," he said. "This impacted all candidates equally. There was no advanced information shared with any candidate."
Trudeau's office did not return calls for comment.