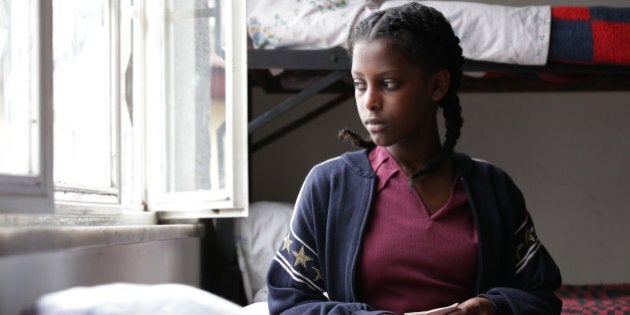 The much-anticipated, important and powerful movie -- Difret -- premiered in Toronto at the Carlton cinema. The film is endorsed by Angelina Jolie; produced by noted HIV activist and artist Julie Mehretu; Dr. Mehret Mandefro and film director Zeresenay Berhane Mehari. It exposes the subject of violence against women in Ethiopia. Difret, which means "courage" in Amharic, aims to start a real and overdue conversation on this neglected subject.
The film is based on the story of Hirut Assefa (based on the true story of Aberash Bekele), a victim of forced marriage. Hirut is kidnapped, raped and forced to be a child bride against her will at the age of 13. To free herself, she shoots her husband-to-be dead. Accused of murder, she is charged with the death penalty and, with limited resources and inadequate legal representation, her fate seems all but certain.
With no one to defend her, the Ethiopian Women Lawyers Association agrees to offer their services pro bono. Her lawyer, the Erin Brockovich-like Meaza Ashenafi, takes on Hirut's case herself. Even death threats from villagers and compromising her law license would not deter the lawyer from tackling the case.
Ultimately, the 13-year old, would be freed. Her act, judged self-defence, would then inspire the Ethiopian government to make bride abduction for marriage illegal in the country. Sadly, as the film illustrates, the experience of Hirut is not unique in the world.
According to the producer of the film, Dr. Mandefro, more than 140 million girls will be wed between the years 2011 and 2020, if current rates hold. That is 39,000 every day, 14.2 million per year, or a third of all girls age 10 to 19 in the developing world.
From that number, about 13,000 girls who are under 15 become brides each day, which adds up to five million per year, he adds. Some are married as young as eight or nine. Girls who marry before age 18 are less likely to complete primary school, more likely to experience unwanted pregnancies and are at greater risk of death or injury in childbirth. Childbirth complications are the leading cause of death for girls 15 to 19 in South Asia and Africa, where child marriage is most common.
In Ethiopia, it is even worse. The East African country has one of the highest levels of sexual violence in the world.
According to the World Health Organization (WHO), 70 per cent of the female Ethiopian population experiences sexual exploitation, including rape, forced marriage and kidnapping, before they reach the age of 15. That is an astronomical number and a shock even in a region where the exploitation of women is the norm.
That is why movies such as Difret, are important to the Ethiopian population. Such movies need to be supported and used as a vehicle for positive change. For the film's director, Zeresenay Berhane Mehari, it took a decade to make the film on a tight, $1 million budget.
In the coming year, he is set to take the film to the rural villages of Ethiopia. He hopes to facilitate a discussion there and hopes to use it as a learning tool to teach society to aspire to a higher standard.