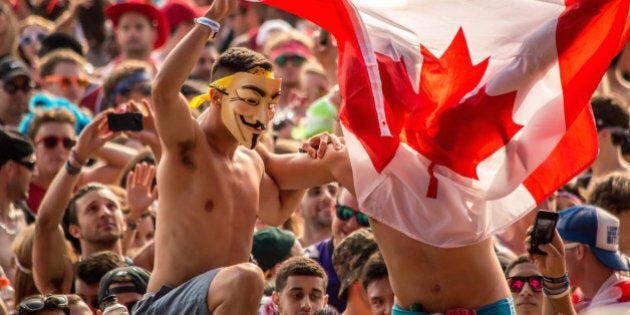 If you could pluck a raver from a warehouse party in 1994 and blast them 20 years into the future to Digital Dreams, what would they make of what their subculture has turned into? On the surface, EDM isn't that different from that earlier era, but so many other aspects would seem unbelievable back then.
For one thing, the level of corporate sponsorship at a mega-festival like the two day Digital Dreams would have been unimaginable back when electronic dance music was decidedly more underground. It seemed impossible to look in any direction and not see a reminder of which American beer company was throwing big money at the party.
Even just having alcohol so freely available would have been a shock to our time-travelling raver, although likely a welcoming one, given the high temperatures and sunny skies both days. However, one has to wonder how much impact serving booze had on the 22 patrons sent to hospital, a phenomenon that's become depressingly common at large scale EDM events all over North America.
While it's tempting for some politicians to want to crack down on EDM events in general, it would be more helpful if some effort was put back into harm reduction efforts, especially at more mainstream events that tend to draw in large numbers of inexperienced younger partiers. However, those corporate sponsors tend to be vehemently opposed to any recognition that drug use might occur at these events.
The production values are also much higher, thanks both to technological advances and the bigger budgets. Even the smaller stages boasted top notch sound and lights, and the giant Dreams stage even had a mini amusement park. But while much was made of the "cashless festival" aspect of wristbands that could be loaded with digital dollars, it's hard to say what made them any more efficient than just having to buy beer and food tickets.
Review continues after slideshow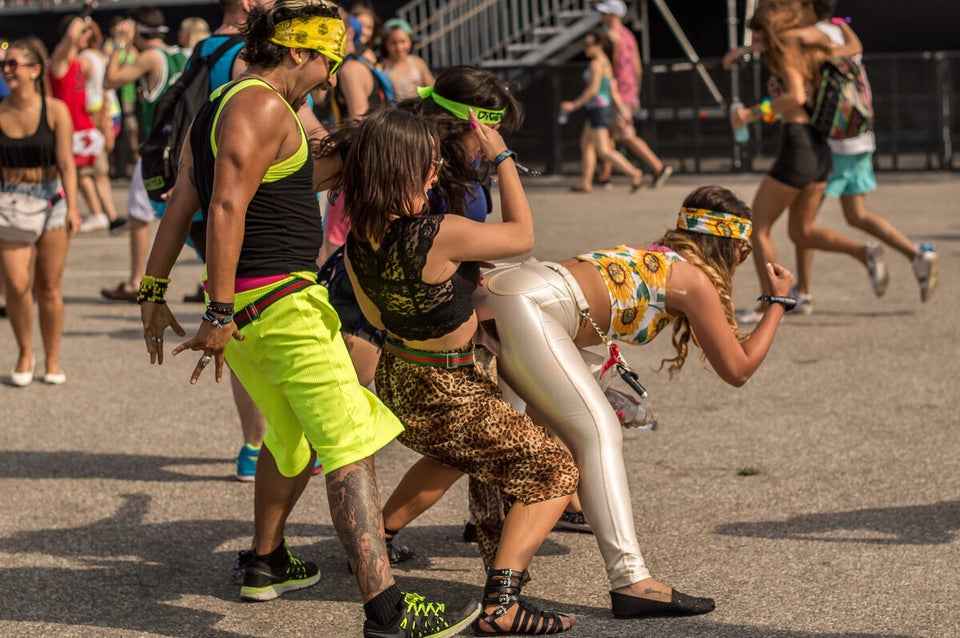 2014 Digital Dreams Photos
In many ways, the music itself hasn't changed that much since the rave days, and veteran DJs like Danny Tenaglia held their own among the younger generation of superstars. However, a DJ like Tenaglia is known first and foremost for the magic of his epic marathon club sets, which isn't something you can reproduce in a two-hour festival appearance.
It was the more current EDM acts like Bro Safari who were better able to connect with the crowd, even if most of their tracks sounded like mashups of "Harlem Shake" and "Turn Down For What." That kind of aggro energy seems tailor-made for this kind of event, as opposed to the hypnotic chug of techno acts like Nicole Moudaber, whose subtleties got lost a bit on a big stage (or maybe that was the dancers in ornate alien costumes battling in front of the booth that distracted).
Perhaps the biggest difference between the 90s rave era and the current EDM boom were the fashions. Gone were the phat pants and soothers, replaced by booty shorts, bikini tops, and shirtless bros in board shorts. Digital Dreams is definitely not an underground event for outcasts and weirdos as much as it's a festival of frat boy culture, but with a blissed-out vibe instead of the fights and mayhem typically associated with large numbers of guys who call each other "bro".
From that perspective, even the tackiest aspects of EDM seem like a welcome cultural shift.
CORRECTION: An earlier version of this post stated Paul Oakenfold played at Digital Dreams, but he in fact did not. We regret the error. This version has been updated.