A Vancouver artist known for turning cultural and religious iconography on its head is pursing legal action against an Irish Catholic newspaper that published one of her photos on its cover.
Dina Goldstein's image of an unhappy Snow White taking care of four babies while her Prince Charming watches TV and drinks beer graces the June cover of Alive!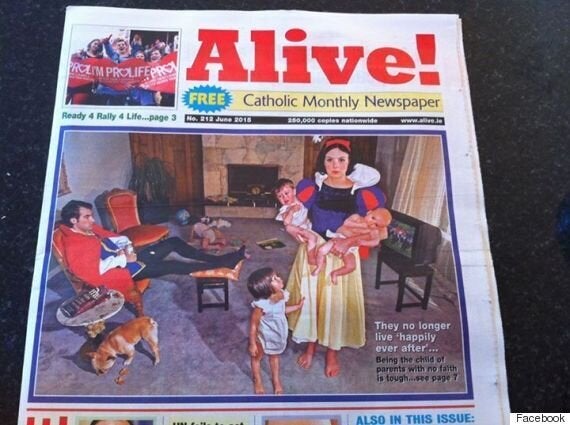 An article inside about Goldstein's work says, "It was inevitable that people who lose sight of God would eventually turn against fairy tale endings in the name of 'realism.' Being the child of parents with no faith and no ultimate hope is tough."
It continues: "Catholic parents do their children a grave injustice by not handing on the faith and Christian hope to them."
Not only did the newspaper fail to seek permission to publish her work, but its message also goes against Goldstein's personal beliefs.
"My photograph ... was deliberately manipulated into forming a criticism about parents who do not promote religion within the household. This sentiment is seething with the classic Catholic guilt trip I reject," Goldstein told HuffPost B.C. on Thursday. "In fact, this argument is completely opposed to my own way of raising a family, without religion."
"It's insulting as well as dishonest of them to use my artwork in this way."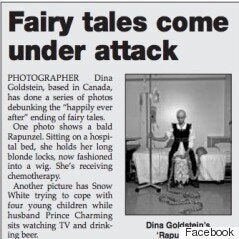 Goldstein said her lawyer has sent a letter to Alive! asking a formal apology to be printed in the next issue, punitive damages, and for remaining copies to be destroyed.
HuffPost B.C. reached out to managing editor Father Brian McKevitt for comment, who has not yet responded.
Alive! is a free, 16-page newspaper distributed door-to-door, as well as to churches. It claims to have a monthly circulation of 240,000.
Goldstein's "Fallen Princesses" series was shot in the Vancouver area in 2007-2009. It challenged the popular fairy-tale endings for Disney characters by placing them in real-life situations, such as Cinderella becoming an alcoholic after learning she was infertile.
"We modern women pressure ourselves to accomplish everything with ease. However this ideal is not realistic, as life is often messy and our expectations, often times based on fairy-tale themes, are misguided," explained Goldstein in an email.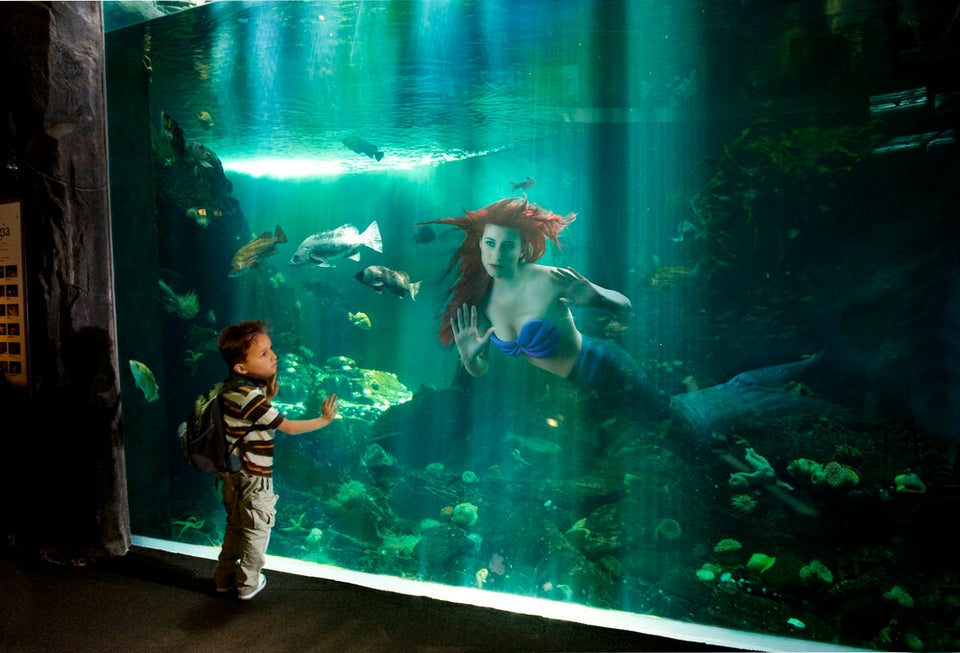 Fallen Princesses, By Dina Goldstein
Goldstein spoke to McKevitt on Thursday morning. She said the editor told her he assumed she would be proud to have her photo on the cover, and did not think it was necessary to seek permission to use it.
The artist acknowledged that her socially critical work is "meant to attract discourse." But she objects to the newspaper's cover displaying neither a credit to her, nor an indication there's a relevant story inside.
"The effect is to make the casual reader or passerby believe that this is an image created by Alive! My work was presented to the public in such a way as to imply that I support the magazine's ideology," she told HuffPost.
Last year, Goldstein examined the role of religion in modern society through her series "Gods of Suburbia."
In 2011, Goldstein's "In the Dollhouse" depicted the disintegration of Barbie and Ken's marriage.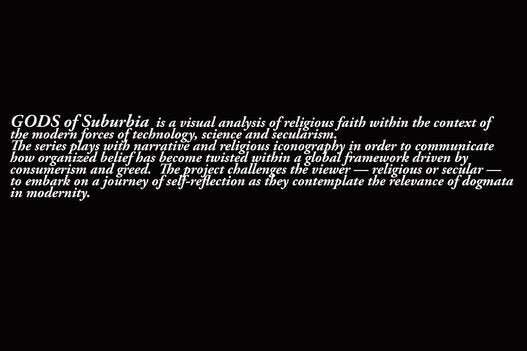 'Gods of Suburbia' by Dina Goldstein