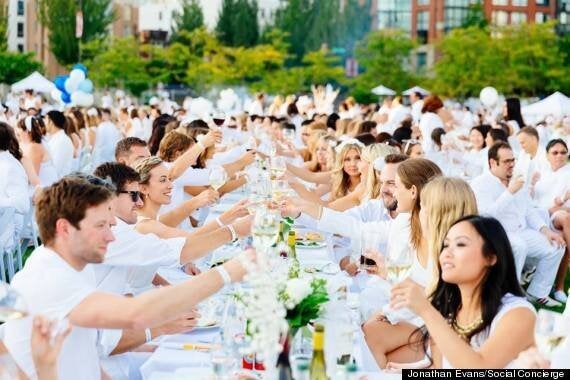 A crowd dressed in blindingly white outfits descended on a Vancouver park for the annual picnic known as Dîner en Blanc.
The event, which originally started in Paris, sold out of its 3,500 tickets at $35 in the weeks leading up to the banquet. The secret location at David Lam Park was revealed to participants last minute on Thursday night. Then dressed elegantly in all-white outfits, patrons carried their own specifically sized tables, folding chairs and dinnerware (also all white) to the dinner.
The meal, catered by David Hawksworth and his award-winning team, fortunately was not all white. The menu included side-stripe prawn watermelon salad with heirloom tomato, chevre and jalapeno, reported The Province.
The stunning chic picnic is a visual wonder, with organizers The Social Concierge ramping up the entertainment this year that included The Vancouver Opera, as well as stilt walkers and acrobats (dressed in white, of course).
Story continues after slideshow: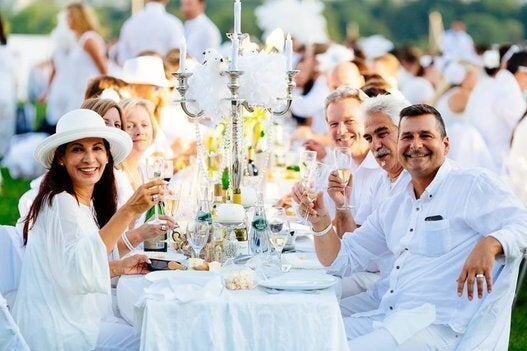 Diner En Blanc Vancouver 2014
Dîner en Blanc began in 1988 when Francois Pasquier invited some friends to a Paris park for a picnic dinner. He told everyone to wear white so they could find each other. The event has since exploded with Paris organizers needing to cap the picnic at 15,000 people.
This was the Vancouver edition's third year. The inaugural picnic saw 1,200 people at Jack Poole Plaza, followed by 2,600 diners at an area next to the Telus World of Science in 2013.
"You feel like you're in another country and it's the energy and everyone's excitement," Kerry Lawrence, who has participated each year, told The Vancouver Sun. "It's like transporting yourself to Paris at the original Dîner en Blanc. It's an electric event."